Registration for our current set of GCC Lightning Rounds ends on February 28! GCC Lightning Rounds are a selection of 5 courses from our Group Correspondence Courses, made available for individual members to register for a limited time.
Lightning Rounds are a great opportunity for Members-At-Large and small EGA chapters that have difficulty filling a larger group in order to take a Group Correspondence Course. They a4e also an excellent option for a small group of friends wanting to work on one of our courses or chapter members wanting to explore a new technique.
A new selection is announced in Needle Arts every quarter. Note: we have a new Needle Arts editor, please be patient as our new editor works as quickly as possible to publish the March 2022 issue. Thanks in advance for your understanding if our delivery date slips a bit for this issue!
On Beginner's Hardanger students will learn the basic techniques of Hardanger with the option of stitching in a solid color or experimenting with Watercolours®. Elegant and lace-like, Hardanger embroidery is easier to stitch than it appears. Worked in the hand, it is great to take on travels. Hardanger's basic techniques are clearly explained in this course.
Cosmos introduces students to needle painting, one of the most realistic forms of surface embroidery. Using a range of tints and shades of a hue, the embroiderer captures the play of light on the subject to give depth and dimension. With thread and a limited number of stitches the embroiderer will create a lifelike botanical. The text will lead you through the process in small, easy steps. Many tips are included to enhance your stitching and are applicable to future embroideries.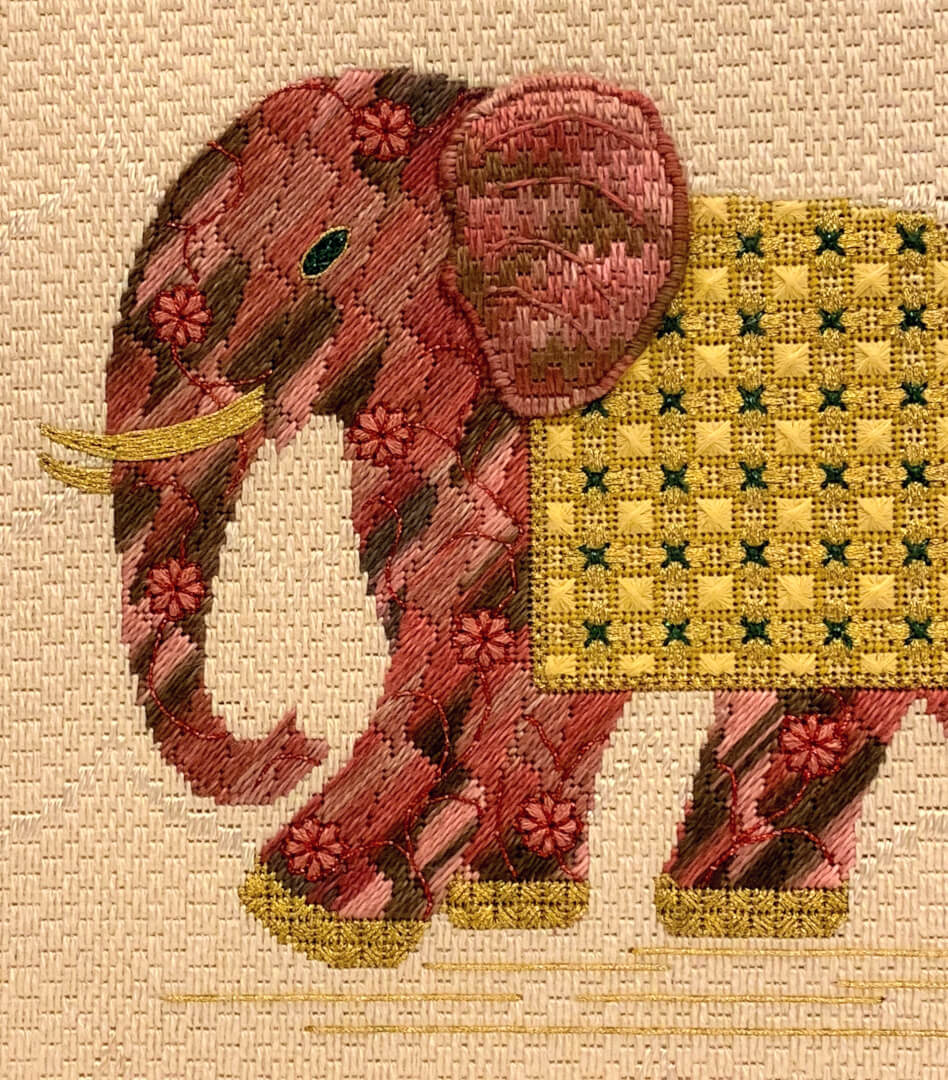 In Maharajah's Elephant you will learn the technique of canvas appliqué and explore tent, rice, eyelet, swirl, mosaic, satin stitches, among others. Stitches used include tent, rice, eyelet, swirl, alternating Scotch, mosaic, Rhodes, satin, and brick as well as several cross stitches including double, upright and Smyrnas. The background is a bargello pattern.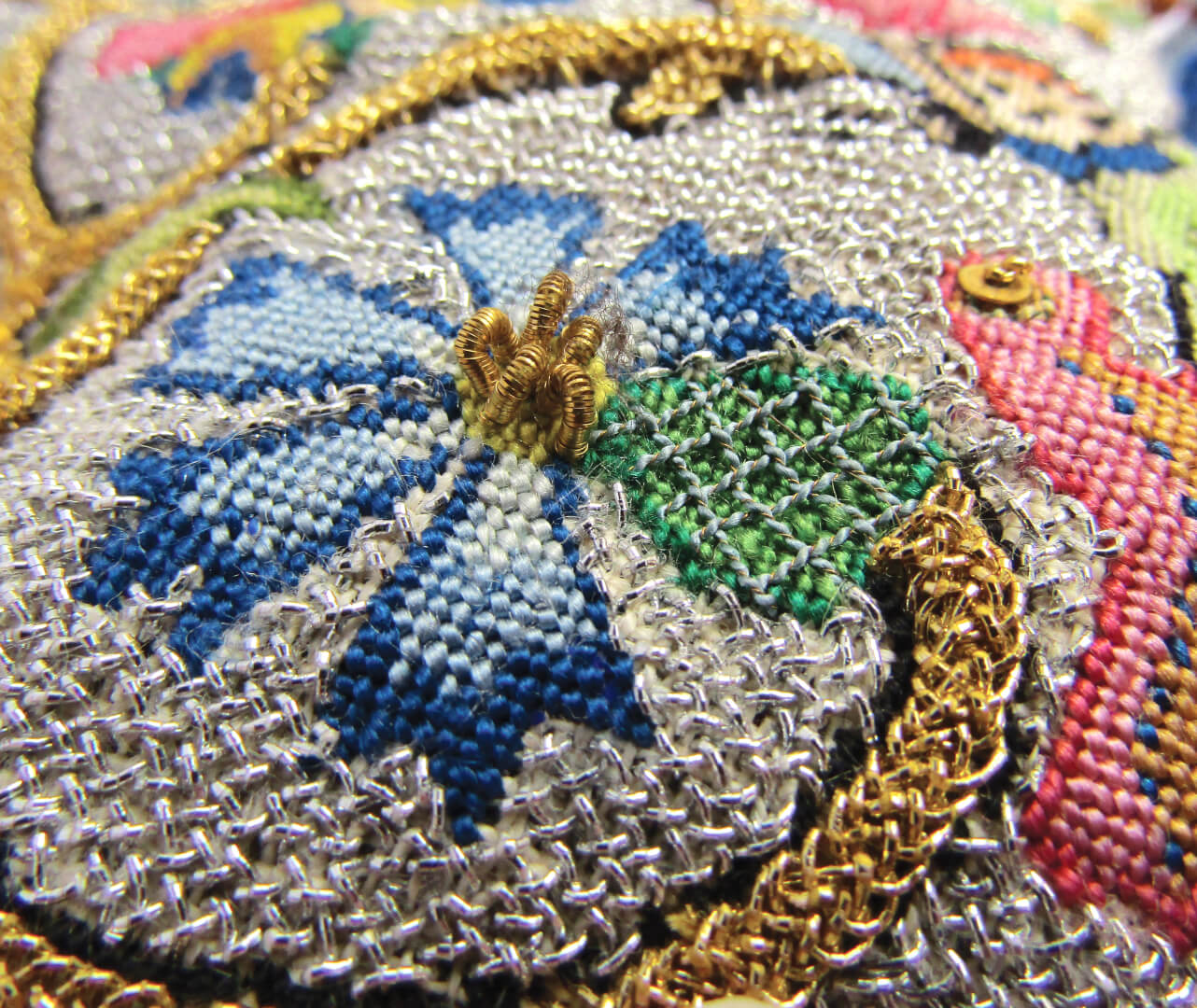 Stitch an embroidered bag like the ones that were in style in England from the mid-1500s to the mid-1600s on Sweet Bag Sewed of Silver and Gold. Intermediate and Advanced stitchers should be comfortable with this course. The course is also aimed at history buffs interested in textiles.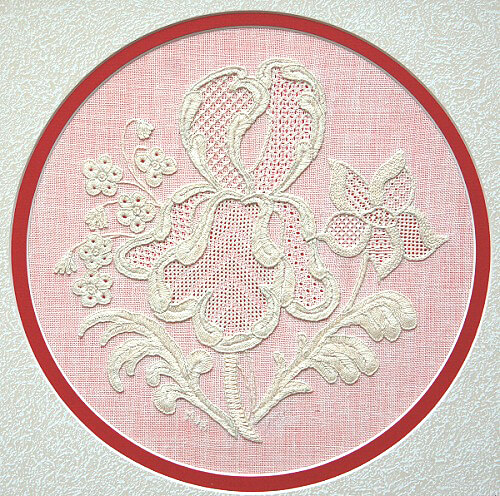 Combining stunning June flowers, White Iris is a sampler of eleven pulled thread patterns worked inside surface embroidery of flowers petal edges. The surface embroidery emphasizes shaping the buttonhole stitch and the chain stitch to form leaves and petal edges. Chain stitch, outline stitch and satin stitch variations are used for flower stems.
And just in case you haven't registered yet, registration for our online class Queen Anne's Lace with Katherine Diuguid is open through March 2! This Queen Anne's Lace design introduces students to the basic techniques of goldwork embroidery using a contemporary approach to traditional techniques. Worked on linen, it is part of Kat's continuing "Weeds" series. Learn more.