Some of our members are currently in San Francisco participating in one of our Extended Study Programs. Kathleen Weston, EGA member from our Turquoise Trail Chapter in New Mexico, has been sharing reports of the group's experience so far and some great photos. We will continue to update this post with more photos and news as they become available.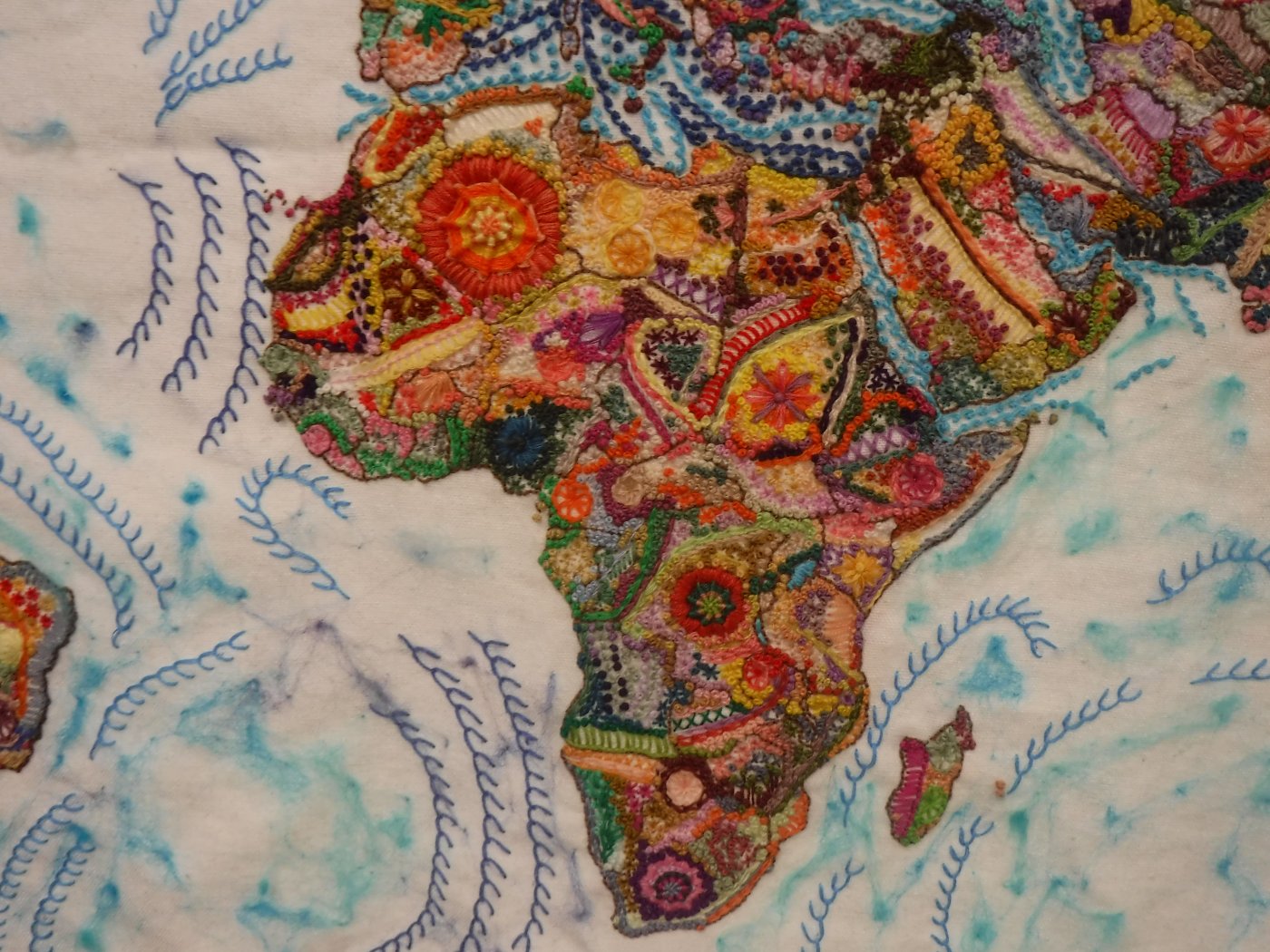 After 2 years of planning for this ESP, it's finally here! I've confirmed and reconfirmed with the museums and Needle in a Haystack that we're coming and then there was a last minuet hiccup with the lunch order. I stressed. But, it all worked out just fine, lunch showed up as planned and everyone was happy. Whew!
This is the first time I've visited the San Francisco School of Needlework and Design, and I must come back. You know that you're in a special place with special people when you're there. The best part is the eye candy surrounding you on every wall. What do you look at first? Do you listen to Lucy give instruction or do you wander and marvel? There's a story behind each piece.
Lucy has been very patient as she's teaching us the techniques and stitches used in Casalguidi. We know that we won't go home with a finished project, not even close, but we'll all go home confident that can finish the project, because we have the groundwork and tools.
We spend Tuesday morning working diligently on our Casalguidi projects. Some of us have graduated from the doodle cloth to the actual project groundcloth which made us feel as though we actually knew what we were doing.
This was one of our two half days. The afternoon was spent at the Lacis Museum of Lace and Textiles. We walked around with our mouths open and our eyes bugged out. What a shop this museum has. Not only does it have everything under the sun related to embroidery, but they are chock full of antique and vintage lace and embroidery that you can buy. My credit card nearly fainted at the thought of what I was going to buy.
We met our host, Jules Kliot, who graciously toured us through the 2 exhibits. The first was lace shawls worn later in the 19th century when the wide skirts were in style, all the better to drape the shawls over to show to their best advantage.
The next exhibit was fringed shawls, or piano shawls. Most were made in China, although some were made in Spain. The oldest shawls had short fringe. The knotting in the fringe was just as important as the shawl itself, just like the famous Rebozo's of Mexico. These shawls were adopted by the Flamenco dancers who loved nothing more than to twirl that fringe as they danced.
As an extra special treat, Jules took us into an exhibit that had already been taken down, an exhibit on Pina embroidery. An embroidery none of us had heard off. This comes exclusively from the Philippines and they used the fiber from the pineapple plant to weave the cloth and embroider with. Some of the embroidery was actually appliqued onto the ground fabric. Exquisite workmanship.
The next time you visit the Bay area, make sure you put Lacis at the top of your list.
Yesterday was just fun. We had a half day class in ribbon embroidery, a sweet project with a variety of flowers and a darling butterfly.
After class, we had a free afternoon. I had plans, I had even scoped out the bus routes and gotten change for the bus, but my classmates hijacked me and we went and had other wonderful adventures.
Our first stop was a Marlene's, a company that finishes canvas pieces. A very interesting visit, especially since I do a lot of finish work. Our second shop was The Ribbonerie, a stunning shop full of ribbon and trims. An "must stop" for all of us. Our last stop, Needlepoint, Inc. She's moved to a charming old building with creaky floors in Jackson Square. What a lovely, lovely shop she has, full of new canvases and fibers to tempt you to empty your pocketbook and leave it all with her.
Stay tuned for more…
Related News
Needle Arts Feature: The San Francisco School of Needlework & Design
Online Class: Fingertip Gloves with Deborah Tirico
Needle Arts Feature: The Royal School of Needlework