The Royal School of Needlework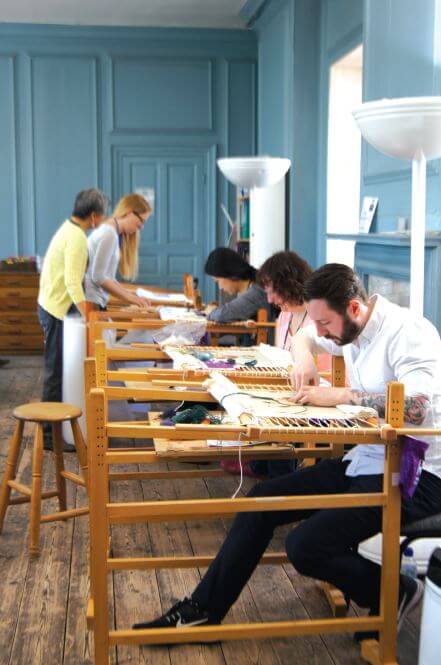 This article originally appeared in the September 2016 issue of Needle Arts magazine.
Written by Cheryl Christian
As EGA prepares to celebrate its sixty-year anniversary in 2018, the Royal School of Needlework (RSN) will be in its 147th year, having been founded in 1872 by Lady Victoria Welby, a self-educated philosopher. What has contributed to its longevity? What can we, as individuals and as groups, learn from its success, and how can we benefit from its services?
Know thyself
Since its inception, the RSN focus has been on education. The School of Art Needlework, as it was then known, began with the intent to educate those who, without training, might find themselves destitute. Indeed, the first two students were two daughters of a surveyor who died unexpectedly and had not provided for his widow and four daughters. The RSN has always maintained its focus, to educate students for professional work.
Do it well
The RSN education programs have proven vastly successful. Many students who have achieved the Certificate or Diploma have established their own businesses. Perhaps one of the most famous students in the United States was Erica Wilson, who was awarded her Diploma in 1948 and taught evening classes at the RSN before leaving to set up her business in the U.S. in 1954. Many who teach for EGA-sponsored events today have been educated at the RSN and have achieved their Certificate and even Diploma levels.
To be sure, there are other institutions in the United Kingdom that run programs to train students for a professional career in hand embroidery. Despite the competition for students, the fact that the school is still viable 145 years after its founding attests to its success.
The RSN runs four professional certification programs, which lead to work on private and public commissions, teaching, designing, and fashion. Classes are taught over eight days, with a student-to-teacher ratio of six to one.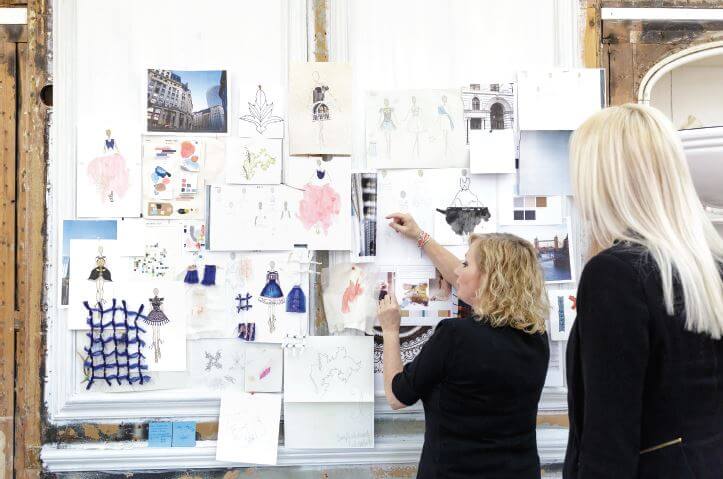 Students are expected to bring their own designs to work under the supervision of tutors. The Certificate in Technical Hand Embroidery concentrates on core techniques and requires only four classes to complete: Jacobean Embroidery, Canvas Stitching or Blackwork; Silk Shading, and Basic Goldwork. Anyone may enroll in this program.
The Diploma in Technical Hand Embroidery builds on and extends work done in the Certificate course. Core courses range from Appliqué to Advanced Goldwork, Creative Metal Thread, Stumpwork, and Whitework. Since 2009, the RSN has offered a BA (Hons) Degree in Hand Embroidery for Fashion, Interiors, and Textile Art, the only university degree program in hand embroidery in Europe and the British Isles. Students learn time-honored embroidery techniques, and meld it with contemporary art and the design concepts they develop. They engage in projects with commercial fashion houses, designers, and galleries.
In 2012, the RSN introduced the Future Tutors Programme. A three-year, full-time course, it equips students with technical skills in a wide variety of techniques, grounds them in teaching theory, and prepares them for commercial practice. Students graduate with the ability to teach for the RSN and work in a commercial studio. Graduates also have some experience with conservation and restoration. They work on commissions contracted to the RSN Studio. (Continue reading below)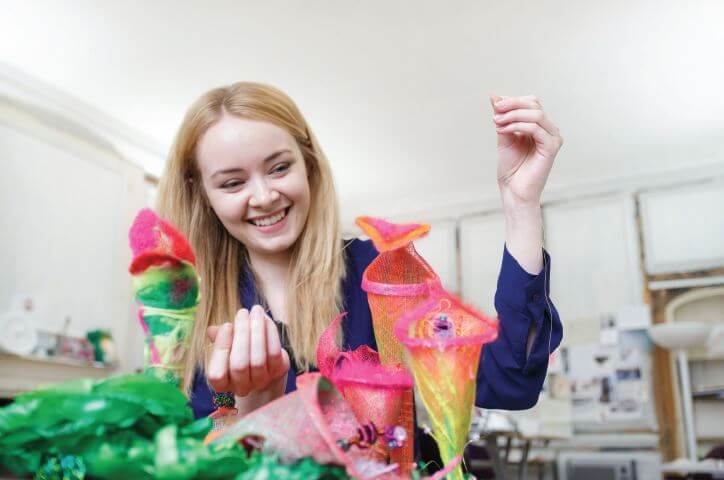 What it's like to take the
certificate at RSN
Read about an EGA member's experience
taking the certificate at RSN
Reach out
The RSN classes aren't just for professionals; the school provides courses for non-degree-seeking students as well. Anyone may sign up for any course desired. Some 160 half-day to three-day classes have been developed, most of which are taught at Hampton Court Palace outside London.
Students needn't register for long sessions to advance their embroidery skills. When traveling to the United Kingdom, it is easy to add a day or two of classes to the trip. These classes focus on a particular technique and provide an established design. Students can enroll in Metalwork Fox, Developing Crewelwork, Silk Shaded Pumpkin, or Miniature Embroidered Landscape; or learn  something completely new in courses such as Duchesse Carrickmacross Lace, Mountmellick Whitework, or Brazilian Embroidery.
Bespoke, or custom, classes are offered to small groups, ranging from half-day classes to five-day workshops. The RSN invites groups to work with them to address their particular needs. Individuals can also book a private lesson. Stitch Surgery is also available for people who want to jump-start a piece begun in the past or to reorient to a piece being worked.
Even if people cannot attend classes, the RSN has found a way to provide access to their education: books. The Royal School of Needlework Embroidery Techniques might, in and of itself, resemble the instruction received during the Certificate program. While it does not cover canvaswork, it provides thorough instruction in silk shading, crewelwork, blackwork, and goldwork. The reader-stitcher does not have the benefit of achieving his or her own design and the assistance of a tutor, but this may well be the next best option.
Each text in the RSN Essential Stitch Guides series focuses on a specific technique. Search Press publishes guides for beadwork, blackwork, canvaswork, crewel, goldwork, silk shading, stumpwork, whitework, and, most recently, appliqué.
Expand when you are ready
In addition to the programs held at the main campus at Hampton Court Palace, courses are also offered in England at Rugby (near Coventry), Bristol (near Bath), Durham, and Exeter, and in Glasgow, Scotland.
International sites include Tokyo, Osaka, and Nagoya, Japan; Toronto, Ontario, Canada; and Williamsburg, Virginia, in the United States. Courses in Williamsburg are extremely popular and space is limited, so potential students are encouraged to sign up as soon as the schedule is posted. The RSN is working to add additional classes to accommodate the high interest in enrollment.
Share the love
In addition to educating individuals, the RSN educates the public as well through exhibitions and publications. The organization houses some 60,000 pieces of embroidery and mounts exhibitions at Hampton Court Palace. For this year's major exhibition, Peacocks and Pomegranates, seventy pieces, displayed in several workrooms, celebrated these two motifs in a variety of needlework.  This fall, the RSN will exhibit stumpwork and appliqué created mostly by its students. Viewing times are posted on the RSN website, where a tour of the exhibition can be booked. The RSN also holds Collection Study Days, focusing on a technique or kind of embroidery. In June, one such study highlighted underwear, including items with lace. (Continue reading below)
Look to the future by studying the past
The RSN archive could well be as extensive as its textile collection. It spans the RSN history, including the first log book, which contains the entry into the school of the first students mentioned earlier in this article. The RSN houses a wealth of designs by members of the Arts and Crafts and the Aesthetic movements.
The RSN has a full record of the work sent to Philadelphia, Pennsylvania, for the International Centennial Exhibition in 1876. These pieces greatly influenced Candace Wheeler, the promoter of art embroidery in the United States. Today, one major initiative is to catalog its collection of textiles and designs and make them available online. The organization receives no government funding, so fundraising for such projects is a constant need.
Adapt with the times
Like EGA, the RSN is working on strategic planning, to make the school a "21st century organization, while remaining true to core principles." The RSN has been savvy over the years, adapting and adding programs that address contemporary needs. For example, the program that certifies its tutors, begun in 1963 as a two-year, highly-acclaimed apprenticeship program, has evolved into a three-year program of study. The new Future Tutors Programme also includes training in business skills and potential commercial opportunities. Other adaptions include simple things like changing the name Workroom to Studio, to give it a "more up-to-date image."
Take on meaningful work
It is perhaps well-known that the RSN worked on the royal wedding gown for Kate Middleton, the Duchess of Cambridge. It has fulfilled many royal commissions over the course of its history, from creation of new pieces to the conservation and restoration of existing work.
However, the RSN also executes commissions for private individuals and public corporations. These can be more personal works as well. The Studio has made customized canvaswork Christmas stockings for an Australian client's grandchildren. They have embroidered a new baby's name on a family christening robe, adding to it the names of children who previously wore the garment.
Think big
The RSN has also taken on pieces of enormous magnitude. Some of these pieces reside in public settings.
The Overload Embroidery, commissioned by Lord Dulverton and designed by Sandra Lawrence, commemorates the Allied liberation of Europe in 1944 (see Needle Arts, September 1989). The thirty-four panels, each 8´ x 3´, are the centerpiece of the D-Day Museum in Portsmouth, England. Lawrence's watercolor designs hang in the Pentagon in Washington, D.C.
Unveiled in 1963, the Hastings Panels commemorate the 900th anniversary of the Battle of Hastings. Twenty-seven panels, each 9´ x 3´, record eighty-one events in British history from 1066 to 1966. Twenty-two embroiderers worked full time over ten months to complete it, working in appliqué and couched threads and cords. Two panels are on permanent display in the Hastings Town Hall in East Sussex, England; the rest are in storage.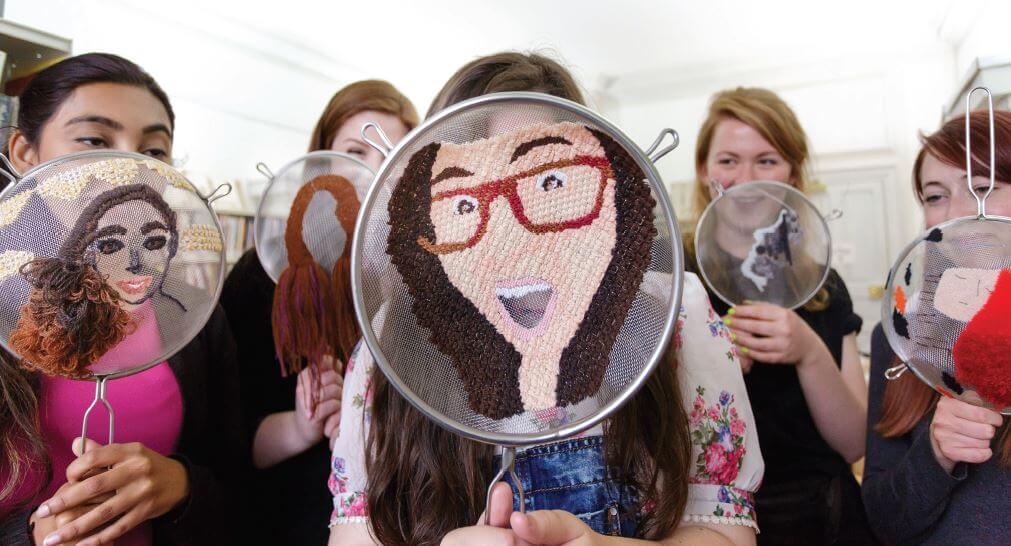 Network and play well with others
The RSN works with other organizations to create needlework and promote embroidery. One recent collaboration with the Embroiderers Guild and Hand & Lock was commissioned by HBO to launch the release of the DVD for the fifth season of the blockbuster television series The Game of Thrones (see the Needle Arts December 2014). Together, they recreated a 17´ by 13½´ relief panel of a key battle scene, the massacre of Hardhome, featuring the Night King, the leader of the White Walkers. Students in the Degree and Future Tutors Programmes as well as embroiderers from the studio participated. The contemporary work features appliqué, raised embroidery, beading, and custom fabrics to add depth and texture.
Get hip. Be brave and bold.
The RSN is producing more contemporary work in its Studio. In addition to collaborating on work such as the commission for The Game of Thrones, the Studio stitched the whitework cipher for Sir Paul McCartney's Ecce Cor Meum ("Behold My Heart") album cover.
The RSN encourages students to go contemporary. While completing her degree, Tutor Deborah Wilding created the award-winning blackwork design of Aardman Animations Shaun the Sheep, a popular animated television show in the United Kingdom. The sheep stood five feet high and was displayed in 2015 on the grounds of Hampton Court Palace and in London as part of a sculpture trail to raise money for charity.
Get the word out
The RSN exhibits at national venues in the United Kingdom, such as The Knitting & Stitching Show and Graduate Fashion Week. Face-to-face contact is a key to promotion.
Finally, the RSN has a robust website that is easy to navigate and view updates of announcements of exhibitions and study days, book classes, and shop. The RSN stays in touch through Twitter and Facebook and posts videos on YouTube.
The RSN has a rich and storied past, and we have much to learn about and from the organization.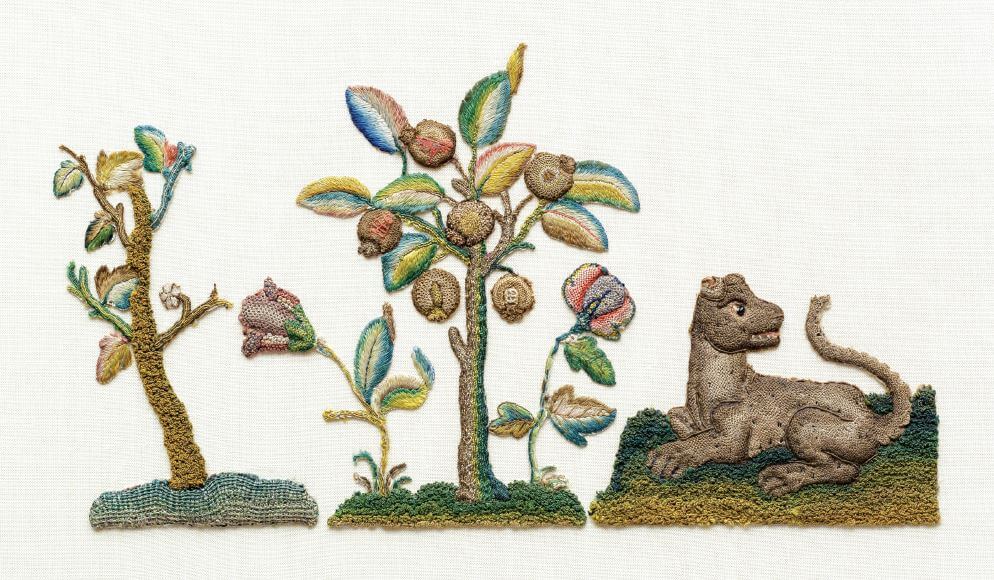 Visit the link below to view course offerings,
purchase kits and books, or current events.