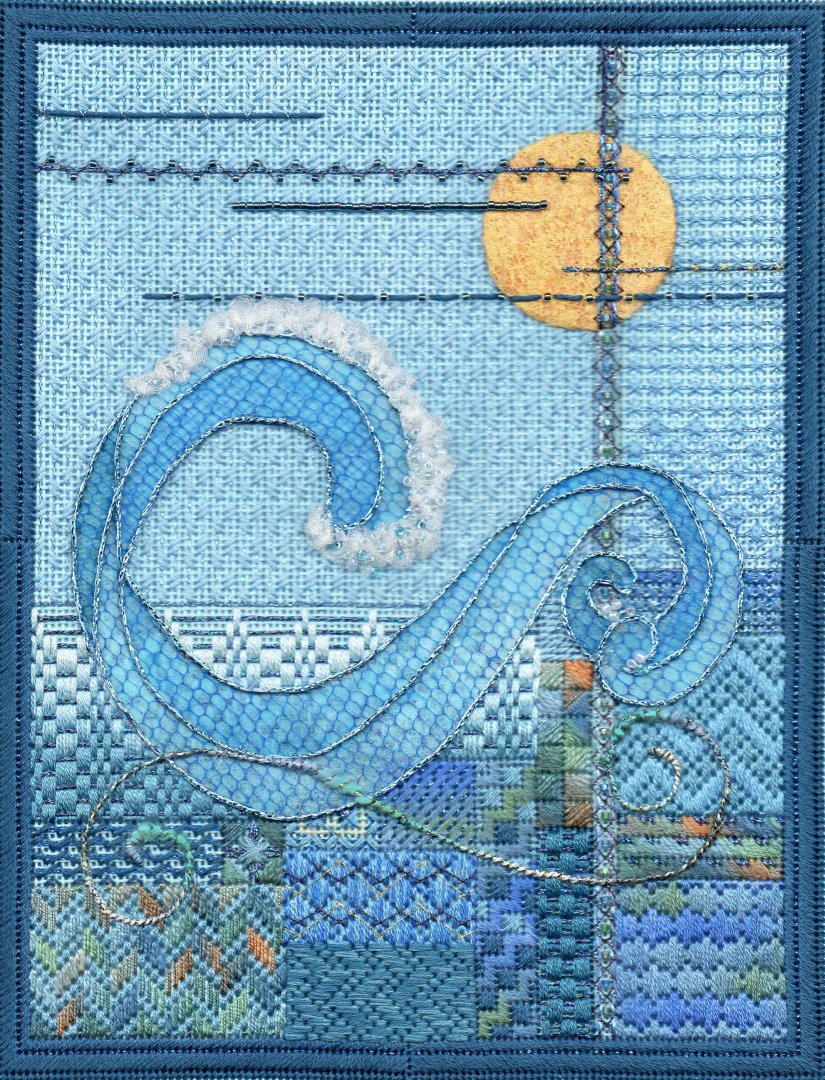 Our Metropolitan Region will be hosting an online class with Joni Stevenson teaching her design, The Wave. This online class will begin September 17, 2019 with a total of six lessons, each two weeks apart.
Registration is now open to all EGA members and will close July 15, 2019. The registration fee is $135 which includes the teaching fee, a pdf of the instructions, the complete kit and shipping of the kit. Registration is open on a first come, first served basis. Please note that there is a class maximum of 50 registrants.
Joni Stevenson is retiring The Wave and the last opportunity to take this course is through the Metropolitan Region EGA this year. A large wave curls over sea and sky with a bright sun blazing in the background. The sun is created using two different non-woven materials and appliquéd to the canvas. The wave is created using lutrador, painted with Copic markers, attached netting, couched threads, ruched thread and beads to create a translucent material that is attached over the stitches on the canvas. The sky is created using four different laid filling patterns while the sea is made up of 18 different stitch patterns. Stitched on 18 count color washed canvas with knitting yarn, silk, cotton, metallic and synthetic threads, beads and several transparent fabrics all combine to create this lovely picture. The Wave is an Intermediate Level Class. The finished design is 7″ wide by 8 1/2″ high.
Joni Stevenson is a Certified Senior Master Teacher through ANG's Master Teacher Program, a Certified Needlework Judge through ANG's Judging Program and is a Certified Knitting Judge through The Knitting Guild Association. Through her teaching, judging, designing and exhibiting experience she brings a thorough knowledge of what great needlepoint looks like. Joni specializes in mixed media design and exploring different ways to enhance the needlepoint ground fabric using a variety of surface design techniques prior to stitching.
Foor more information, contact Janice Meyers, Metropolitan Region Education Chair, GrayceeDM@aol.com.