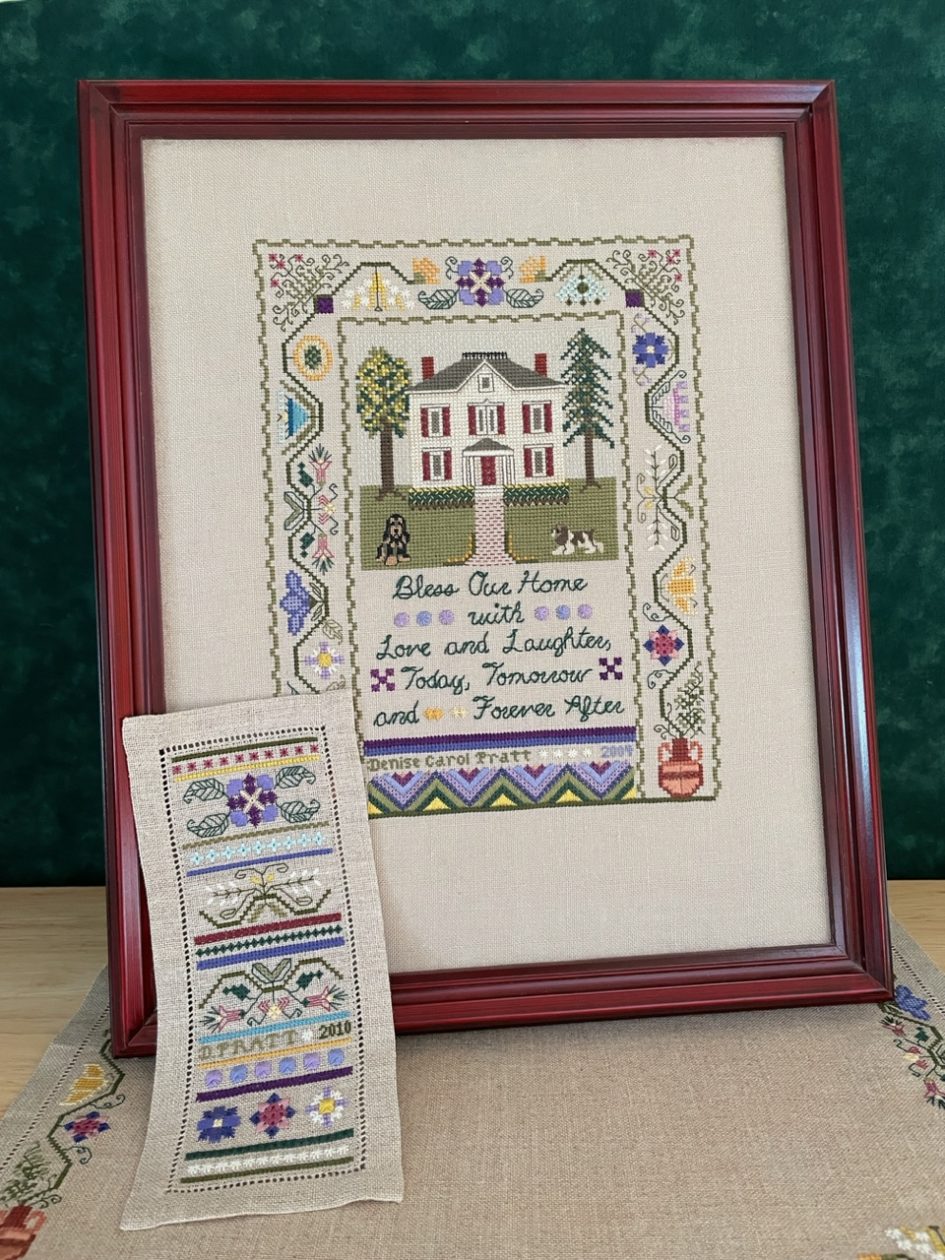 Our Education Department has added a new course to our selection of Group Correspondence Courses: Encores. Love and Laughter with Denise Harrington Pratt is a lovely counted thread piece inspired by the abundance of colors and flowers in nature. It was also inspired by the abundance of stitches available to the counted thread embroiderer. And Denise's motto is, when you don't have the stitch you need, invent one! This GCCC was a class at our 2006 Seminar.
This piece offers the student a great opportunity to play with a lot of different stitches that are used in unique ways to create vibrant, stylized flowers. When stitching the central area, students may wish to insert representations of their pets to make the sampler uniquely theirs. No pets? Add flowers or shrubs or whatever you desire, or just keep the yard as pristine lawn.
Not up for stitching the full sampler? You may opt to stitch the mini-sampler instead. It has all the stitches in it. You can always stitch the full sampler later. Instructions for hemstitching are also included in this text so you may prefer to stitch the table runner option.
Whatever option you choose you will be guided through the process with instructions and wonderful stitch diagrams. The stitch diagrams have an index so that the student can use them for reference in other projects. Perhaps you have a cross stitch piece in your stash that you would like to spruce up with some specialty stitches. Let's have fun with counted thread embroidery and start using all the amazing stitches out there!
Registration for this course is currently available to groups. There is a $200 fee per group, and each student in the group pays $38 for their 52-page text.
Gather your favorite stitchers, make a group and sign up! If you are interested in registering for this Group Correspondence Course, you  can learn more about the process and download the registration form from our Group Correspondence Course page.
GCC Lightning Rounds
If you are looking for courses you can register for individually right now, we have 5 great GCC Lightning Rounds available through through August 31, 2023. These are a selection of our Group Correspondence Courses that have been hand-picked by our Education Department and made available for individual EGA members to register without a group for a limited time. Click the pictures below to learn more about each course.
Online Studio
We have only a few spaces left in our upcoming online studio class Frank the Zebra with Hazel Blomkamp! This design is featured in Blomkamp's latest book, Crewel Animal Portraits. It is worked with an interesting variety of embroidery, needlelace, needleweaving, and bead embroidery techniques, with the focus of the design being an unconventional method to create the stripes of the hide. Because of publishing contracts, students are required to own a copy of the Crewel Animal Portraits book to access the written instructions. The book is available on Amazon. Registration: July 5, 2023–Aug. 2, 2023 Class schedule: Oct. 4, 2023–Oct. 25, 2023 Click here to register and learn more!