Registration for our upcoming class Creating a Pattern for Embroidery from Digital Images with Julie Carmen is now open. On this class you will learn how to make your own unique patterns with the freedom of using the multitude of digital images available online. Registration is open through December 1st! Get ready for a class filled with visuals!
Lessons will include saving image, cropping, enlarging, and printing. Enjoy tips on how to reduce cost by designing your own unique patterns and avoiding expensive kits. Learn how to turn your pattern into an illuminated and beautiful, embroidered patch to hang on the wall, add to a pillow or use in a quilt. The class will give a review of the historical stitches in Laid Work; Stem Stitch, Satin Stitch, and Couching Stitch, to produce the weave-like look of Laid Work. Split stitch is also taught for more delicate parts of an image. Enjoy creating a lifetime of patterns to embroider from history!
Registration is also open for our online class with Natalia Frank, The Art of Petit Point. This class is intended to show basic methods and introduce the techniques of stitching on silk gauze and show its versatility. It is designed to help to learn about Petit Point, its stitches, techniques of stitching on silk gauze, starting and finishing the thread, needles, and threads, while working on a gorgeous flower project. This class will have text lessons as well as videos!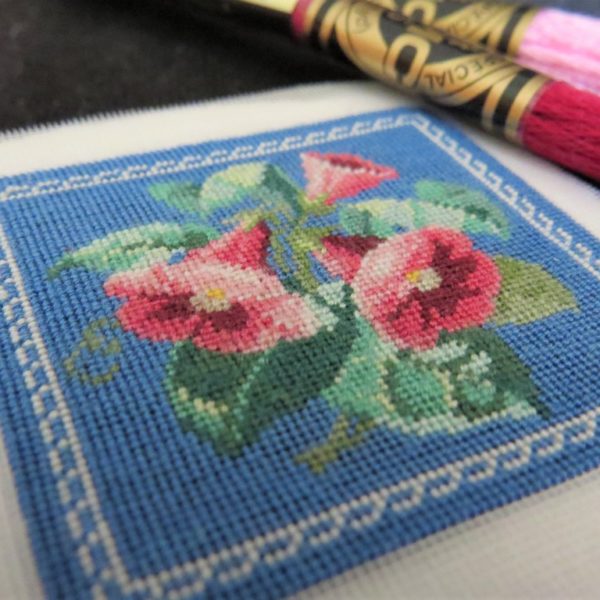 Here's a quick rundown of how our online classes work:  Students get access to the class content based on the class schedule and to a class discussion group where the teacher will answer students' questions and where students can post photos of their progress and communicate with each other. Check the Class Format under Class Details for each class to see if the class will include video instruction. If a kit is available, students who order it will receive it 1-2 weeks prior to the start of class. Lessons can be downloaded at any time up to two months after the last lesson is posted.