Registration is now open to access the recording for Virtual Lecture: Elizabethan Embroidery and the Trevelyon Miscellany of 1608. Hosted by Kathy Andrews on March 11, this virtual lecture explored a defining resource material for designers and needleworkers, the Trevelyon Miscellany. London craftsman Thomas Trevelyon crafted the 600-page illustrated manuscript as a means of presenting and preserving a wealth of designs and drawings that bore cultural, historical, and social significance. Nearly 100 pages of the Miscellany are devoted to embroidery designs.
You have a special affinity for Elizabethan embroidery. What first drew you to it?
Since I was a little girl I've been fascinated with the Tudor, and specifically, the Elizabethan periods. My maternal grandmother introduced me to this period, the people and the material objects that made it such an extraordinary time in English history. The status and wealth of individuals was reflected in the clothing they wore, much more than today. An enormous percentage of one's wealth would be spent on clothing worn to court and the embroidery on those garments was one of the things that set each piece of clothing apart from another.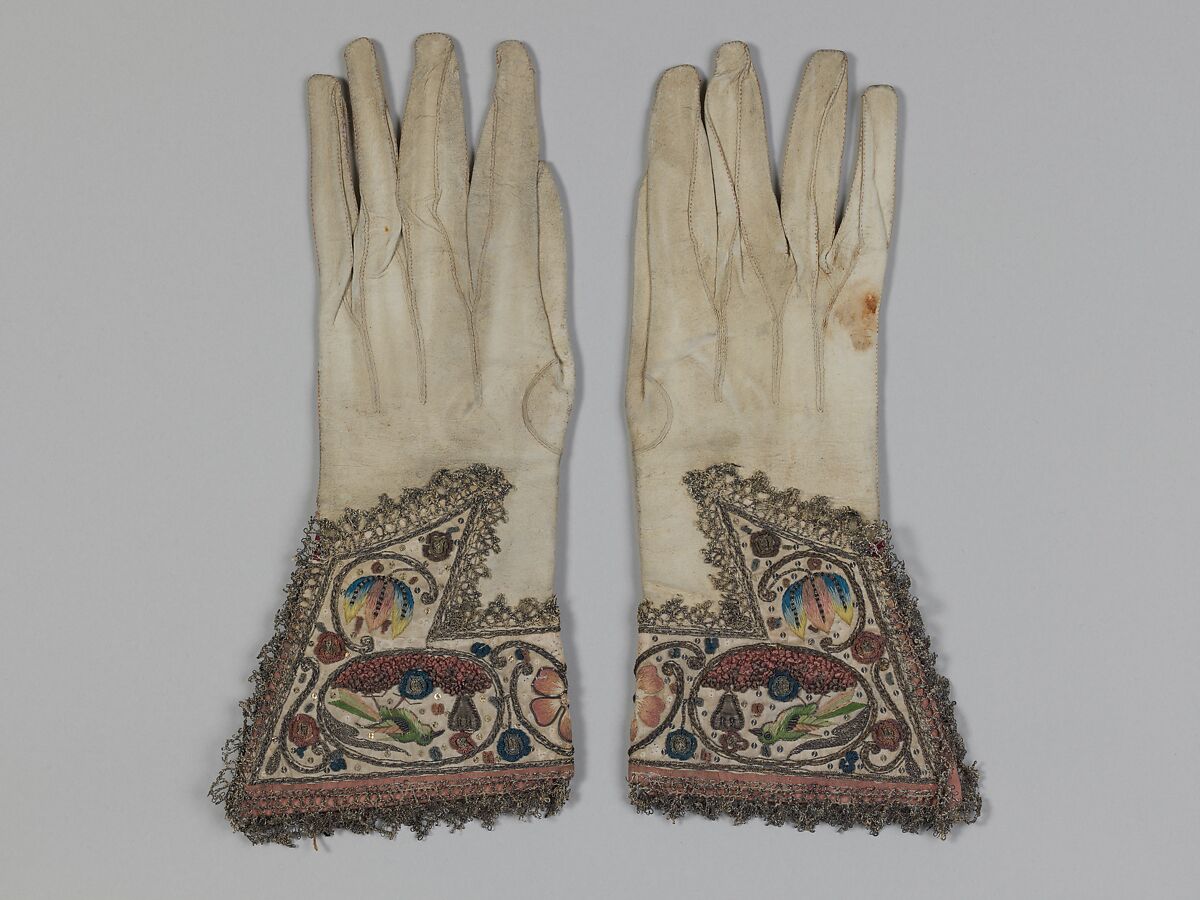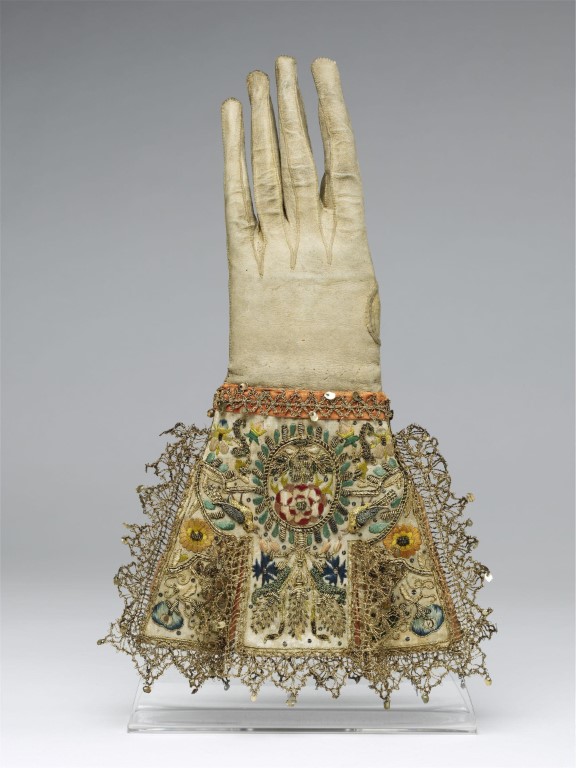 The Trevelyon Miscellany of 1608 contains a wealth of nearly 600 pages of historical and cultural information—100 pages of which are devoted to embroidery. At over 400 years old, it's still a treasured resource for embroiderers. Why do you think needleworkers continue to return to the folio through the centuries?
The designs in the Miscellany are classic; they include motifs of flowers, animals, fruits, birds, scrolling patterns, all over repeated designs and patterns for gentlemen's caps, to name some of what you will find. The designs and patterns are all drawn in black and white and give no indication of stitches to be used. This makes the designs adaptable to whichever technique one wants to use. I believe the classic designs and motifs combined with the adaptability of the images makes this a resource that will be used for many, many years.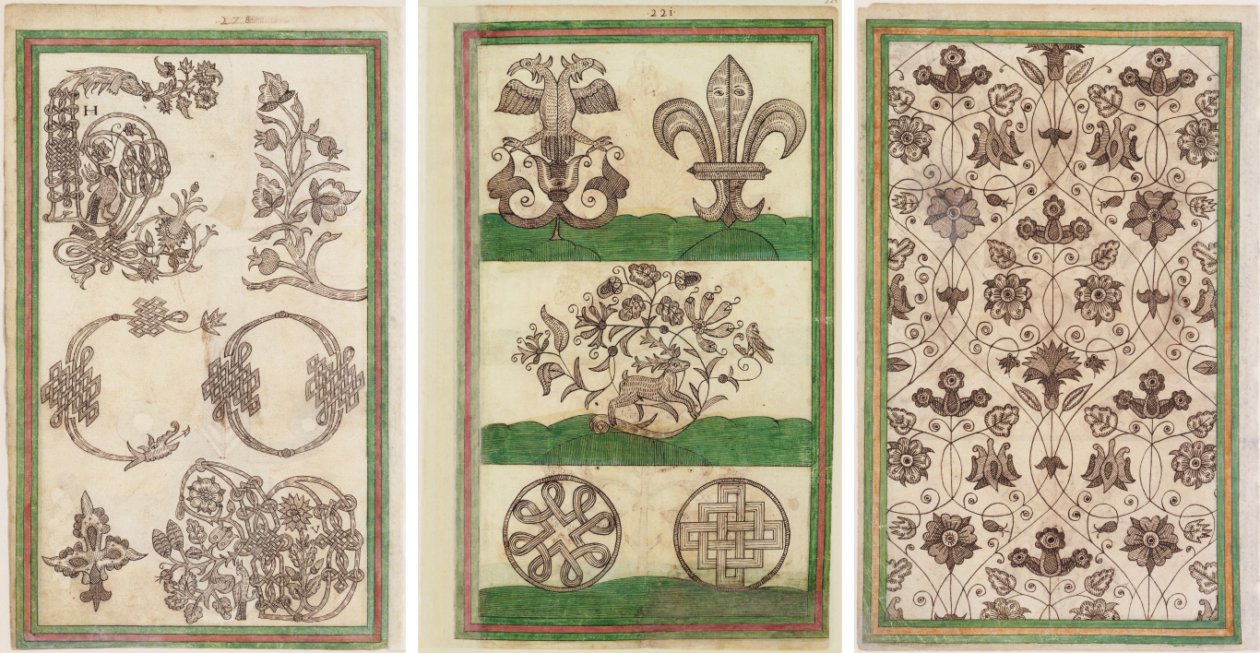 What are some classically "Elizabethan" embroidery techniques attendees of your virtual lecture can expect to explore? Also, is there historical context that frames those techniques within that time period?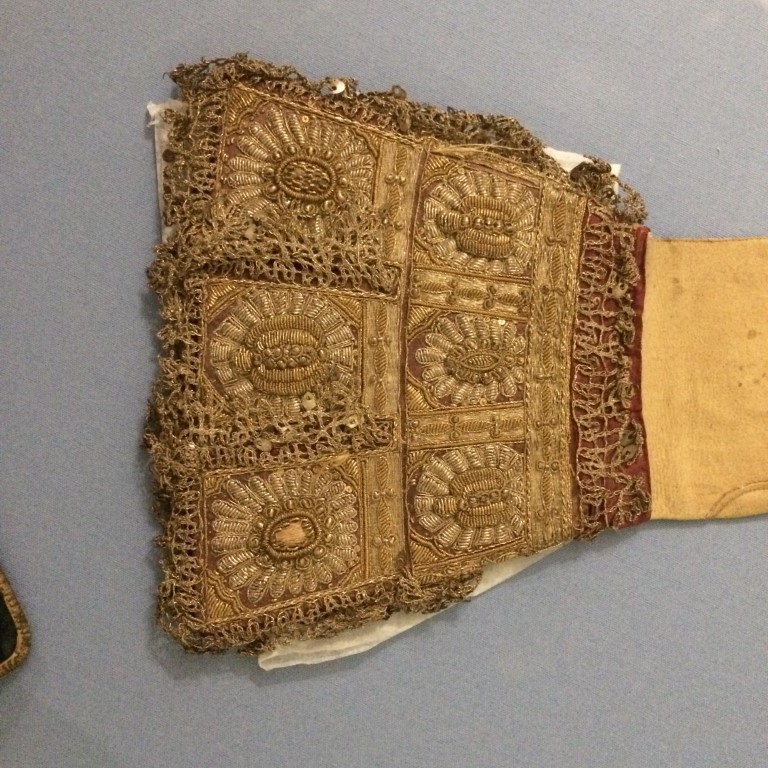 The Elizabethan period was sartorially sumptuous! Silk and gold were used for embroidery found on items of clothing of the highest ranks in society. In fact, sumptuary laws were written to regulate who could wear certain fabrics embroidered with particular threads.
Blackwork was used extensively to decorate garments, particularly the cuffs and collars of under garments. Gold work was used to decorate sleeves, silk embroidery was found on almost all clothing.
Elizabethan embroiderers were not much different from those of today; they would choose the stitches they used in their pieces according to their personal preference and their ability. There are stitches that were more popular then, just as there are today.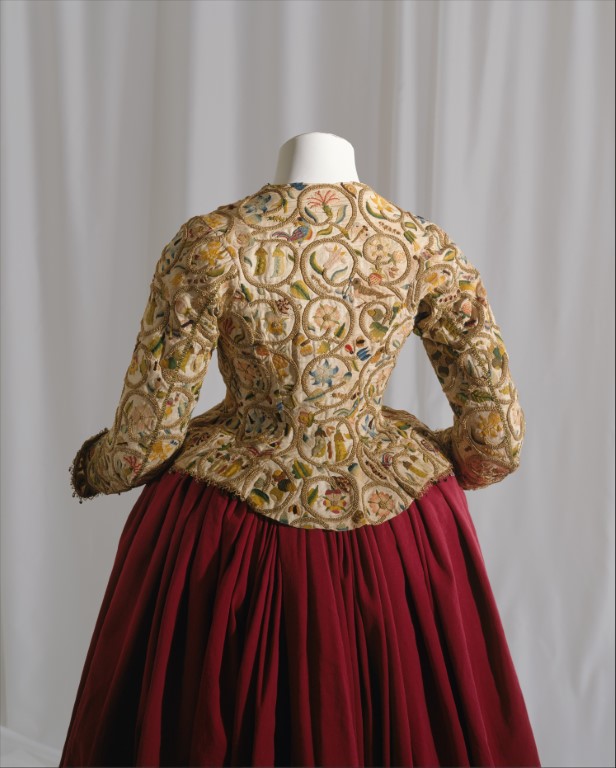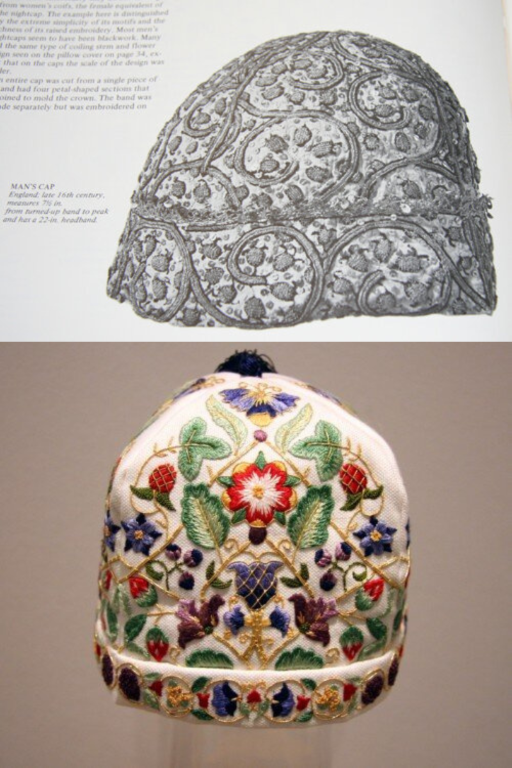 As a teacher and artist who has returned to the Trevelyon Miscellany time and again, what advice do you have for embroiderers interested in approaching the folio for their own needlework?
The first piece I embroidered was a cap pattern from the Miscellany. I was motivated to make my own cap because I couldn't afford at that time to take a class. For those who want to stitch from the Miscellany, I would suggest that you approach your piece from your own, current perspective, using fresh eyes to decide what colors and stitches you want to use. It absolutely does NOT have to be an accurate historical reproduction.
These patterns have been used for hundreds of years. Colors go in and out of fashion. Stitches go in and out of fashion. Imagine your finished work and then create it. Test out stitches on a test cloth. Test out color combinations on a test cloth. Try different threads – wool, cotton, silk. Make it yours, a reflection of your taste!
You do a lot of research before you begin needlework pieces inspired by historical periods and methods. How do you conduct that research? What resources do you find yourself returning to?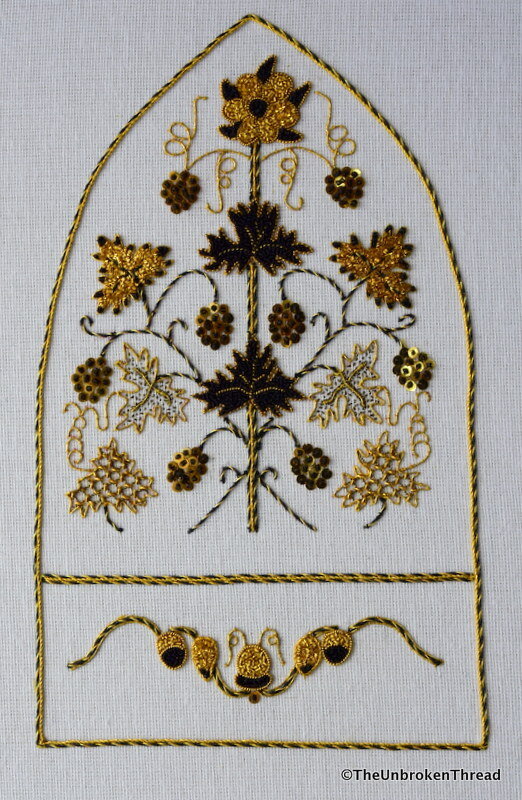 My historically inspired pieces almost always start with an idea of the item I want to make, for example, the cap, a small pocket, a pincushion or a needlebook. I then spend hours looking on museum websites at extant examples of that item. I also look at paintings that include that item to get context.
I don't just look at examples of a specific time period, I look at as many examples of the item as I can find. I take screenshots or save the images to a pinterest board, noting what I like about each example. I always use a sketchbook to track the development of my ideas – including ones that don't work out or are disasters! One learns a lot from mistakes! I include fabric and thread samples, drawings, photographs and notes in my sketchbook. I also take loads of photos of my progress.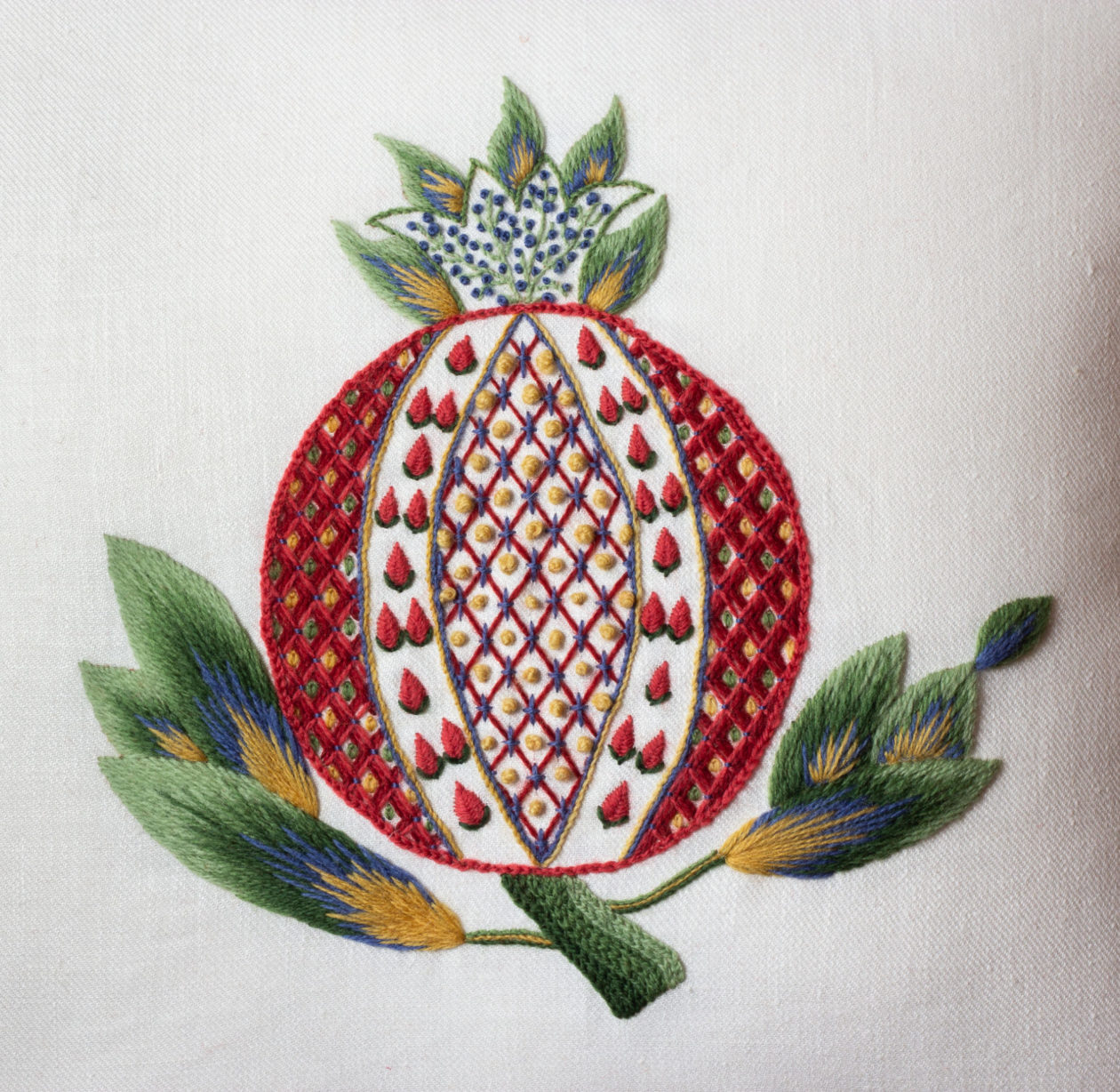 If I've been inspired by a painting or historical object, then I use that as my inspiration and work from there. The pieces I've done called "The King's Pineapple", "The Queen's Pomegranate", "The Prince's Thistle", "Trevelyon's Garden Pincushion" and the "Simple Gifts" pieces were all inspired by actual paintings or objects. The process is the same, the inspiration is different.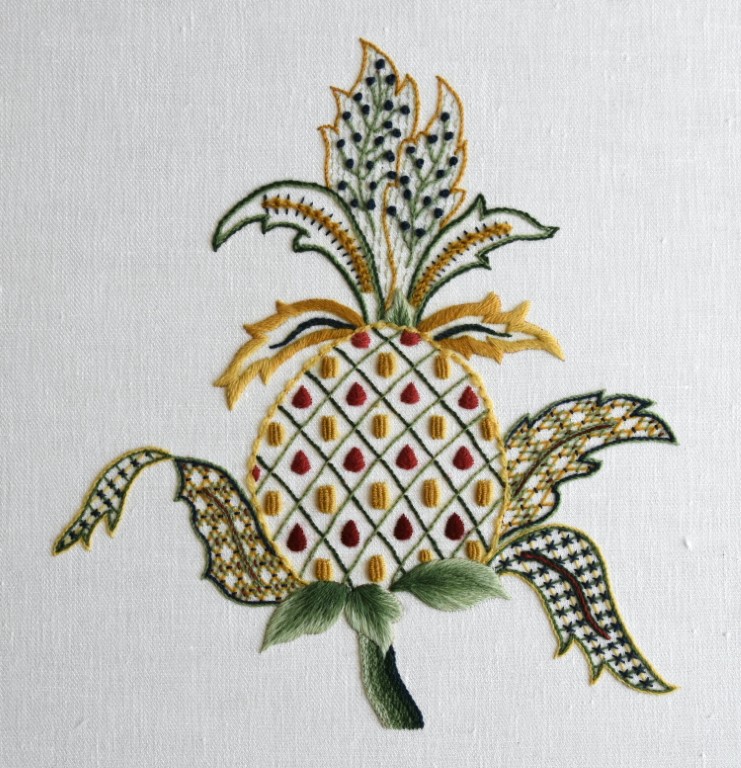 Your website is called The Unbroken Thread (as is your Instagram account). Given that much of your work is inspired by history, is this an allusion to carrying forward long-established needlework practices and motifs? If so, why is that important to you?
Yes, it absolutely is about carrying forward the tradition of embroidery. But it is also about women having "free thinking time."
In German there is a word "überlegen." It translates to " to consider, think, ponder." When I stitch (and when many of us stitch) it may be the quietest moment of the day. It may be the only moments of the day when we can consider, think or ponder.
On my website's home page you will find this:
For centuries women have done needlework. It was a necessary skill, it was an accomplishment, it was a chance to appear to be active while giving one's mind free rein to consider, to think. Calm, slow, careful stitches gave the appearance of activity, skill and usefulness, but the mind was free to think, to be quiet, to wander… An unbroken thread of women, stitching quietly, their minds pondering, considering, thinking, deliberating…for ages and ages.
Both of these practices are vital; the continuation of the art of embroidery and the practice of pausing during the day to reflect, to wonder, to ponder.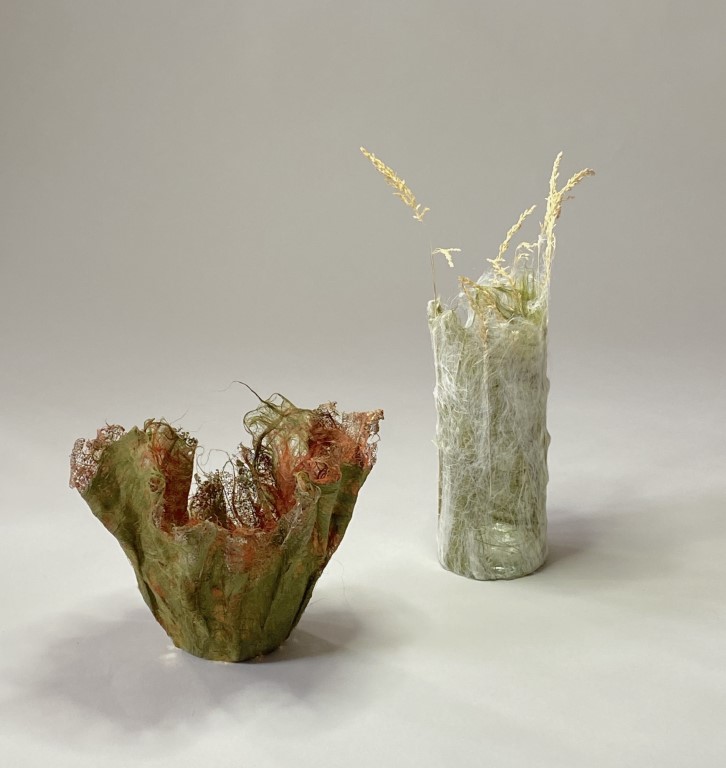 Do you have a daily/weekly/monthly practice that you'd recommend to other embroiderers interested in honing their craft?
Stitch every day. Even 5 minutes on a hectic day will give you breathing space. The act of picking up the needle and putting it through the fabric will slow your heart rate and bring you joy.
Try a new technique. Take a class or watch a video or just play with your thread on some fabric. You never know when what you discover will help you create something new!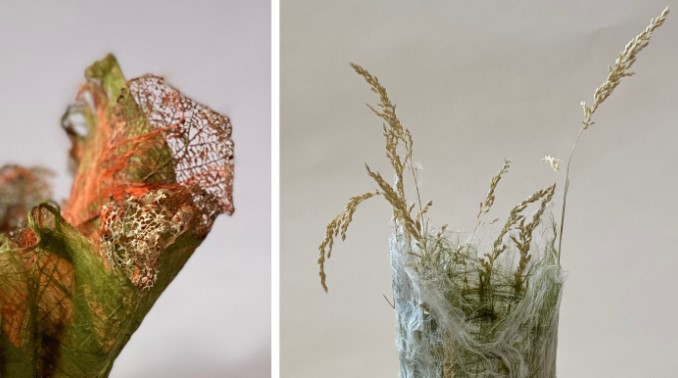 What embroidery or color trends (if any) are you drawn to in the new year?
There are two very different sides of my practice; one very traditional and one very contemporary. Currently I'm working on a contemporary piece for an exhibition in Canada in late July.
At the EGA Seminar in Chicago, I exhibited three contemporary pieces and people were quite surprised that those pieces were done by the same person who creates historically inspired pieces. My contemporary pieces use fabric I create, unusual threads, found objects and are deeply meaningful to me personally.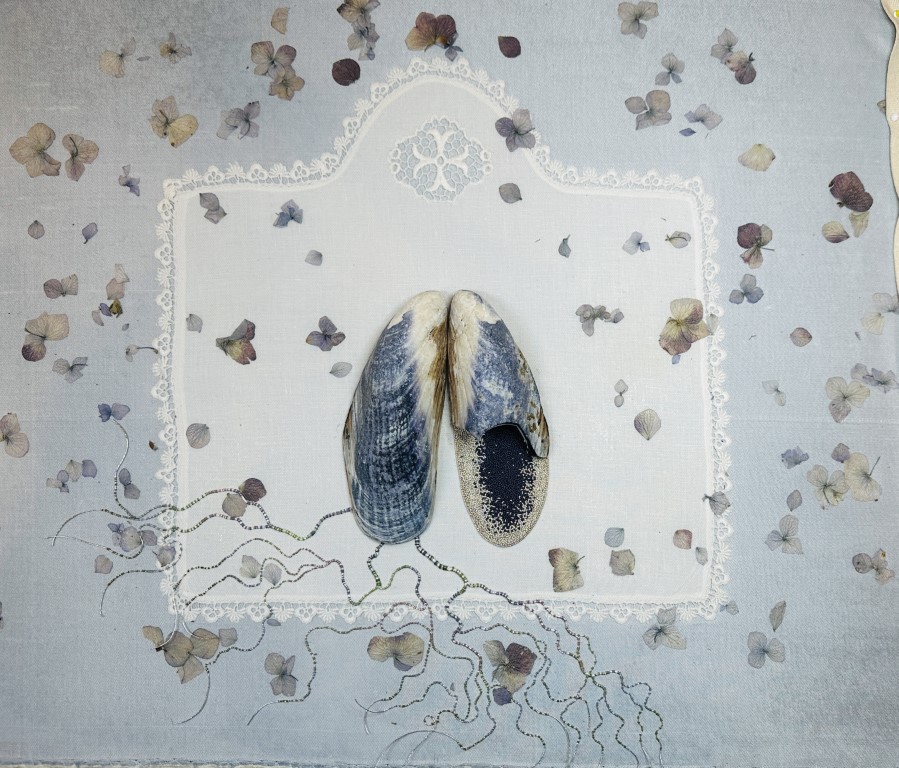 What do you hope embroiderers take from your virtual lecture on Elizabethan Embroidery and the Trevelyon Miscellany of 1608?
A good overview and understanding of the Tudor and Elizabethan periods and the people associated with those periods; knowledge of what the Trevelyon Miscellany looks like and contains; a broad overview of Elizabethan Embroidery and a desire to learn more.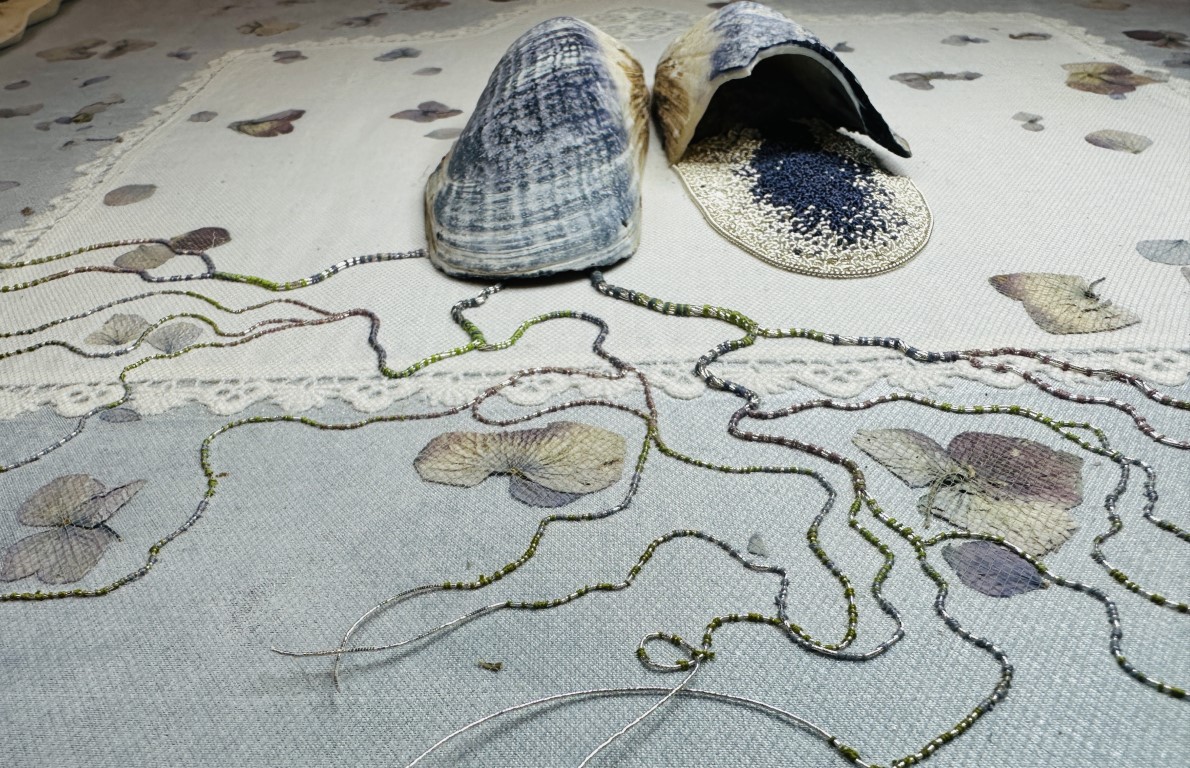 Ready to register for Kathy's lecture? Click here!