The Embroiderers' Guild of America strives to bring new and exciting educational opportunities to the needlework community. We hope our evolving roster of classes, virtual lectures, projects, and events inspire our embroiderers to expand their skills and grow as textile artists.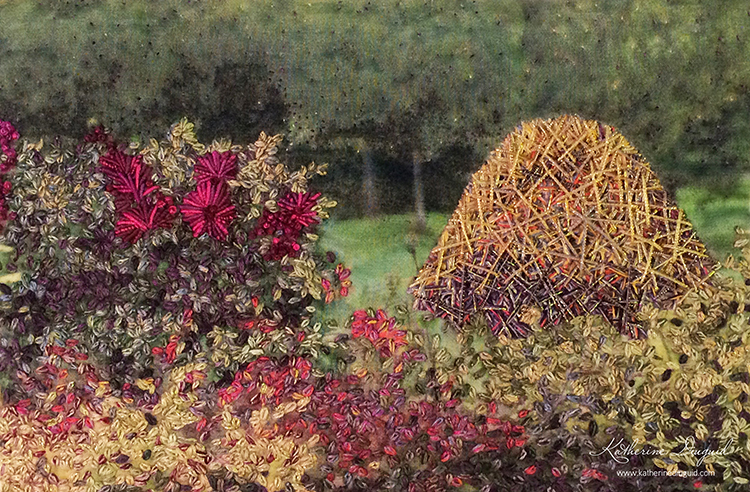 This May, EGA has the honor of hosting Katherine Diuguid in an Online Studio class, Haystacks of Giverny. The class has already drummed up lots of buzz among EGA stitchers excited to explore new techniques like thread mixing and incorporating digital imagery in needlework to heighten depth.
We sat down with Katherine Diuguid to learn more about the class, her inspirations and influences, and what students can expect when they attend Haystacks of Giverny.
The class description for Haystacks of Giverny informs students that they will learn a "non-traditional approach to quilting and embroidery." Can you elaborate on a few aspects of this non-traditional approach?
Kat Diuguid: This piece is worked in hand without a hoop and stitched through multiple layers of fabric and batting. This traditionally quilting-based approach with tightly packed and layered embroidery magnifies the texture of the stitching as the layers add loft and depth between the stitches.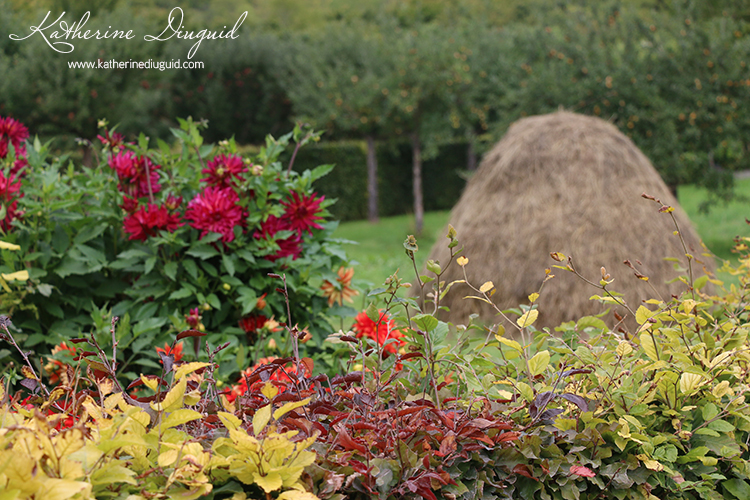 You were awarded an artist's residency at Chateau Orquevaux in France in the spring of 2022. Did your time in France inform the embroidery in Haystacks of Giverny? How?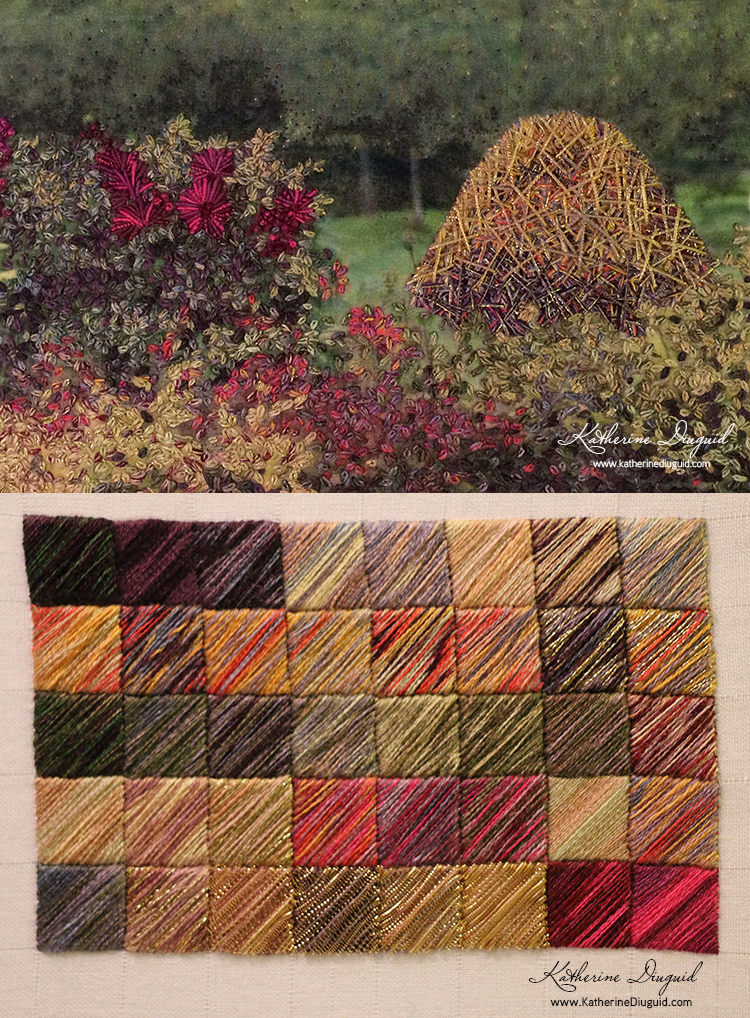 KD: I created this project in response to a research trip to France in 2015. I had received a grant to continue my research investigating the intersections of Impressionist color theory and how embroiderers used color. Interested readers can learn more about some of the color research that arose from that research here.
By applying the color theory principles that I was investigating in Monet's work to a photograph I took during that trip (seen above), this project synthesized what I was learning at that moment from the Impressionists, Post-Impressionists, and 19th-century color theorists that influenced the painters. It felt especially appropriate as it is a photograph of a haystack, a motif now synonymous with Monet, that I took around Giverny near (but not at) Monet's house and gardens. It was also an exciting way to blend digital printing with hand embroidery.
My residency at Chateau Orquevaux was also focused on color explorations, but it was in the Spring of 2022, well after this project. It focused on applying what I have been learning from my investigation into Monet's work to my own landscapes. You can see more of these explorations here.
Interested readers can learn more about the satin stitched color map Kat created from Haystacks of Giverny, featured right, here.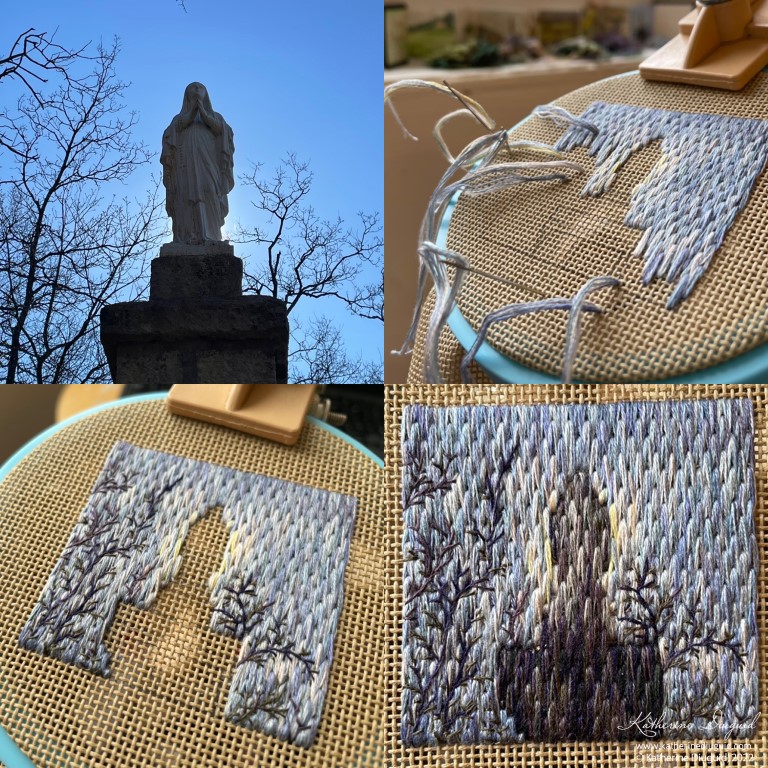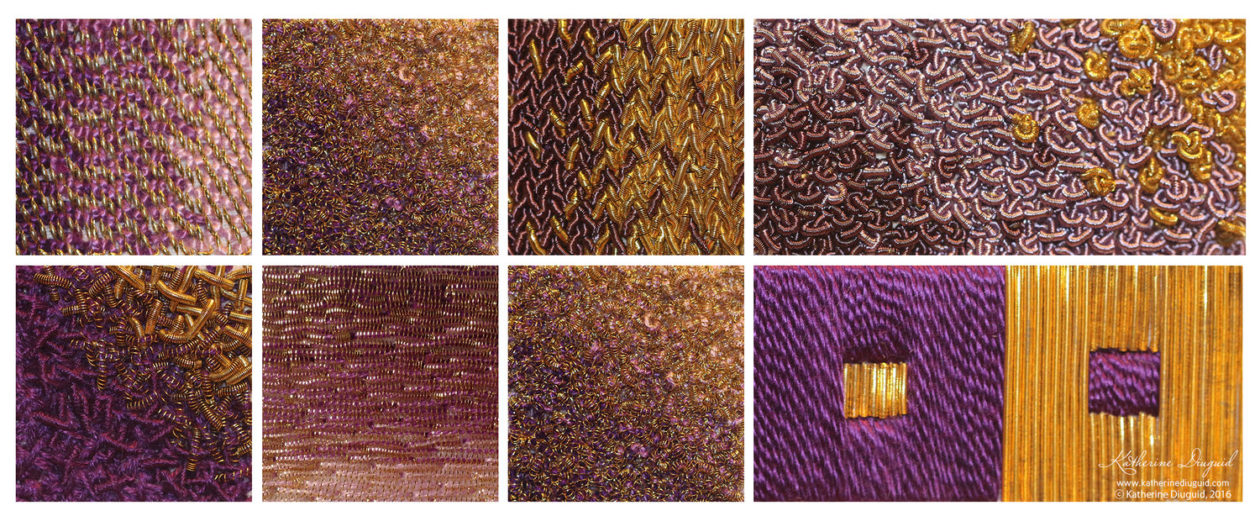 How does the work of Impressionist painting share similarities with embroidery techniques?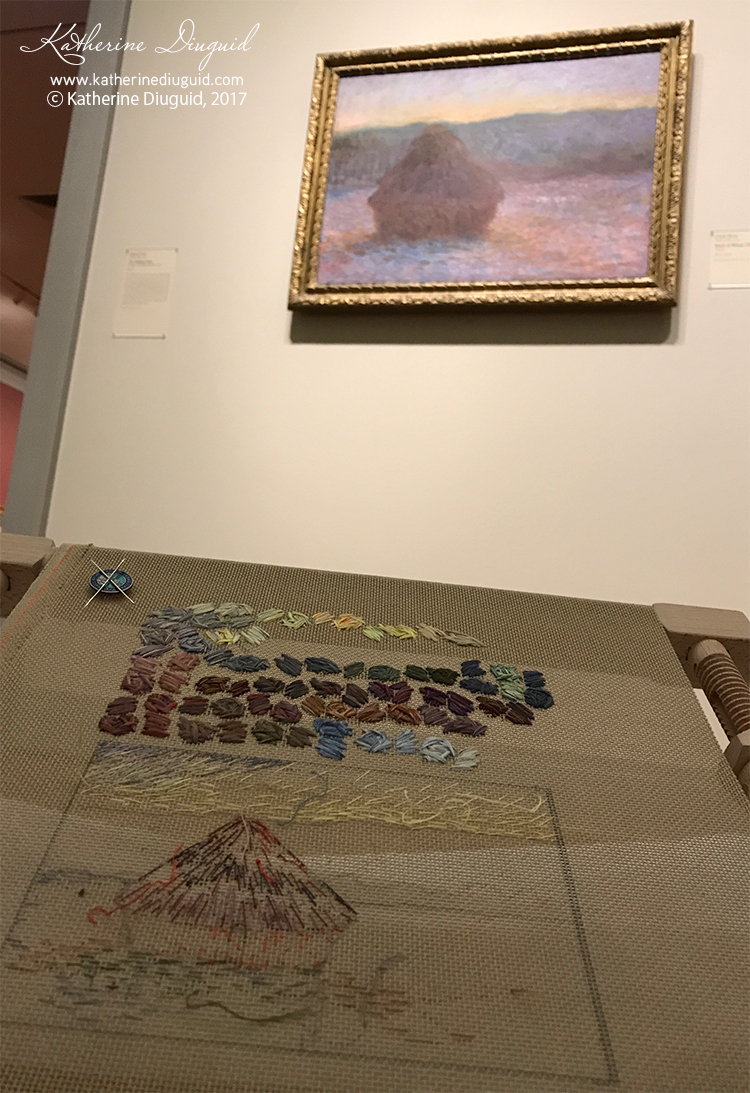 KD: The painters (Impressionists, Post-Impressionists, and Neo-Impressionists) revolutionized painting by approaching color and the depiction of light and time in new ways. There are many overlaps between their approach to color, how they used it on their canvases, and how embroiderers have always had to approach color due to the characteristics of thread and fabric. Both sets of artists utilize optical mixing techniques and exploit color relationship and contrast theories in practice that 19th-century color theorists named and defined.
How do you interpret Impressionist color theory through embroidery?
KD: This is a continuous goal for me. Over the past 7-8 years, I have been focused on Monet's repetitions. I have been granted permission to stitch in the gallery a few times at the Art Institute of Chicago to study their "Stack of Wheat, Thaw Sunset 1890-1891" by Monet and have been granted permission to stitch in the gallery several times at the North Carolina Museum of Art to study "The Seine at Giverny, Morning Mists" also by Monet.
These two paintings are very different in terms of the color effect that Monet created; therefore, they present different challenges when studying the colors and interpreting them with stitchwork.
I want to discover how to coax my threads into creating colors as luminous as the Impressionists created with their paint. I see myself constantly working towards this for the foreseeable future.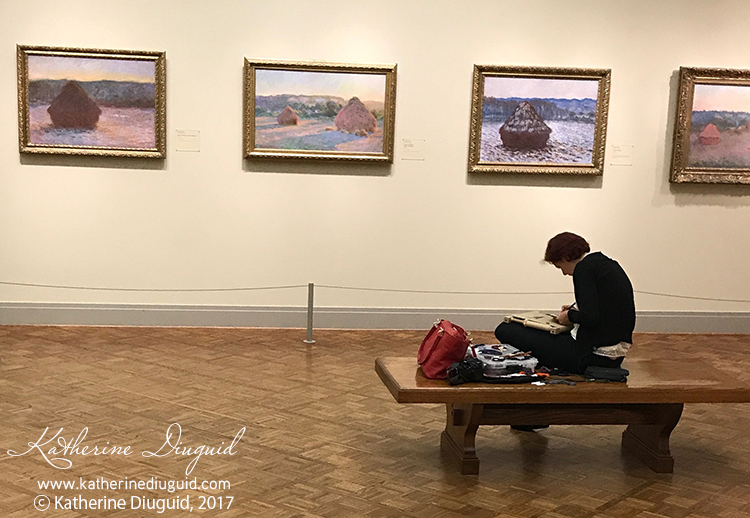 In your artist's statement, you talk about "the effect of stitch choice on color perception," as well as how thread color mixing can offer a limitless palette of colors. How do you approach crafting new colors through thread mixing and stitch choice?
KD: Stitching is sculptural. The threads move back and forth through a flat ground fabric, forming physical layers and creating dimension. All of this creates shadows, which impact the thread's color perception. When you mix colors with thread, you must consider the shadows they create.
What draws you to goldwork embroidery?
KD: There is something extraordinarily special about the contrast in textures between the metal and fibers. The way it builds off the surface is just magical. I love the strict traditional techniques and breaking all those rules and exploring the boundaries of the materials and stitch types.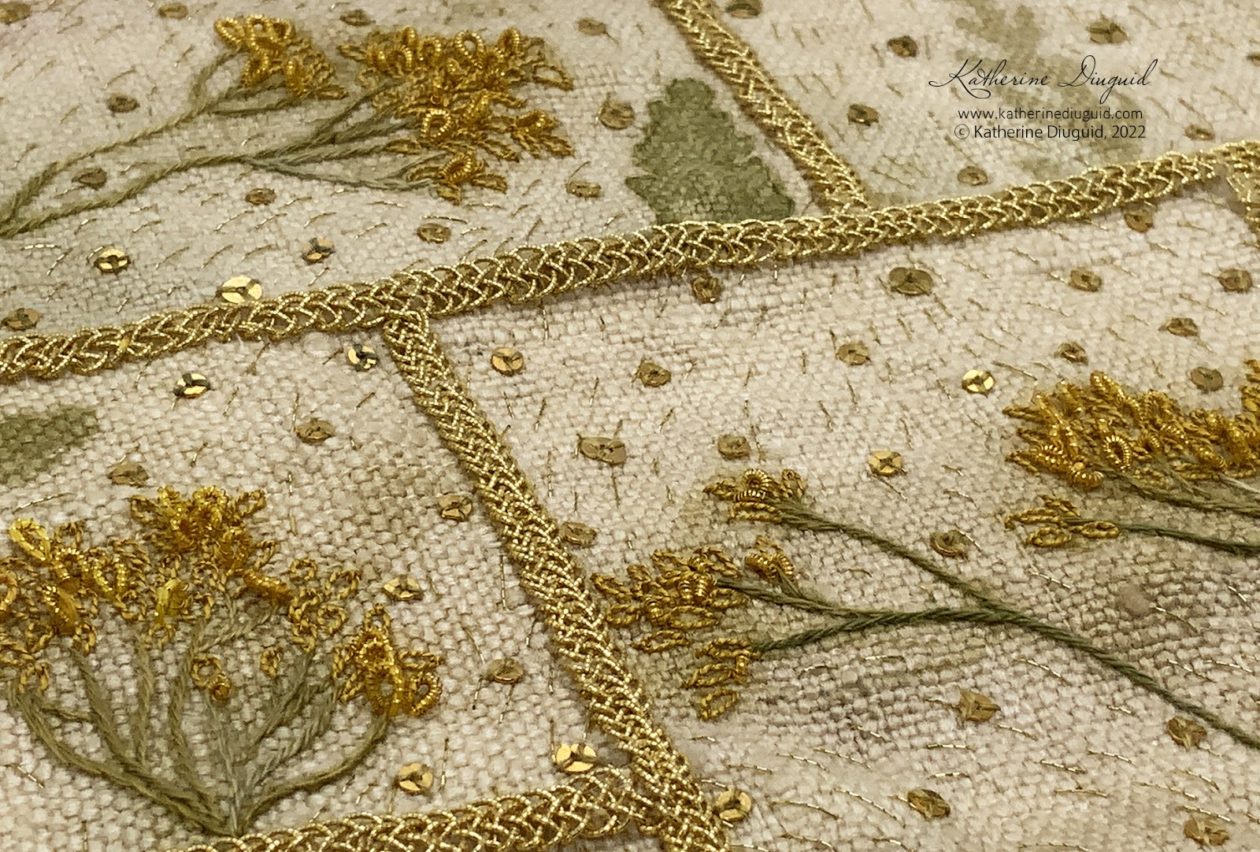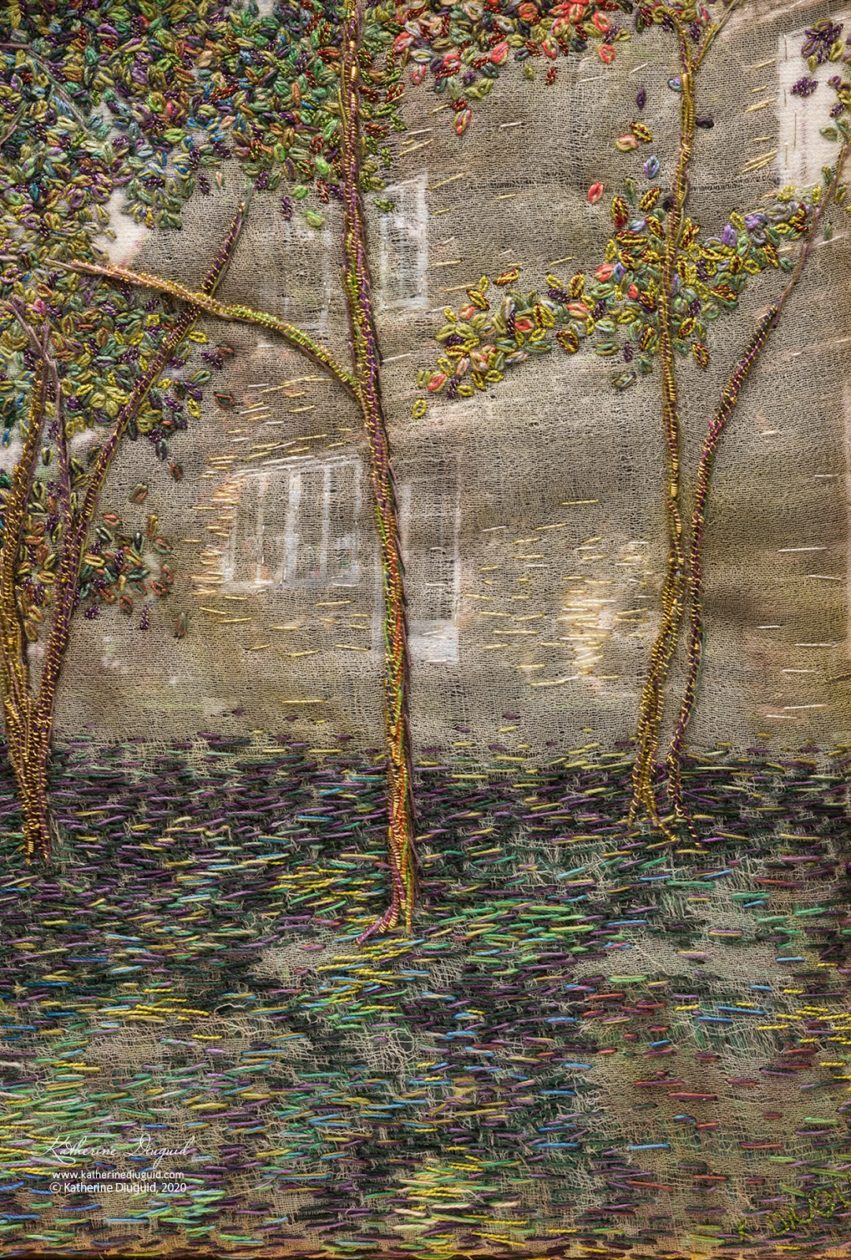 Do you have a daily/weekly practice that you'd recommend to other embroiderers interested in honing their craft?
KD: I document my work from inspiration to finished project exhaustively. The one practice I highly recommend is if you discover something doesn't feel right with your stitchwork, take a photo of it before taking any stitching out. This practice will help you learn why you did not feel it was right and why you are taking it out. Was it color placement? Did the stitch choice not fit the motif or scale? Print out the photo, make notes and keep it with your process for that project. Then you are less likely to repeat the same problem over and over.
What embroidery or color trends (if any) are you drawn to in the new year?
KD: I keep aware of trends, but my work is driven by my own research. I love Opus Anglicanum (Editor's note: Opus Anglicanum is needlework from Medieval England). I love color and Monet's work. My issue is having the time to create all the pieces I want in my sketchbook. There is always a backlog of ideas, and every question I answer reveals many new questions to be explored.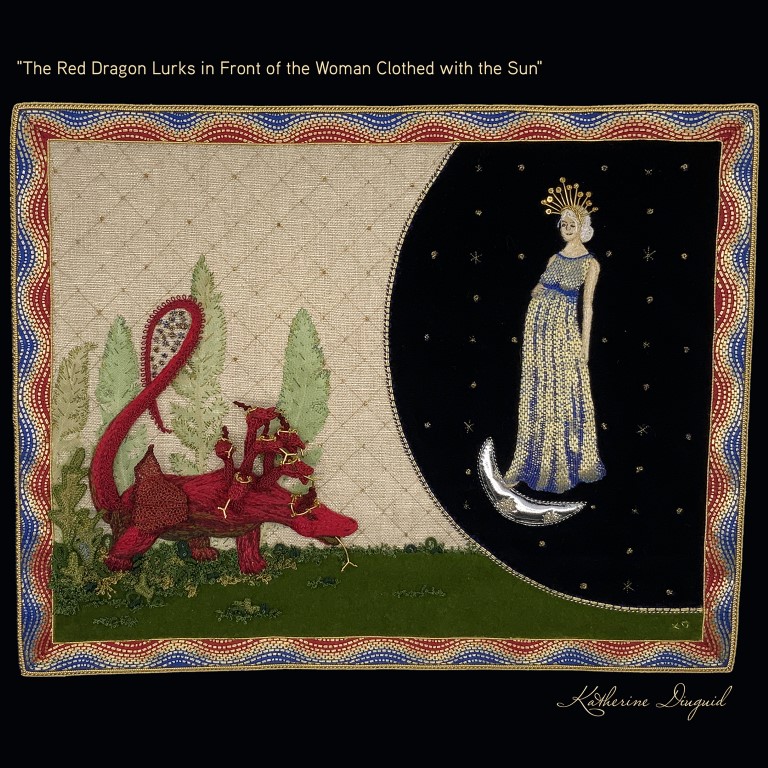 What do you hope embroiderers take from the Haystacks of Giverny class?
KD: I hope that participants will walk away from the course with a new outlook on their collection of threads. Instead of seeing the threads as limited colors, I hope they see them as a palette of threads with infinite possibilities. I hope they recognize how a single, simple stitch type can create a beautifully sophisticated composition.
Thank you so much to Katherine Diuguid for offering lovely insight into the inspirations behind Haystacks of Giverny and her ongoing work exploring color, light, and shadow.
Registration for Haystacks of Giverny closes on March 1, 2023. Register for the class here.