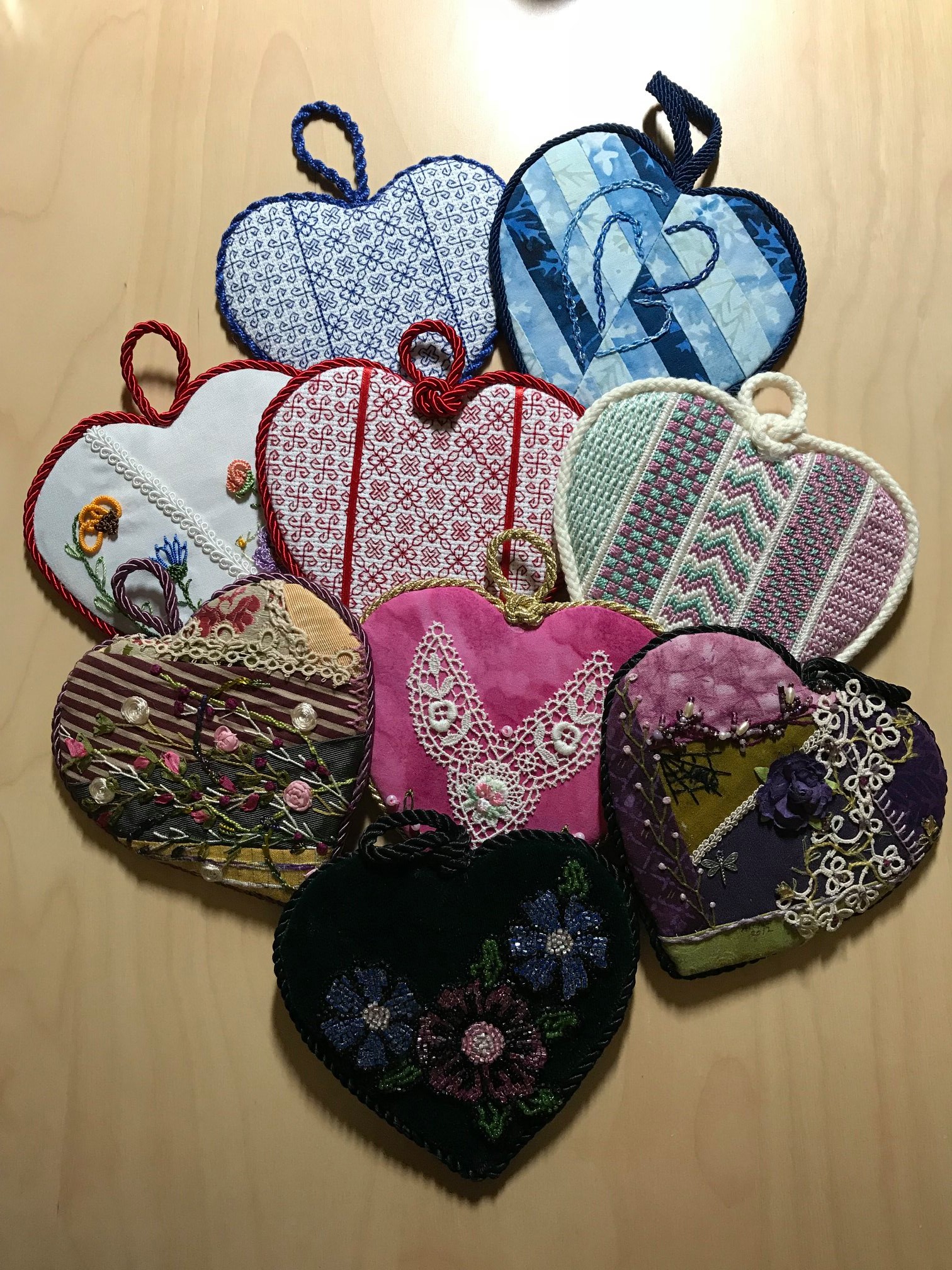 For our July Stitch-a-long on Facebook we will be stitching an outreach project for Hearts for Hospice. Here's more about Hearts of Hospice and this month's stitch-a-long from from admin Kate Gaunt:
Outreach projects have a long history with EGA. It's a great way to show "what we do" and show caring for others. EGA supports a variety of outreach projects both within and outside of the organization.
Hearts for Hospice is a project that I've admired for some time. It was created by the Greater Kansas City Needlepoint Guild in 2015. Here's the description of what Hearts for Hospice is all about:
The members of Greater KC Needlepoint Guild initiated a project in 2015 to fulfill a need at a local hospice center. When a resident passes away, a heart is placed on the door to remind passersby to be respectful of those mourning. The beautiful needlepoint heart is then given to a family member and becomes a cherished remembrance. Recipients have commented about the thoughtful gesture and the peace it provided.
Here is a link to the group's website: https://www.greaterkcneedlepointguild.com/hearts-for-hospice
Other EGA chapters have been supporting this worthwhile endeavor. EGA's Metropolitan Region recently posted that the Long Island Chapter is stitching Hearts for Hospice, their hearts can be seen at the top and bottom of this post.
It's easy to participate in Hearts for Hospice. GKCNG provides two free patterns on their website for needle pointers. We'll be posting additional ideas for other patterns and techniques throughout this month. The request is for a 5″ heart and GKCNG will even finish the hearts. All you have to do is stitch one! You mail your heart to the organizers and they do the rest. Be sure to post a picture here in the SAL group before you send your heart.
Leslie and I like this project because we can all participate using materials we likely have at home. We like the good feelings that result from doing something for others. I've created a template for a 5″ heart for us to use. (I had trouble getting a consistent printout from the template at the GKCNG website.) It's in the files section of the Facebook group or clicking here. Note the printing instructions on the pdf.
Now for the challenge…Sue Hart (one of the Hearts for Hospice organizers and a new member of our EGA-SAL page) shared that last month they received a record 104 hearts! Let's help them blast through that record. With more than 4000 members on this page, we ought to be able to create LOTS of hearts. Let's share some love — via hearts!