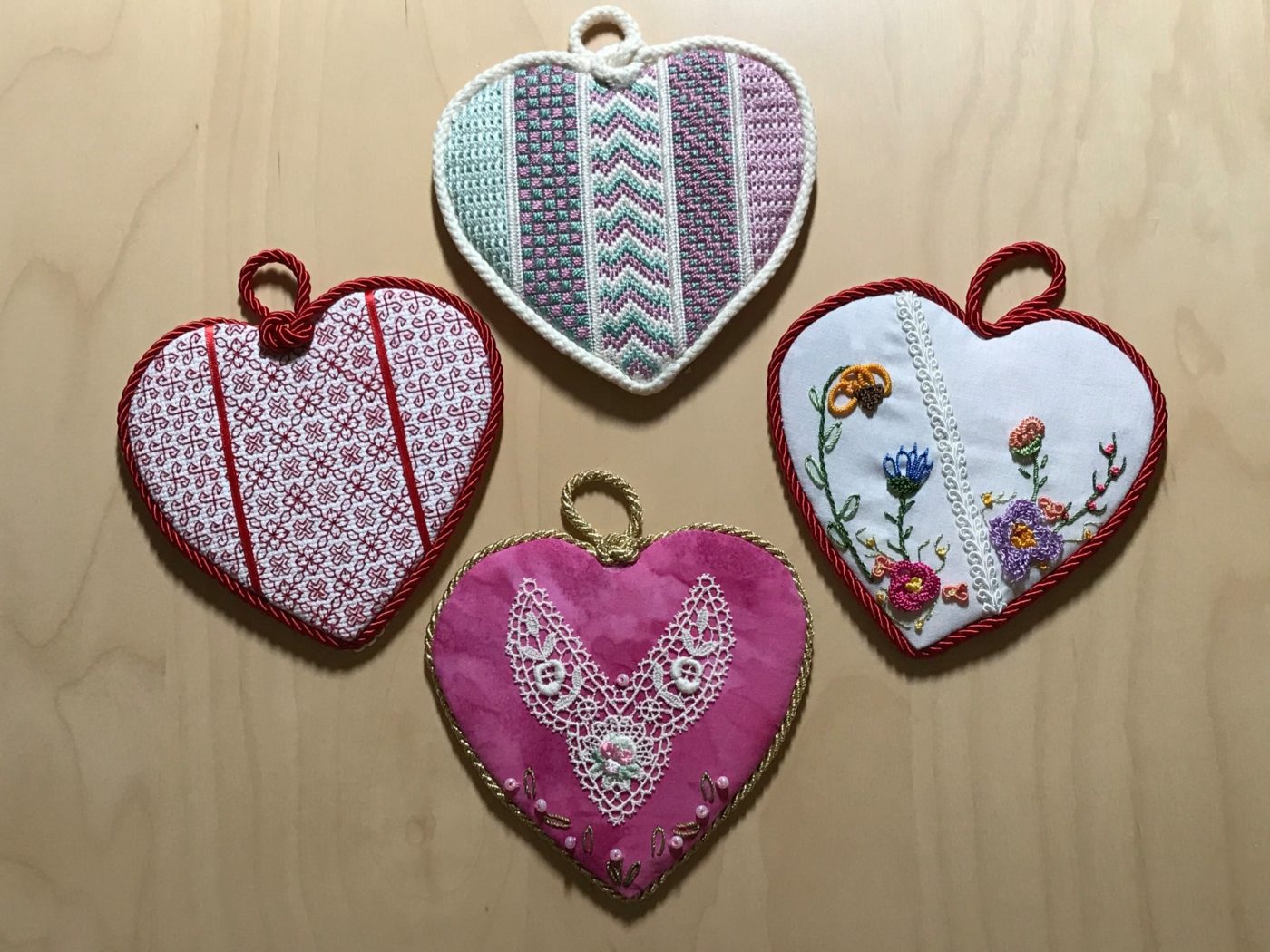 Hearts, creativity and flexibility are the ingredients for this February's stitch-a-long explorations. Here's more about this month's stitch-a-long from from admin Kate Gaunt:
Happy February! February always makes me think of hearts. Hearts, creativity and flexibility are the ingredients for this month's stitch-a-long (SAL) explorations. Leslie and I know that many of you are still working/stitching from home and getting specific supplies can be burdensome. That's one big reason for looking for projects that can be enjoyed with a variety of materials. For this month's SAL you have options:
1. Stitch a heart for Hearts for Hospice
2. Continue or start the creativity exploration we began in January 2021
3. Stitch any freebie project that includes a heart. I've provided some links to some patterns below. If you use a different pattern, please credit the designer and post a link to the pattern. Please no links to Pinterest. There are too many illegal patterns there. Must be a freebie (no cost) pattern. No paid patterns.
Here are some additional details/guidelines:
Since February is all about hearts, we are revisiting our support for Hearts for Hospice. This wonderful group in Kansas City began work in 2015. You can find out more in our previous post from July 2019.
If you'd like to create your own heart, there is a traceable pattern in the files section of this group. Hearts for Hospice also provides several free patterns here and here.
For the creativity exploration, Leslie and I have greatly enjoyed how several of you have truly embraced this challenge. Let's see even more! Bonus points if you can combine the creativity challenge in EGA's brand colors in a heart!!!
The third way to participate in this month's SAL is to stitch a heart-themed freebie pattern. EGA chapters have often used freebie patterns as a source for programs in chapter meetings. In the early days of the internet, I wrote a column for our newsletter with links to patterns and freebies I had found. Here are some new ones I like: Quaker Heart from Piecework Magazine:
Article: Cross-stitch Heart with Quaker Motifs
Direct link to free downloadable pattern for the above Quaker heart
LOVE heart from The World in Stitches (UK)
Swirling heart from a French website
Surface embroidery LOVE pattern from DMC
Love Never Fails Freebie from Primitive Hare
I particularly like the Love ya! freebie that appears first in the list from La D Da.
Please note that EGA has no affiliation with the above companies and links other than possibly supporting them as an advertiser in the past. The choice of links is my own and as far as I know, they are completely legal and free to download.
So, that's lots to absorb for the shortest month of the year, but we hope we have given you lots of inspiration and tasks to keep those embroidery needles busy! Happy stitching!