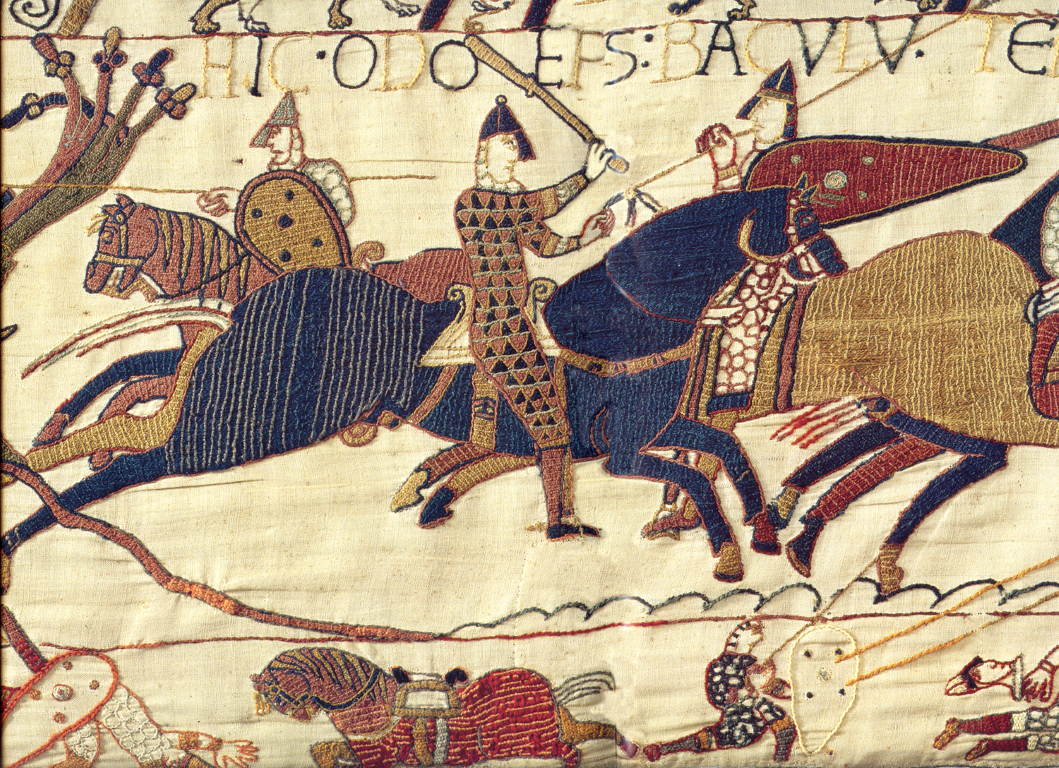 Most needleworkers have heard of the Bayeux Tapestry. While its origins have long been debated, historians presume it was commissioned in the 11th century to decorate the newly consecrated cathedral of Bayeux. Unlike most tapestries, the Bayeux Tapestry was not woven—it was embroidered, in a mix of stem stitch and couching (the Bayeux stitch). The Bayeux Tapestry holds fascination for historians, artists and needleworkers alike. It contains mysteries about its own history, the history it depicts of the events leading up to the Norman Conquest of England in 1066.
For this month's interview in our teacher and lecturer interview series, we sat down with Christine Crawford-Oppenheimer, lecturer of The History & Mysteries of the Bayeux Tapestry. Christine's lecture will take place on Saturday, July 8, 2023 1PM Eastern. Registration is open through July 6, 2023 1PM Eastern. There won't be a recording for this lecture, so make sure to register today!
What initially drew you to the Bayeux Tapestry?
I can't remember when I first learned about the Bayeux Tapestry, but it has been on my bucket list for years until I finally visited it in 2018. When I was in college, my mother bought a book that had more-or-less life-size photos of the whole Tapestry, so I was able to familiarize myself with it.
You've seen the Bayeux Tapestry up close. Did anything about it surprise you?
Right from the start, with the picture of King Edward and Harold, I was struck by the wear and tear of the fabric–small holes, patches, stains, etc. These aren't so noticeable in photos. I've heard/read of other people who had the same reaction. But a positive thing, that I already knew from photos, is that the colors are still vibrant.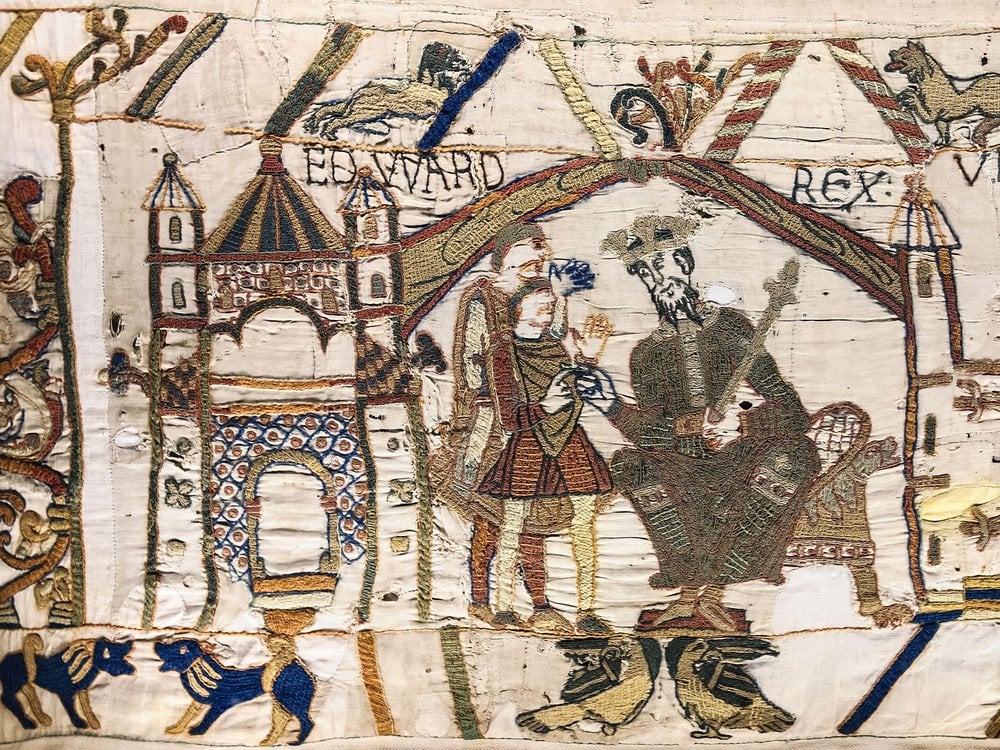 Why do you think the Bayeux Tapestry occupies such a revered place in the history of embroidery? What has given it the power to hold our imaginations for 1,000 years?
Well, first off, it hasn't actually held our imaginations for 1000 years. In its early years, the cathedral at Bayeux displayed it for the Feast of the Relics (July 1-8), but after a while it was just packed away and forgotten. It wasn't until the 1790s that it was rediscovered.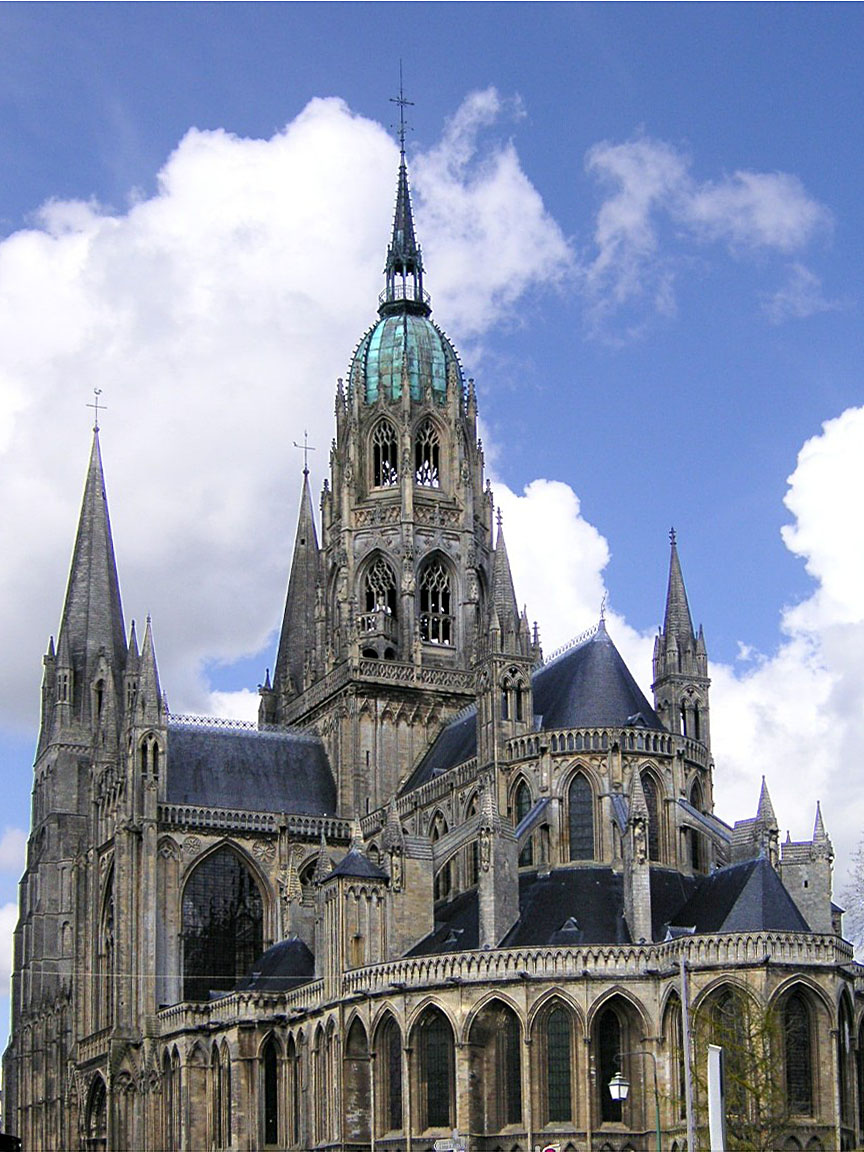 One reason it holds a revered place now is its longevity. We have very few other pieces of embroidery from so long ago, and many of those are just fragments–and then we have this ambitious piece that tells several chapters of a story and has managed to survive almost intact. Many embroiderers have been inspired by it to start on other ambitious projects.
Has the Bayeux Tapestry influenced your own embroidery? How?
Well, actually, no. However, when I first wrote my talk about the Tapestry, I did work one of the many kits that depict scenes from the Tapestry to learn to work the Bayeux stitch. After I finished it, I joked that I had one scene down, and 72 to go!
In what ways has the Bayeux Tapestry influenced the embroidery needleworkers create today?
Many people have been inspired to create their own tapestries based on some other historical event, or history of a period of a country.
I haven't seen any of these in person, but I have books about the Great Tapestry of Scotland and the Overlord Tapestry (which was done in applique, not embroidery), so I've seen pictures of them.
And there were some pictures of the Pilgrim Tapestry in a recent issue of EGA's own Needle Arts (read the article for free). I'm hoping that maybe when EGA meets in Boston this summer, there will be an opportunity to visit the Pilgrim Tapestry.
Beyond people being inspired to design another historical Tapestry, some people have seen the Bayeux Tapestry as a challenge, and have made or are making more-or-less exact copies of it. I say more-or-less, because the 1885 Leek Embroidery Society copy, now in the Reading Museum in Reading, England, was bowdlerized and the prominent genitals of the horses were omitted! Other people have designed and, in some cases, embroidered their concept of what the lost end of the Tapestry looked like.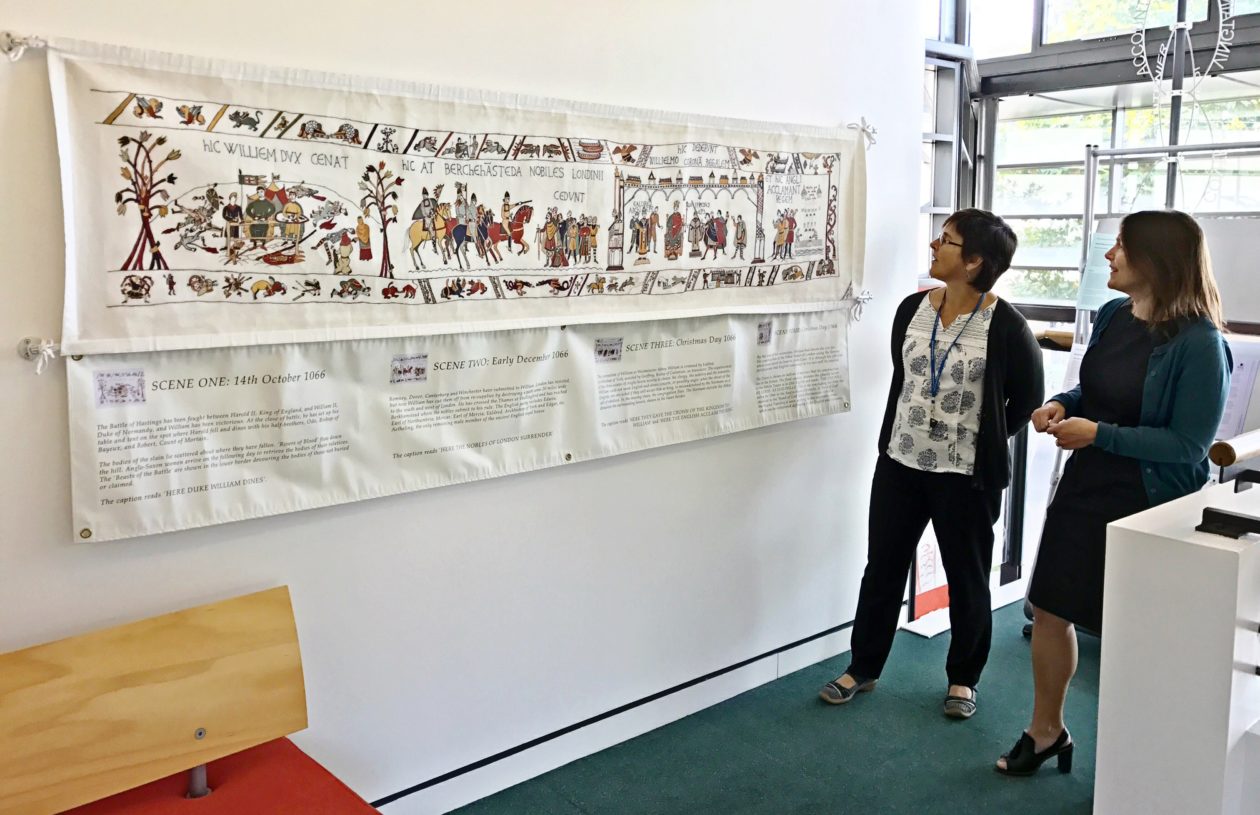 There have been other people who have made parodies of the tapestry or inserted extra items into the scenes. My cats' favorite of these is the one in Svetlana Petrova's Fat Cat Art: Famous Masterpieces Improved by a Ginger Cat with Attitude, in which Svetlana's ginger cat, larger than life size, sits on the altar while Harold swears he will get a bigger chair for it.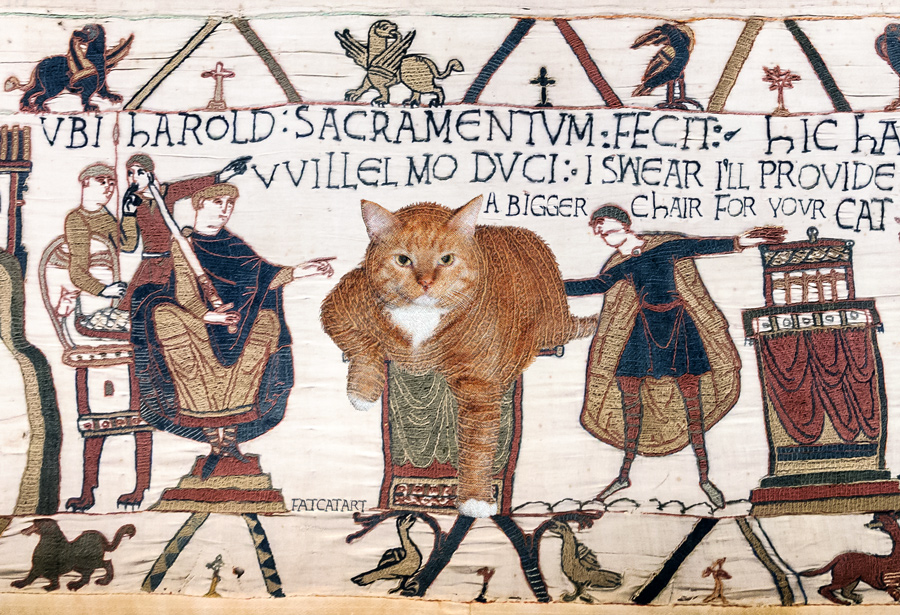 Do you have any literature to recommend for those who want to dive deeper into the history of the Bayeux Tapestry?
I actually have a two-page handout for my talk, which I understand will be distributed to people who attend. If I could only recommend one book, I would suggest Carola Hicks's book, The Bayeux Tapestry: The Life Story of a Masterpiece. London: Vintage, 2007. For people interested in learning about the technical aspects of Bayeux Stitch, I recommend Tanya Bentham's Bayeux Stitch, Marlborough, Wiltshire: Crowood Press, 2022.
I hadn't even heard of most of these! I had to take a half hour off from answering these questions to look at them.
I was especially interested in the Palestinian History Tapestry, as I grew up in the Middle East and have followed the history of that area most of my life. I had heard of the Quaker Tapestry–I think through an article in Needle Arts a while back. I have a Quaker ancestor who was active in the early days of the Quaker religion in England and also was one of the founders of Pennsylvania with WIlliam Penn, and I actually contacted the people in charge of that Tapestry in hopes that there was a scene that included him, but no such luck.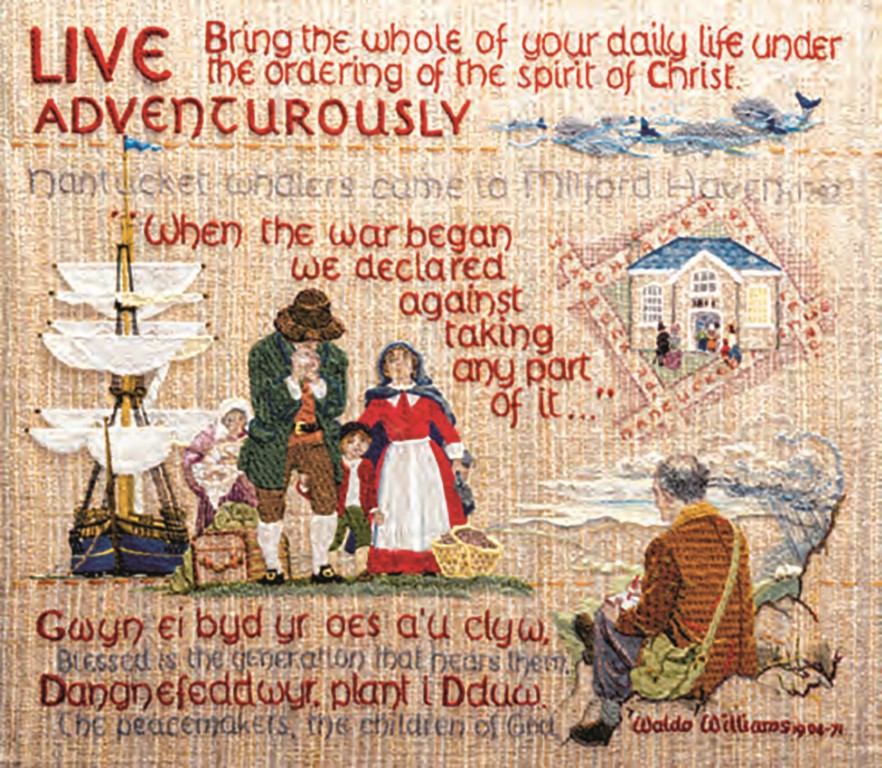 Do you have a daily/weekly practice that you'd recommend to other embroiderers interested in honing their craft?
My daily practice is that pretty much every day, I watch three hours of prime time TV, plus the news, plus The Late Show, while I put in about 4-5 hours of stitching. Even so, I can't keep up with all the pieces I would like to embroider!
My mother taught me surface embroidery and stamped embroidery when I was a child (I started at age 6 or 7), and I taught myself counted cross stitch when I was in college. When I retired, I joined the Embroiderers Guild of America and, except during Covid, I have attended almost all of the seminars during that time, both national and in my region, plus workshops set up by my local chapter. Often, I choose classes that teach techniques I haven't done yet, so that I can try different things.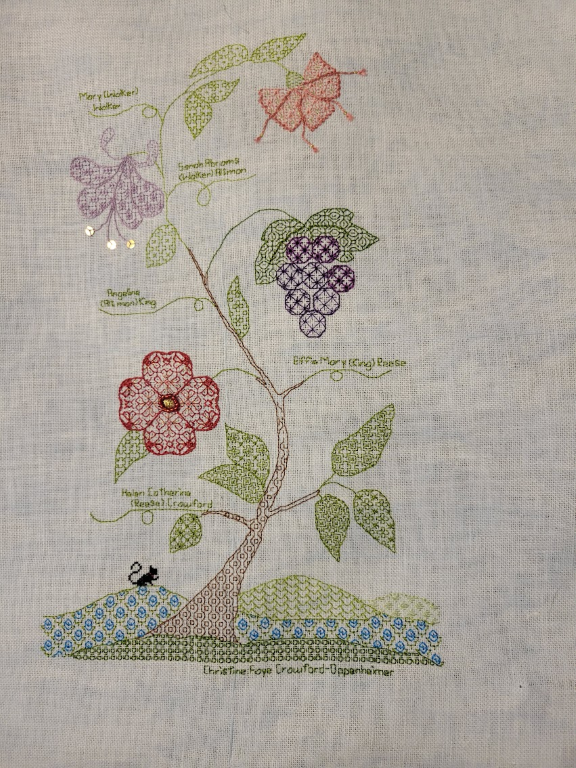 When I inherited my mother's stash, it included a large amount of metal threads, so I thought, "I'd better take a class in metal thread embroidery, because if it turns out I don't like it, I could get rid of these threads." However, I did like it, so I have more than a lifetime supply of metal threads! I encourage people who go to EGA's seminars to choose classes with new techniques, so that they get their money's worth.
What embroidery or color trends (if any) are you drawn to right now?
I'm eclectic in my choice of pieces to work on. Blue is my favorite color, so a piece with a lot of blue in it will usually attract my attention, and I have been known to change colors in pieces in order to add more blue.
Cats are my favorite people, so many of the pieces I work on have cats in them–and sometimes, if they don't, I add images of my own cats.
What do you hope embroiderers take from The History and Mysteries of the Bayeux Tapestry Virtual Lecture?
A lot of people believe that the Bayeux Tapestry shows only the invasion of England, so anyone working on that belief will learn that it includes a lot more, and is in some ways a "document" justifying William the Conqueror's claim to the throne of England.
I hope they'll also be interested in the history of the cloth itself. And the unsolved mysteries about the piece are fascinating. There are a few that we may solve someday, but until I get my time machine back from being in the shop, there are many that we'll never solve.