Price
$175 per Group + 40 Text per Student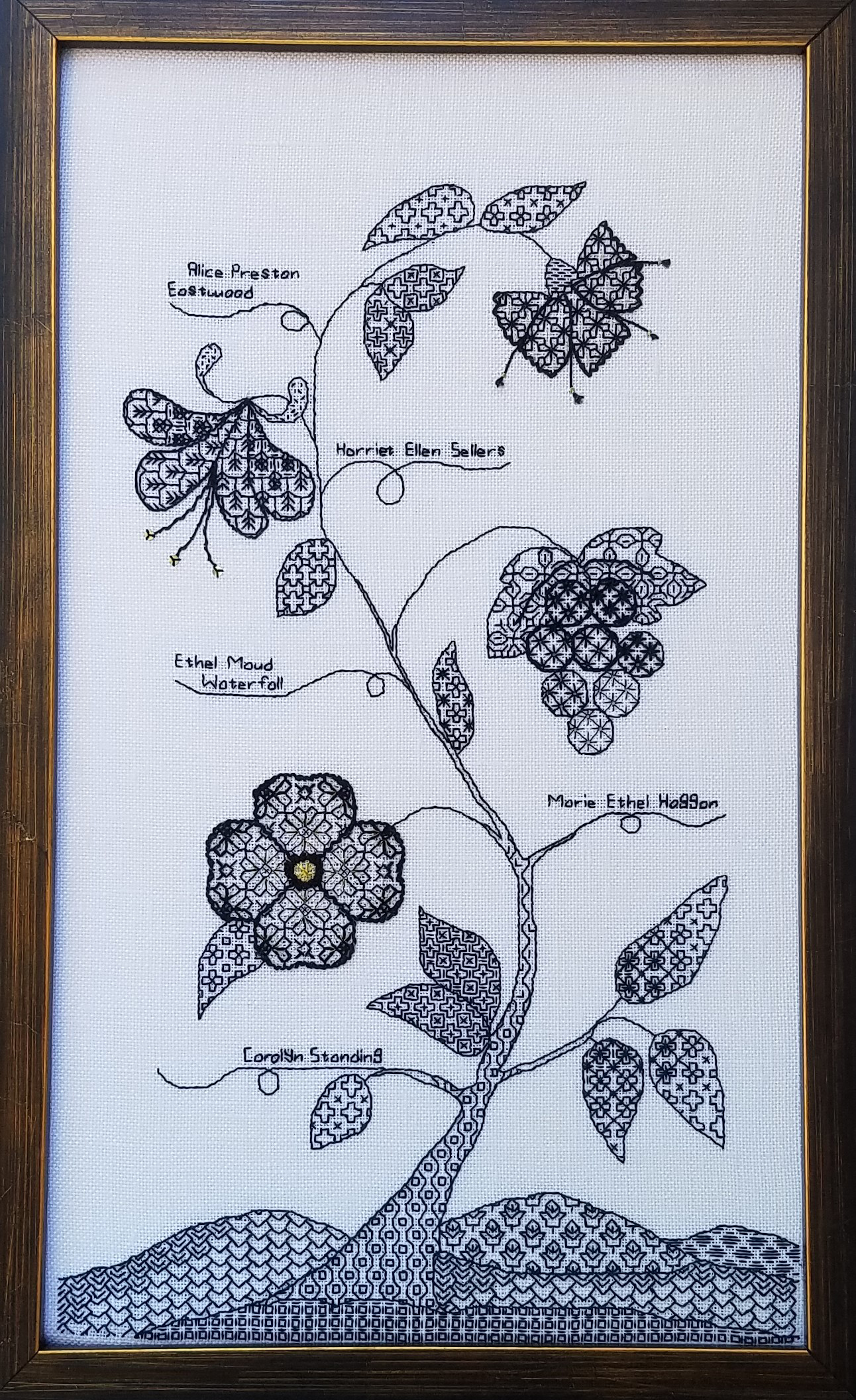 On our Group Correspondence Course Ancestree with teacher Carolyn Standing Webb you will work on a tree of life design that will feature you and your family. You can add your mother, grandmother, great grandmother and back for 5 generations or you can make one with just your immediate family. This design can become a heirloom passed on to future generations in your family.
The tree is stitched on either 28 or 32 count antique white linen with black threads. The threads can be either cotton or silk. Three sizes of black thread is used to shade the design. Gold thread is added for a special sparkle. Shading is achieved by using both pattern and size of thread. You will be able to explore how to create the paths for double running and why some blackwork patterns are not reversible.
Ancestree Information
Type of project: Wall Hanging
Design size: 11″ x 7″
Colors: Black and gold
Supplies used: Linen or evenweave 28 or 32 count antique white, Silk or cotton threads, Kreinik gold cord, Paillettes
Skill level: Intermediate or determined beginner
Prerequisites: Some experience with counted patterns
Timeline: 6 months of classes
Text price: $40.00 includes Pailletes
Supply cost: Silk threads/linen – $30; Cotton threads/linen – $17
DMC Color for  tassel: 3822
Download supply list.
About teacher Carolyn Standing Webb
Carolyn Standing Webb of Salt Lake City, Utah, has a degree in education but finds needlework much more rewarding to teach. She grew up in a home where art was a part of everyday life and creativity was encouraged. An EGA member of our Wasatch, Salt Lake City Chapter, she has been a needlework designer and teacher for over twenty years, teaching on the local, regional and national levels. She has a line of patterns available in retail stores. Several pieces of her work have been published in books and magazines and she has won a number of prizes for her needlework. She has her Master Craftsman in Counted Thread. Her goal is to share with her students her love of needlework and to help them relax and enjoy it.
Wondering how Group Correspondence Courses work? Learn more here.