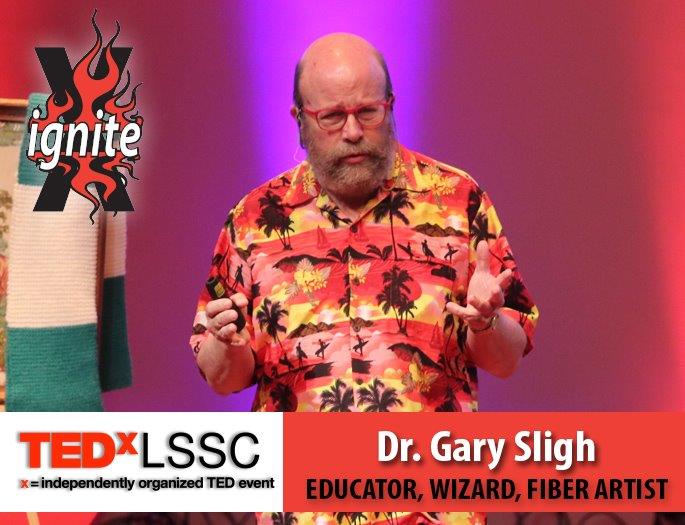 EGA member Gary Sligh recently delivered a TED Talk on The Legacy of Handmade Objects that we're sure you will enjoy. Gary is a member of  our Suwannee Stitchers Chapter in Florida and is also the treasurer for our Sun Region. He's been stitching for over 50 years and discovered and joined EGA once he retired. Gary is also the owner of Gary Lee Sligh Fabric Arts, an EGA affiliated Needlework Shop.
Here's more about The Legacy of Handmade Objects from Gary, followed by the full video of his lecture for your enjoyment!
Handmade objects seem to be devalued in modern culture. When I find hand-stitched work for sale at a yard sale for 25 cents, or I see handmade wooden or metal objects being discarded rather than being repurposed and loved, I mourn the loss of that heritage. Many times an individual spent hours of love to create those objects, yet the rush of modern culture, and the devaluation of work done by women and manual laborers, has turned it into a cast-off item. When someone puts their own essence into a handmade object, there is reason to cherish it.

Creating handmade objects can also ignite a rich internal spirit. I have one friend who says that stitching "centers" her, gives her a kind of tranquility. The benefits of that kind of singular purpose are multiple. Working with our hands doing something that we love is meditative. Wounded veterans of World War I were taught embroidery to help calm their PTSD symptoms. Women who were held as prisoners of war in World War II used embroidery to express their fears and create a memory of their suffering. We can lose touch with the problems and stresses of everyday life when we are concentrating on the act of creation. Creation gives voice to our inmost feelings and can express emotions that words cannot capture.

But when all is said and done, whether the work be expert or amateur, pretty or ugly, hard or soft or impermanent, handmade objects create a legacy for those who come after us, a sense that our brief time on the planet resulted in something new, something that did not exist before, and which can be created by no one else. The legacy of handmade objects is the story of humanity, the chance each of us has to contribute to the great cosmic story of life.

When we look at the mission of the Embroiderers' Guild of America "to stimulate appreciation for and celebrate the heritage of embroidery" we are directly in the path of those who seek to preserve the legacy of handmade objects.