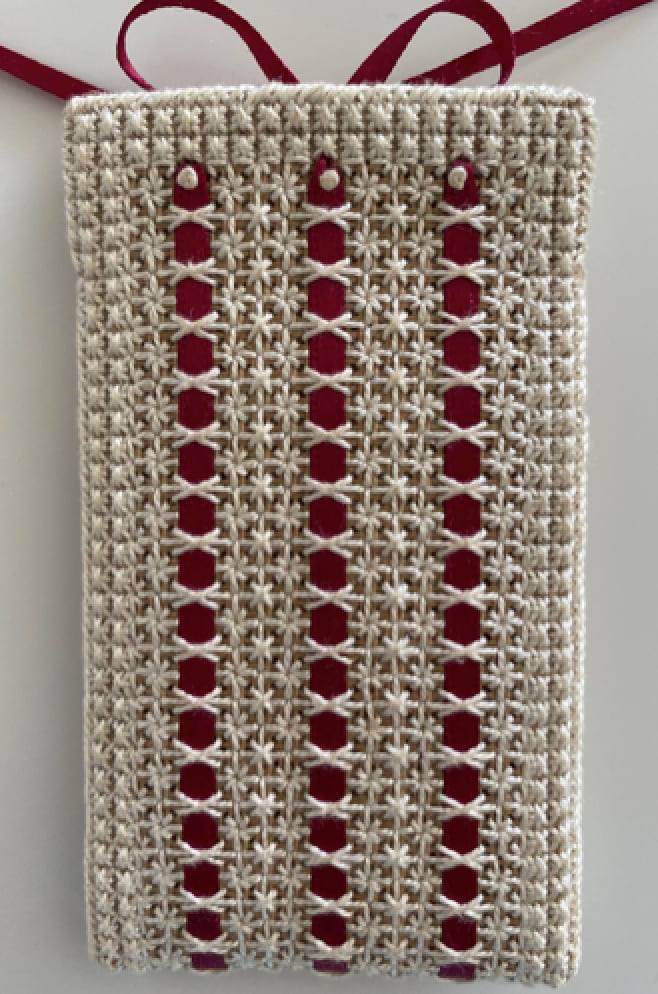 For our December stitch-a-long on Facebook we are working on a beautiful scissors case by designer Margaret Bendig, member of our Inland Empire Chapter in California.
Would you like to help us with the stitch-a-long? We are looking for admins that can help us moderate the EGA Stitch-along group on Facebook and projects that can be stitched in upcoming months. If you want to help, please contact marketing@egausa.org.
Here's a little more about this month's project from stitch-a-long admin Kate Gaunt:
It's time for our December Stitch-a-Long (SAL) and we have another beautiful canvas scissors case from Margaret Bendig. Margaret's endless creativity with her scissors case projects (just one of her many popular project areas) has made these scissors cases popular with EGA and ANG guilds for many, many years. We greatly appreciate Margaret's generosity in continuing to share these projects so all of us can enjoy them via EGA's SAL Facebook page. This particular design does not require a large number of materials — just 18-count mono canvas, #8 pearl cotton and some 1/16th inch satin ribbon. Margaret stitched her original scissors case in ecru with a contrasting color ribbon. To mix things up, I also explored color washing some canvas to match the satin ribbon colors that I could find. I'll add some additional notes about the color choices of paint and the source I used for the ribbon in a later post on the Facebook Group. The project can be downloaded here or in the link below.
As we mentioned in November, Leslie Gagliardi and I (Kate Gaunt) will be retiring from the SAL FB page at the end of this month. Our EGA officers are actively looking for someone (or more than one someone) to take over this page to keep it going. It's clear you like it! Like many things these days, it's challenging to get people to volunteer for positions, but if you like this page and want to see it going, we could use some help. You can send a message to marketing@egausa.org to offer suggestions and ideas and even to volunteer.
Leslie and I would also like to take this opportunity to thank Rand Duren, EGA's tech guru, for his help, assistance and support on this page. It couldn't have happened without you, Rand, and we appreciate you!
For this month's SAL activity, check your stash and see if you have some supplies to begin our current project. Thanks again to Margaret Bendig for her continuing generosity to all of our EGA stitchers!