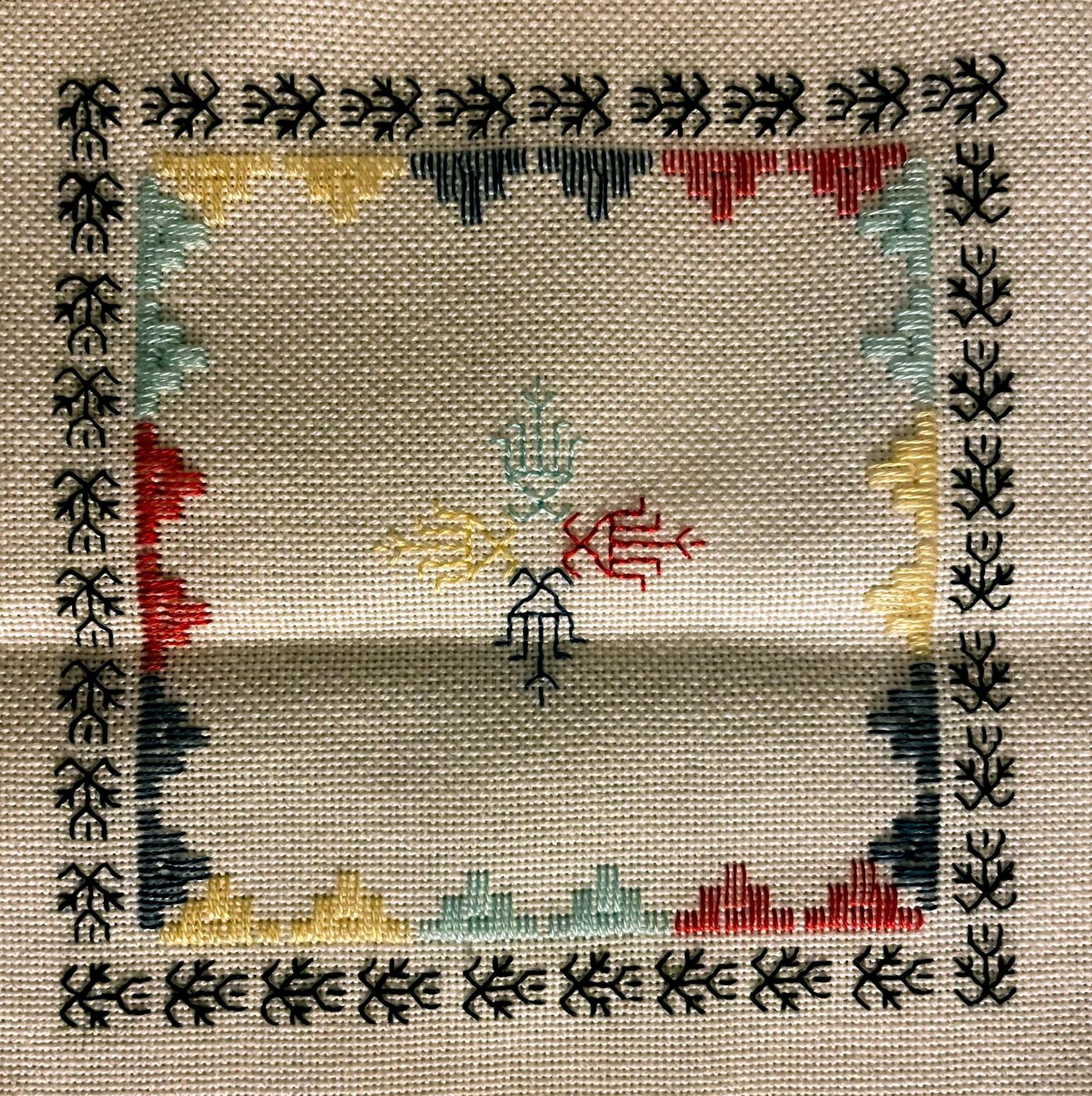 This year, with the miracle of zoom, members of EGA have been able to learn about the embroideries of various different ethnic groups. In Arizona, the members of Starlight Stitchers and of Desert Threaders in were fortunate enough to learn about Tunisian Embroidery during the French Protectorate from the mother of one of their own. Simone Ossipov lived and worked in Tunisia in the years before independence in 1962. Her responsibilities for the Tunisian Department of Education involved working with the local women to produce embroidered goods, mostly table linens, that would be sold to tourists. Specifically, she ensured that the women's work met the high standards of the department. The Arizona chapters learned about the various traditional motifs such as the Kemassi (hand), as well as the colors that are specific to regions. For example, the embroidery of Nabeul is pure white while that of Hammamet, just a few kilometers away, is red, yellow, blue, and green, with black accents.
Because of the pandemic, Starlight Stitchers held a zoom meeting in April with Mme Ossipov, but were able to see photos of her embroideries and ask her questions. By May, many restrictions were lifted, so that Desert Threaders members were able to see the embroideries up close. The fineness of the work is very evident when seen up close: the very high stitch count, the evenness of the stitching, the quality of the finishing. It is even more amazing to realize that these were worked in the home, without benefit of bright lights and magnifiers.
For us all, it was a wonderful experience to talk with someone who was directly involved in the creation of these works and to be able to touch them and see them up close. Finally, members of the chapters received a pattern and/or a kit to make their own small example of this lovely embroidery.
 – By Helene Ossipov, Starlight Stitchers and Desert Threaders Chapters