Throughout the year, many of our regions and chapters showcase the work of their members through needlework exhibits. Today we are highlighting seven upcoming exhibits including the Education Exhibit at our Seminar in New York and the United Quilts of America 9/11 Project exhibit.
Corning Chapter Needlework Exhibit – Elmira, NY
Date: August 4 – October 1, 2022
Location: Chemung County Historical Museum, 415 East Water Street, Elmira, NY 14901
The Corning Chapter cordially invites you to view their beautiful display of needlework Weekdays and Saturdays from 10:00 AM to 5:00 PM.
Join them for an opening reception with door prizes on Thursday, August 4, 202 from 6:00 to 8:00 PM. Click here to download the flyer.
United Quilts of America 9/11 Project – Harrisonburg, VA
Date: August 16 – November 12, 2022
Location: Virginia Quilt Museum, 301 South Main St, Harrisonburg, VA 22801
Join EGA member Linda Ehrlich from our Bergen County Chapter for an exhibit about her United Quilts of America 9/11 Project. There will be over 100 quilt blocks on exhibit. This is the first time these works will be seen by the public. The tragic events of 9-11-2001, over 20 years ago, continue to leave an indelible mark on our nation and all those affected. It is with great honor and humble pride that the Virginia Quilt Museum has made this exhibition possible. You can see some of the quilt blocks below.
EGA's Education Exhibit at Broadway Bound – New York, NY
Date: August 24-28, 2022
Location: Marriott Marquis Hotel, New York, NY
Our National Seminar: Broadway Bound will be in New York City this coming August and registration is open through June 15. If you are not able to participate in the entire event but find yourself in the area one of the days, you can come visit the Education Exhibit where work by our members and teachers will be on display. You will see examples from our Online Courses, Group and Individual Correspondence Courses, Master Craftsman Program and more. Did you know that you can submit a piece you worked on in one of our classes to be showcased at the Education Exhibit? Learn more! (The photo at the top of this post shows pieces from our Education Exhibit: Master Craftsman Color steps by Gina Maria Kleinmartin. Bottom right corner, Master Craftsman Color by Pat Goaley.)
See a video with highlights from Seminar 2021 including the Education Exhibit, Bobbie Pilling Memorial Awards and more.
Golden Needle Awards Exhibit – New York, NY
Date: August 24-28, 2022
Location: Marriott Marquis Hotel, New York, NY
During the last week of August in 2022, we will be holding the 2022 Golden Needle Awards, our annual judged (but not juried) themed awards exhibit at the EGA National Seminar, "Broadway Bound" in New York City. Golden Needle Awards is open to all forms of creative needlework, from EGA members at all levels of expertise—beginners to highly experienced. Entries must be submitted by June 1, 2022. Learn more here.
Last year, the theme was Magnificent Stitch. You can see a gallery of all the pieces here.
"Here My Work Forever Stands" Needlework Exhibit, Moline, IL
Date: October 1, 2022, from 10:00 AM to 3:30 PM
Location: Moline Public Library, 504 17th Street, Moline, IL
In celebration of our 45th anniversary, the Mississippi River Valley Chapter will host a needlework exhibit on Saturday, October 1, 2022, at the Moline Public Library in Moline, IL. Items will be on display in the Gold/Silver Rooms from 10:00 a.m. to 3:30 p.m. The exhibit will include cross stitch, needlepoint, hardanger, surface embroidery, and mixed media. The Chapter's hand-stitched banner will also be on display. For more information, contact Mary Heinzman (heinzmanmaryb@sau.edu).
Stitches from the Heart Exhibit – Fort Myers, FL
Date: December 1, 2022, from 12:00 PM to 4:00 PM and Friday, December 2, 2022, and Saturday, December 3, 2022, from 10:00 AM to 4:00 PM
Location: St. Hilary's Episcopal Church, Browning Hall, 5011 McGregor Boulevard, Fort Myers, FL.
This needle art exhibit will showcase a variety of hand stitched needlework by members over the past three years. Activities at the exhibit will include stitching demonstrations by members, a tea cup auction, a display of the Chapter's Outreach Program, and a boutique where hand stitched items may be purchased. Please check our Facebook page for any changes due to COVID.
National Exhibit: Through the Needle's Eye – 2023
The 22nd Through the Needle's Eye will be a fantastic extravaganza, a remarkable exhibit first displayed virtually at National Seminar in Boston September 2023 and also as a "live" display in Louisville. The premier virtual exhibit will later be available on EGA's website for all to see. After Seminar you will be able to enjoy the beautiful and skillfully designed pieces from the comfort of your own home, dressed in pj's and fuzzy slippers in the middle of the night if you prefer.
Through the Needle's Eye will include a three-month display of the actual pieces at National Headquarters in Louisville, Kentucky. This showing will begin in September 2023. Registration is open through December 31, 2022. Learn more here.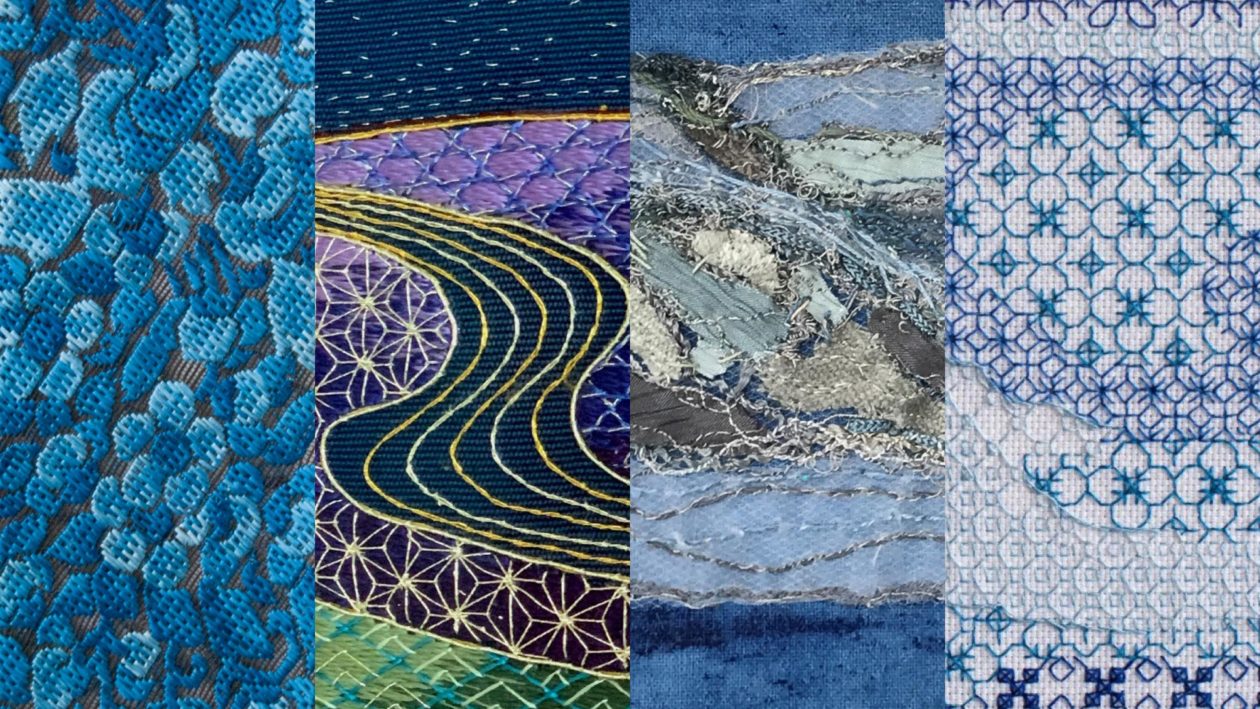 Rosazhi Fragments by Bernice Janofsky – EGA Permanent Collection, as seen in our Asian Fusion Exhibition; Dusk designed by Midori Matsushima and stitched by Mary Alice Sinton – as seen in our Asian Fusion Exhibition; Turbulent Waters by Elizabeth Bennett for Fiber Forum 2021; The Ladies: Water by Jacqueline Winton – EGA Permanent Collection.