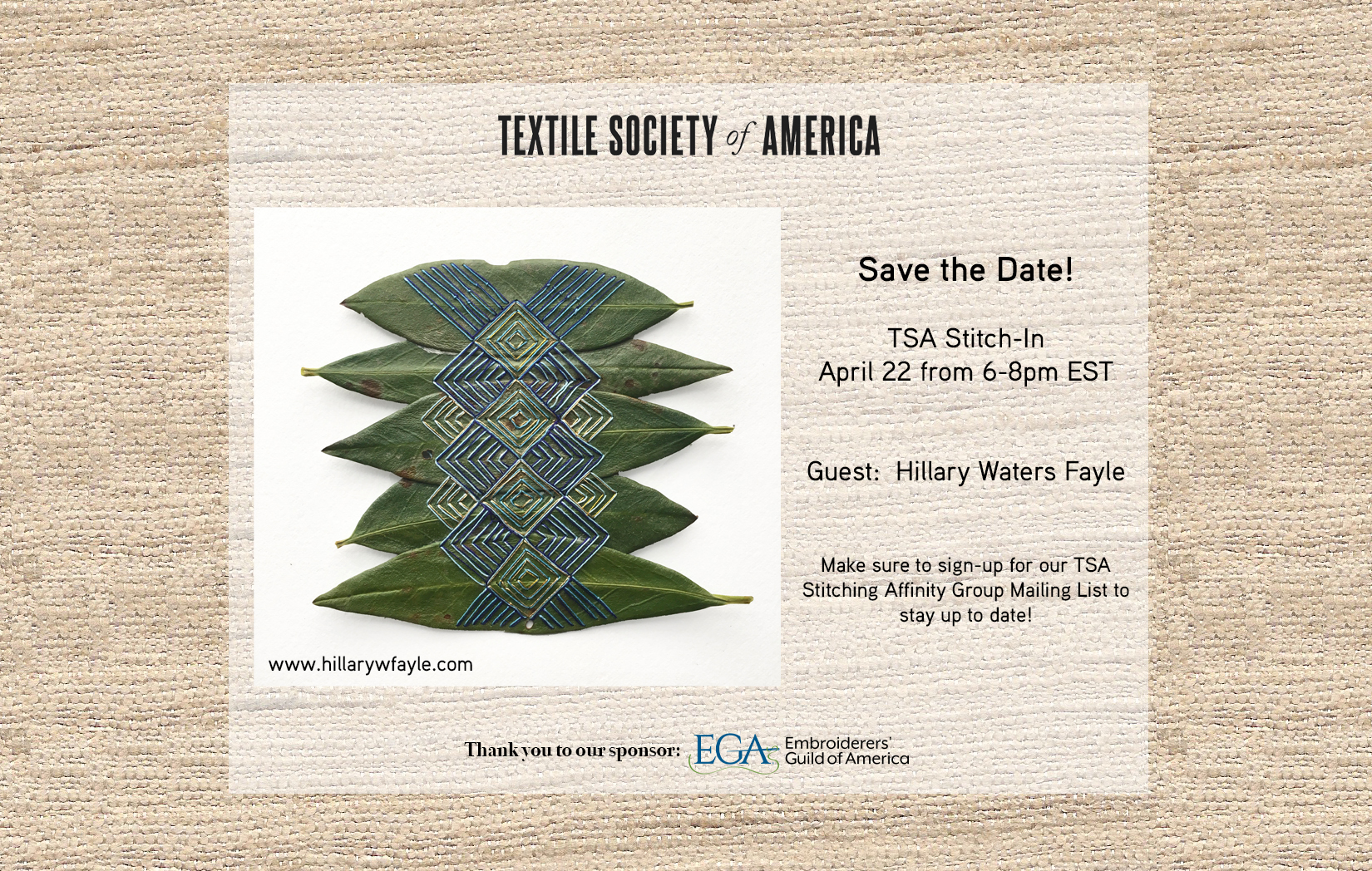 EGA is delighted to be sponsoring the speakers for The Textile Society of America virtual Stitch-ins. The TSA is hosting six virtual lecture/discussion/stitch-in sessions on a variety of subjects which will interest many EGA members.
The second Textile Society of America Stitch-In will be on Thursday, April 22 from 6-8pm Eastern and will feature guest Hillary Waters Fayle. Hillary Waters Fayle received a MFA in Craft/Material Studies from Virginia Commonwealth University, and a BFA from Buffalo State College. She is an Assistant Professor and directs the fiber program at Virginia Commonwealth University. She has previously taught at Penland School of Craft (NC), the Mediterranean Art & Design Program(Italy), and Yasar University (Turkey). Her work has been widely exhibited and was recently on view at Greenhill Center for Art in Greensboro, NC, Quirk Gallery in Charlottesville, VA the Lamont Gallery in Exeter, NH and the Czurles Nelson Gallery in Buffalo, NY. Her work is in the permanent collections of the Burchfield Penney Art Center in Buffalo, NY, Capital One, Dominion, the Kalmthout Arboretum & Botanical Gardens in Belgium, will soon be installed at the US Embassy in Sri Lanka. A public installation in collaboration with the AKG Museum can be seen year round in Buffalo, NY. Visit Hillary Waters Fayle's Website.
For the second part of the program for April, we'll be sharing one of Heidi Park's hand yoga videos and doing hand yoga together. Heidi is a certified yoga instructor in addition to maintaining a busy professional quilting career. Heidi is a graduate of the Art Institute of Chicago and a quilter. The raw materials of her quilts reference domestic culture, fashion, family heirlooms, and scavenged prints. She integrates them with fabrics that she embroiders and manipulates. These materials are pieced to create a collage. Using a slow stitch process, she quilts the surface of her quilts with both functional stitching and expressive drawing. Visit Heidi's Website and Heidi's Hand Yoga club on Instagram.
Please join us! And invite others that you think would be interested– it's free and open to the public!
More about the Stitch-In series from the Textile Society of America 
The Textile Society of America is launching a new "TSA Stitch-In" series starting February 2021. Each Stitch-In will be 1.5-2 hrs. long. For the first 45 minutes, we will be inviting a guest speaker to share their work and the remaining time will allow for informal group discussion. In the new virtual environment that we find ourselves due to the pandemic, scholarly and professional networking and interacting have become limited. Our biennial Symposium was successfully held virtually in October 2020 to excellent reviews. The presentations were able to go on with this format and it was a great week of scholarly sharing. Since the Symposium, we have been investigating new ways to enhance scholarly and professional interaction online. We are launching the "TSA Stitch In" series as a direct result as we found many of our members missed the informal discussion and meeting that naturally happens at an in-person event. Our Stitch-In will be held every other month and with the direct goal of providing a platform for TSA members whose work integrates stitching, whether with a focus on making, theory or history, to share their work and provide an online space for the sharing of ideas with textiles professionals to help encourage new directions in stitch-based artistic work and research. We hope to harness the positives of holding such events in a virtual environment to more broadly disseminate the work of current stitch-focused artists and researchers.
We are excited that the Embroiderers Guild of America has generously sponsored the six Stitch-In's for 2021 in February, April, June, August, October, and December. To hear all the latest news about upcoming Stitch-In's please subscribe to the TSA Stitch-In mail group at this link.