We have a fresh group of EGA educational opportunities for EGA members to participate in!
GCC: Lightning Rounds
Every quarter, our Education Department selects some of our Group Correspondence Courses(GCC) and these are made available for members to register individually without needing a group. These correspondence courses are a great opportunity for members-at-large or chapter members who have been wanting to try one of these group courses and haven't been able to. Learn more about Lightning Rounds.
We have the following GCCs available as Lightning Rounds and open for registration through December: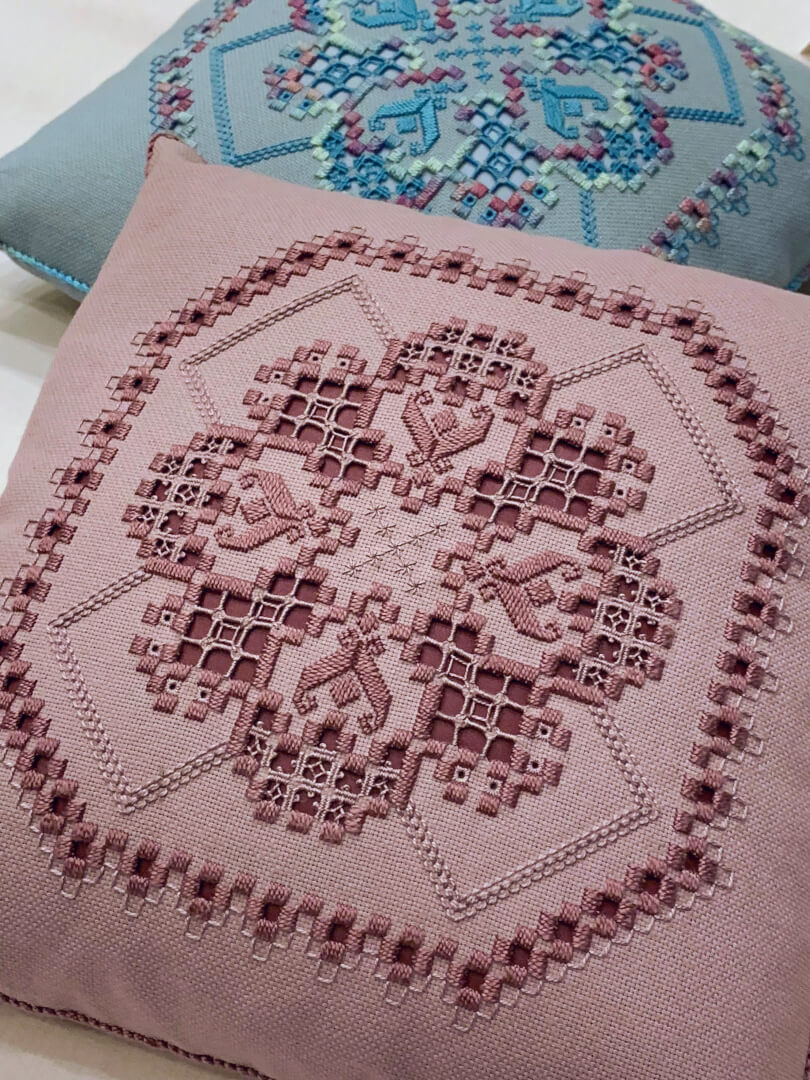 In Beginner's Hardanger with teacher Marion Scoular students will learn the basic techniques of Hardanger with the option of stitching in a solid color or experimenting with Watercolours®. Learn More and Register!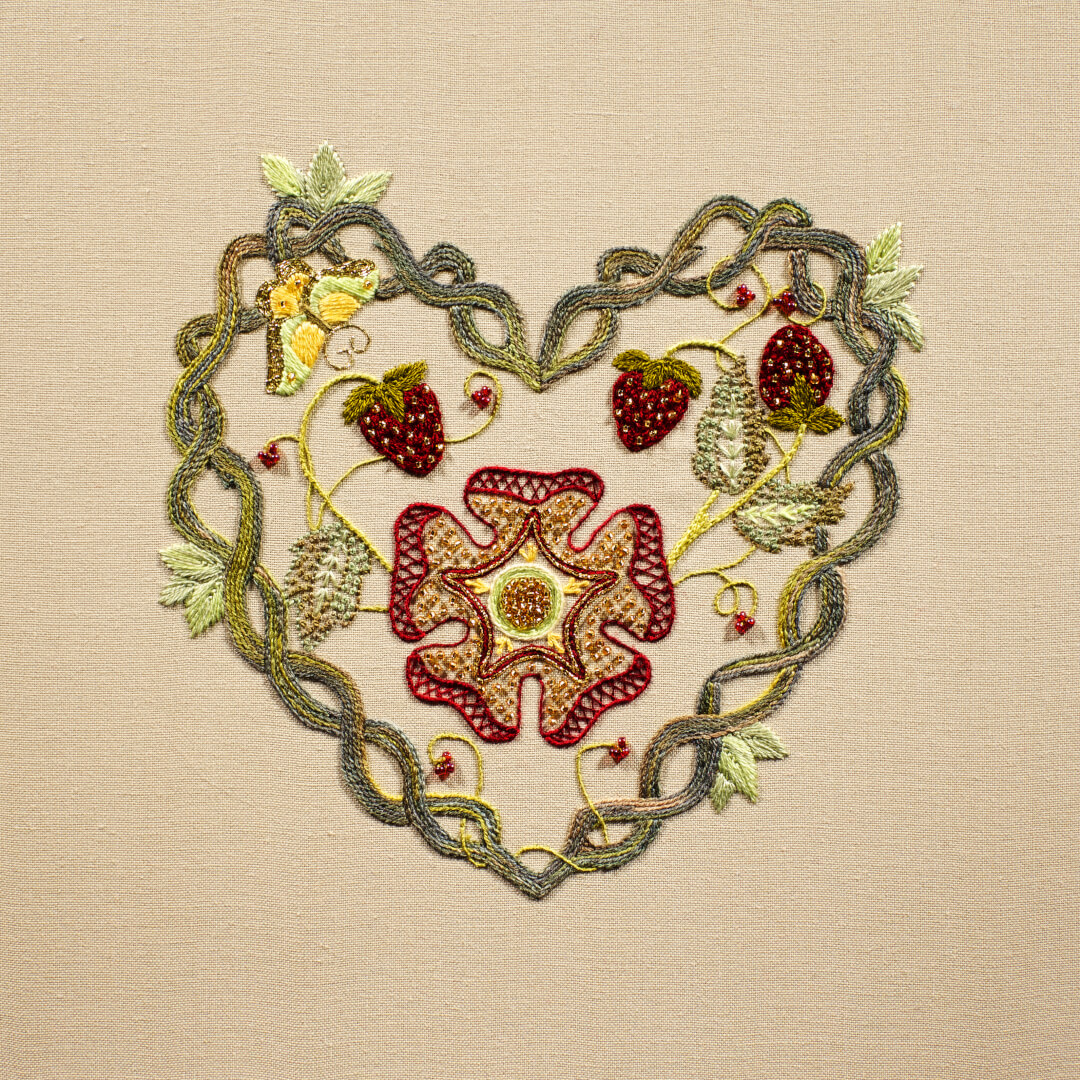 Do you want to improve your stitching? Then English Summer with teacher Cheryl Sharp is the course for you! Perfect your skills while stitching a stunning interlaced heart featuring ripe strawberries and a Tudor rose.
This course provides a lesson on how to prepare the fabric, transfer designs, and set up an embroidery on stretcher bars. Learn how to use variegated hand-dyed threads and try silk, cotton, and metallic threads while stitching the basic surface stitches. Beads will add some sparkle to your embroidery. Learn More and Register!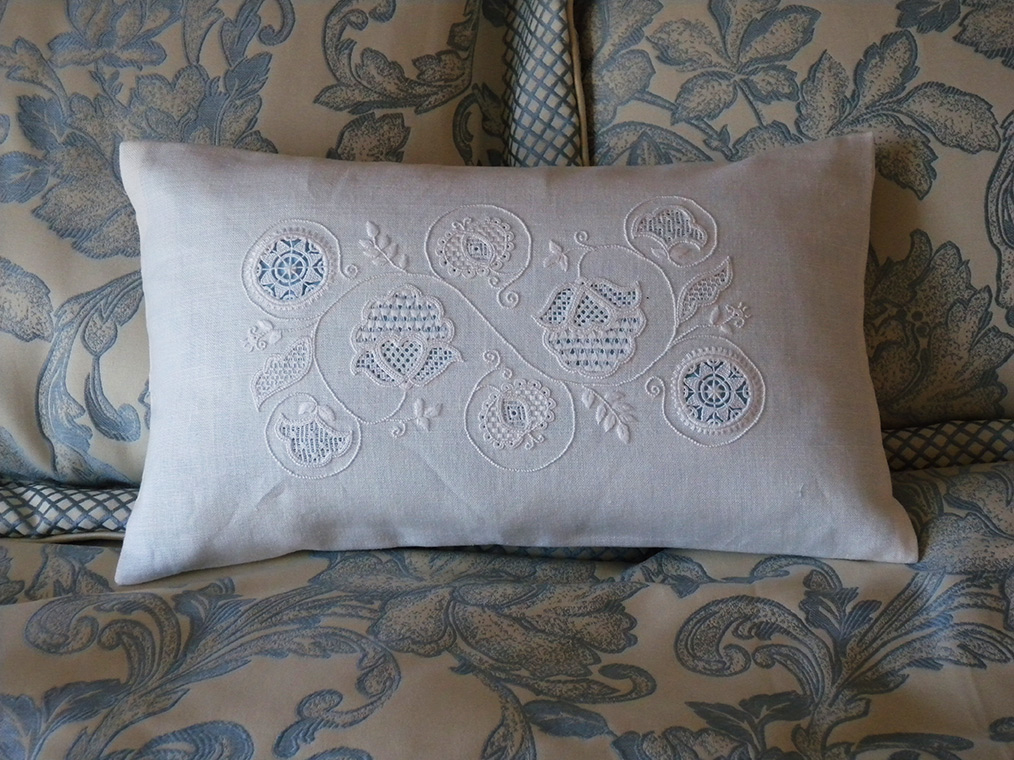 Join Barbara Kershaw in Daydreams, a Correspondence Course focused on Schwalm embroidery, a beautiful form of German whitework embroidery traditionally worked on an off white evenweave linen with white thread. Techniques include some surface embroidery, drawn threadwork, pulled threadwork and hemstitching. The basic stitches used are coral knot, satin stitch, chain stitch, blanket stitch and four-sided stitch. Learn More and Register!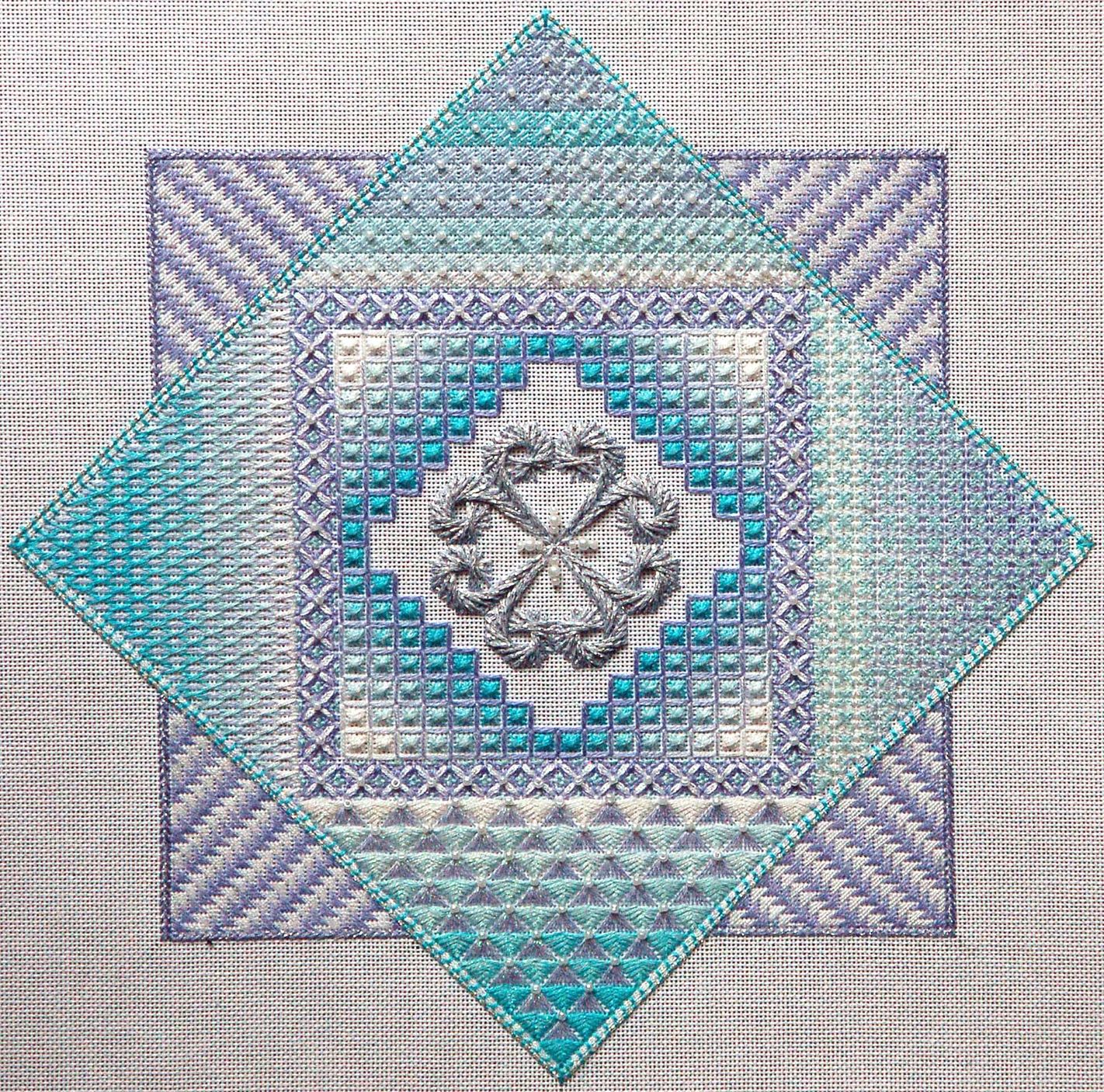 In Shimmering Dreams with Mona Hill, ever-larger sparkling squares rotate around a shiny central medallion to finish in a star silhouette. This glorious 10" x 10"composition of metallics, silk threads, and blending filaments explores laying silk, shading, beading and couching techniques, and working layered and composite stitches, (including sprats head and Amadeus hearts). The thorough text contains many diagrams. White congress cloth makes a quiet, sparkling piece; navy congress cloth makes it glowing, and dynamic. Learn More and Register!
Stitch an embroidered bag like the ones that were in style in England from the mid-1500s to the mid-1600s in Sweet Bag Sewed of Silver and Gold with Melinda Sherbring. Then fashion and styles changed, and they stopped being made. Over two hundred have survived to the present. This course describes how to make a bag similar to surviving ones.
The instruction book starts with an overview of historical sweet bags. It tells why they were called sweet, how they were constructed, and what materials were used. Then it discusses typical design layouts, historical uses, and accessories, with pointers to further information for those interested. It then provides a pattern for this bag, which is in the tradition of historical bags, with nods to the New World. The next section notes general stitching information, including a page on taming the metal passing thread. There is guidance on choosing ground fabric, floss, metal threads, and beads before the lessons. Learn More and Register!
Online Studio Classes Coming Up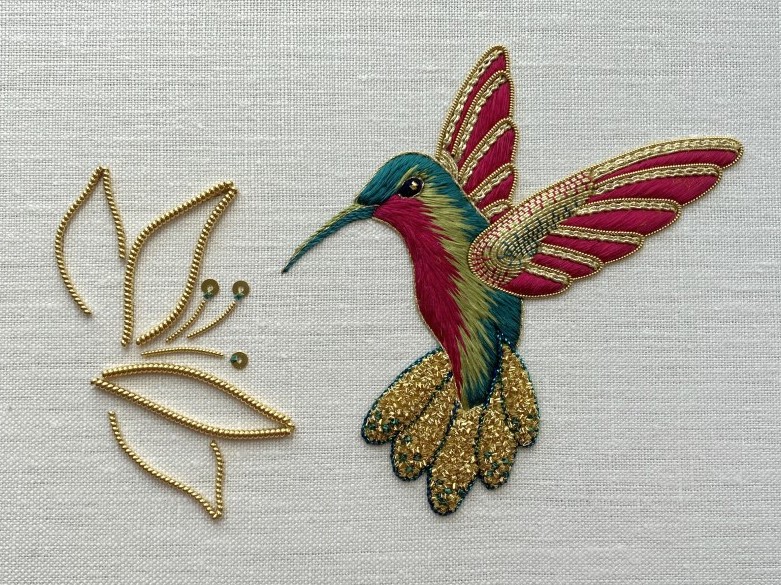 Learn how to handle traditional silks known as flat or filament silks, which are untwisted in our online studio class: Hummingbird in Silk and Gold with Lizzy Pye. Stitch silk shading (long and short stitch), satin stitch and stem stitch to create splashes of color amongst the gold. Learn to create smooth felt padding and embellish with traditional goldwork techniques of couching and colored couching, pearl purl, invisibly stitched twist and chipping.. Registration: October 4 – November 1, 2023 Class schedule: February 7 – March 27, 2024 Sign up for a reminder!
Virtual Lectures Coming Soon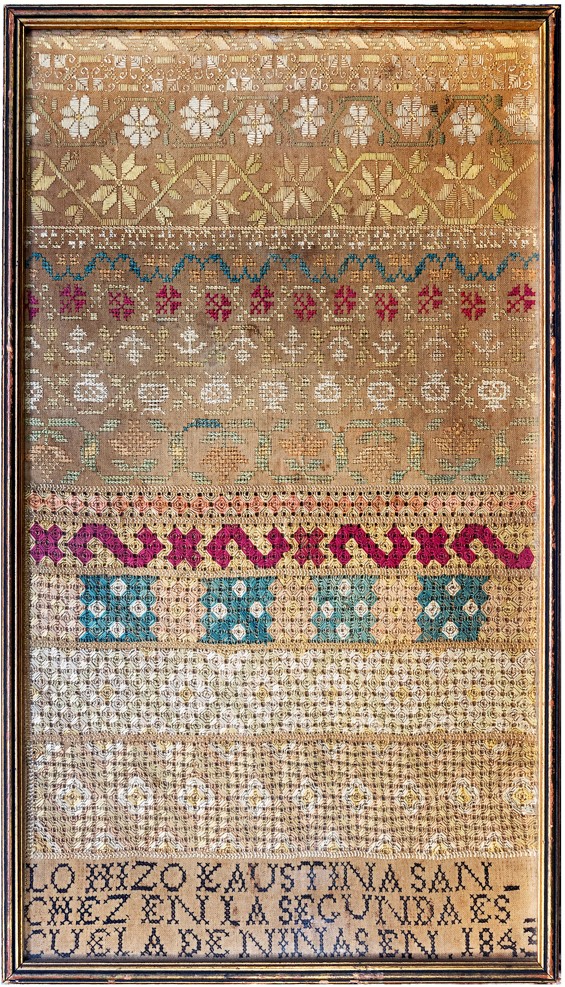 Coming Soon: Stitches in Time: Textile Conservation for the Needleworker with Newbie Richardson — Stitches in Time: Textile Conservation for the Needleworker will focus on the unique needs of needlework, quilts, and embroidery in terms of preventive conservation, stabilization, display, and repair. Newbie will provide information on hydrating, mounting, framing, wet and dry cleaning, and some repair techniques you can do at home. She will show some real-world examples of damage and solutions with common sense explanations for what you can do to save your precious family heirlooms for the generations going forward. Live Lecture Date: Saturday, November 11, 2023 1PM Eastern Live Lecture Registration: October 16 – November 9, 2023 1PM Eastern Get a reminder!
Coming Soon: Reviving the art of embroidery: Lady Victoria Welby and the founding of the Royal School of Needlework, 1872-1881 with Lynn Hulse — Lynn Hulse explores the early history of the Royal School of Needlework (RSN) through the lens of its founder, Lady Victoria Welby (1837-1912). Welby is better known today as a philosopher of language, but during her lifetime she was credited with reviving the art of embroidery, brought into disrepute by the 'uselessness and ugliness' of Berlin work, the most popular type of fancy work in the early Victorian period. Founded in 1872, the RSN, or School of Art Needlework as it was originally named, set about restoring embroidery for house decoration to the level of the other decorative arts, and through its revival, provided suitable employment for distressed gentlewomen in reduced circumstances. Live Lecture Date: Sunday, December 17, 2023 1PM Eastern Live Lecture Registration: November 13 – December 15, 2023 1PM Eastern Get a reminder!
Virtual Lecture Recordings Now Available
Recording Now Available: How to Research an Antique Sampler with Cindy Steinhoff — An antique sampler reveals some of its physical characteristics and often some information about the girl who stitched it, but what else can it tell us? Cynthia Shank Steinhoff will discuss how she learns more about the samplers she collects and researches. The result is a full documentation of a sampler's appearance and history. Many of the characteristics that she identifies for older samplers can be used to provide a full description of a needlework piece made today. Get access to the recording!
Recording Now Available: Linen: The Journey From Seed to Cloth with Ellen Phelps — What do you really know about the linen cloth you stitch on or linen thread that you stitch with? In order to gain an appreciation of the linen thread that we use in our weaving, the Frances Irwin Handweavers Guild set out on a 2-year journey to learn about linen. From preparing the garden and growing, reaping, and preparing flax to be spun into linen thread and woven into cloth, guild members experienced these processes literally from the ground up! Come along with us on this journey as we share our experiences with you so that you, too, can learn more about the linen you hold in your hands. Get access to the recording!
Recording Now Available: The Plymouth Tapestry with Donna Curtin — The Plymouth Tapestry is an heirloom embroidery commissioned by Pilgrim Hall Museum for Plymouth's 400th anniversary commemoration. It is being created by artist Elizabeth Creeden and group of volunteer stitchers in a multi-year undertaking. Consisting of twenty 6-ft. long panels or "chapters," the Plymouth Tapestry tells the story of early Plymouth, focusing on the experiences of the English settlers who arrived on the Mayflower and the Wampanoag families who inhabited the region for millennia before their arrival. Museum Director Donna Curtin describes how the project came to be, how the Tapestry is being made, and shares images and film clips of this remarkable masterwork-in-the-making, including the ten six-ft. long embroidered panels completed to date. Get access to the recording!