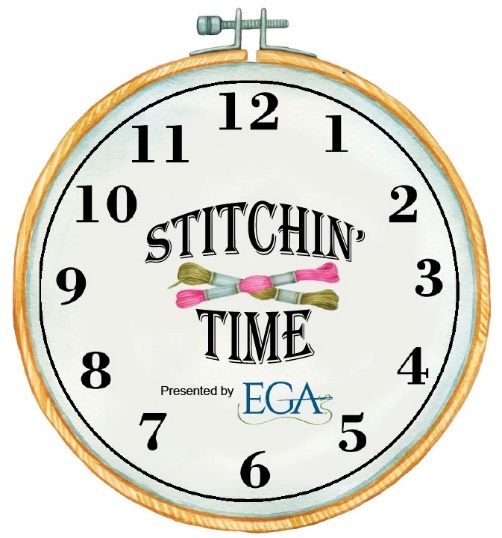 Stitchers know that stitchin' time is pretty much anytime, but EGA is making a special place to make your stitchin' time extra special. During our national seminar in Atlanta August 14-18, 2024, there will be a large space reserved for those who crave social stitchin' time with no classes, no instructors and no schedule! Where else would you rather be stitchin' with friends than in a lovely air-conditioned room in steamy mid-August? Stitchin' Time will be offered all 5 days, but you can stay for as little as one day or extend the party and stay all five! Stitchin' Time room hours will be 8 a.m. until 10 p.m. every day – come on … only your stitches should be crossed – not your eyes!
I'm intrigued and want more information:
I'm not a member of EGA – can I still come? YES! Everyone is invited to come, so bring your stitchy friends too! Think about Stitchin' Time as a retreat-style event. Everyone gets swag, but only if you register in advance! That's right – you all will get swag sporting the official Stitchin' Time logo so you can show all your friends and make them green with envy! Every day, you'll get a little something to keep things fresh – gotta be prepared! There'll also be door prizes, demonstrations, fun little projects, tours of our EGA Education Department exhibit hall and wait for it … pop-up shops! That's right! We have invited merchants from all over the Tennessee Valley Region and beyond to come and set up shop right inside the hotel! Every day, we'll have new merchants to explore.
How do I register?
Registration is already open! Just click here and you can reserve your spot now.
What does Stitchin' Time cost?
If you are an EGA member staying in the EGA room block at the Hilton, you'll pay $60/day.
If you are an EGA member not staying in the hotel's EGA room block or are not an EGA member staying in the hotel room block, the cost is $70/day.
For those of you who are not EGA members and are not staying in the EGA room block at the Hilton (yes, the room block is discounted!), you'll pay $80/day.
Non EGA members are eligible to take a Tennessee Valley Region mini classes being offered the evening of August 13, 2024 from 6 – 9 p.m. Registration for those classes is separate from Stitchin' Time registration. See the Region Mini Classes.