Stitches in Time: Textile Conservation for the Needleworker
Lecturer: Newbie Richardson
Live Lecture Date: Saturday, November 11, 2023 1PM Eastern
Live Lecture Registration: October 16 – November 9, 2023 1PM Eastern
Format: Live Lecture and Recording
Get a reminder when registration begins by signing up below!

Can't see the reminder form? Click here!
Stitches in Time: Textile Conservation for the Needleworker will focus on the unique needs of needlework, quilts, and embroidery in terms of preventive conservation, stabilization, display, and repair. I'll provide information on hydrating, mounting, framing, wet and dry cleaning, and some repair techniques you can do at home. I will show some real-world examples of damage and solutions with common sense explanations for what you can do to save your precious family heirlooms for the generations going forward. Remember, if we hide our textile heritage away in hopes of keeping it safe, then our children and grandchildren will not know it exists and it will be lost forever. There are ways to safe guard our textiles and enjoy them as well.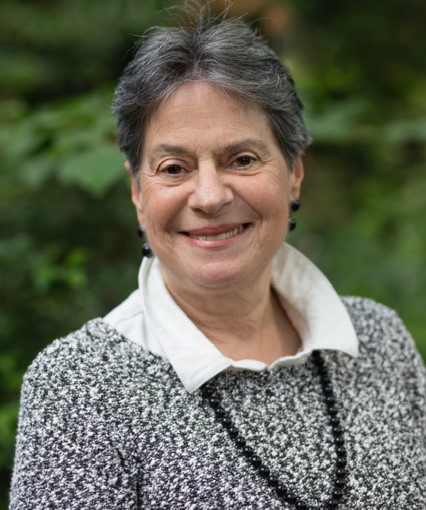 A.Newbold "Newbie" Richardson has been in private practice as a textile conservator and exhibition specialist for over 40 years, focusing on outreach to the small museum community. She continues to teach workshops for museum volunteers, state museum associations, and through the Costume Society of America on preventative conservation and textile display. She developed her passion for fabrics, embellishments, and sewing naturally, coming from a long line of passionate needlewomen. Smocking is her needlework of choice.
She is a specialist appraiser in clothing and textiles with the American Society of Appraisers and joined forces with Colleen Callahan, forming the Costume and Costume Specialists in 2003. (www.costumeandtextile.net) Some clients include George Washington's Mount Vernon, Thomas Jefferson's Monticello, Maryland Center for History and Culture, Jamestown Yorktown Foundation, and The D.A.R. Museum. She is a Fellow of the Costume Society of America and textile advisor to Dumbarton House, headquarters of the National Society of the Colonial Dames in America. She received her BS in Costume Design from Northwestern University and graduate work in Theatrical Costume Design from The George Washington University. While in grad school she worked for several antique clothing stores in DC and Virginia mending the clothing and embroideries. This experience led her to two years of intense self-study in textile conservation at the Textile Museum in Washington, DC (1983-'85).