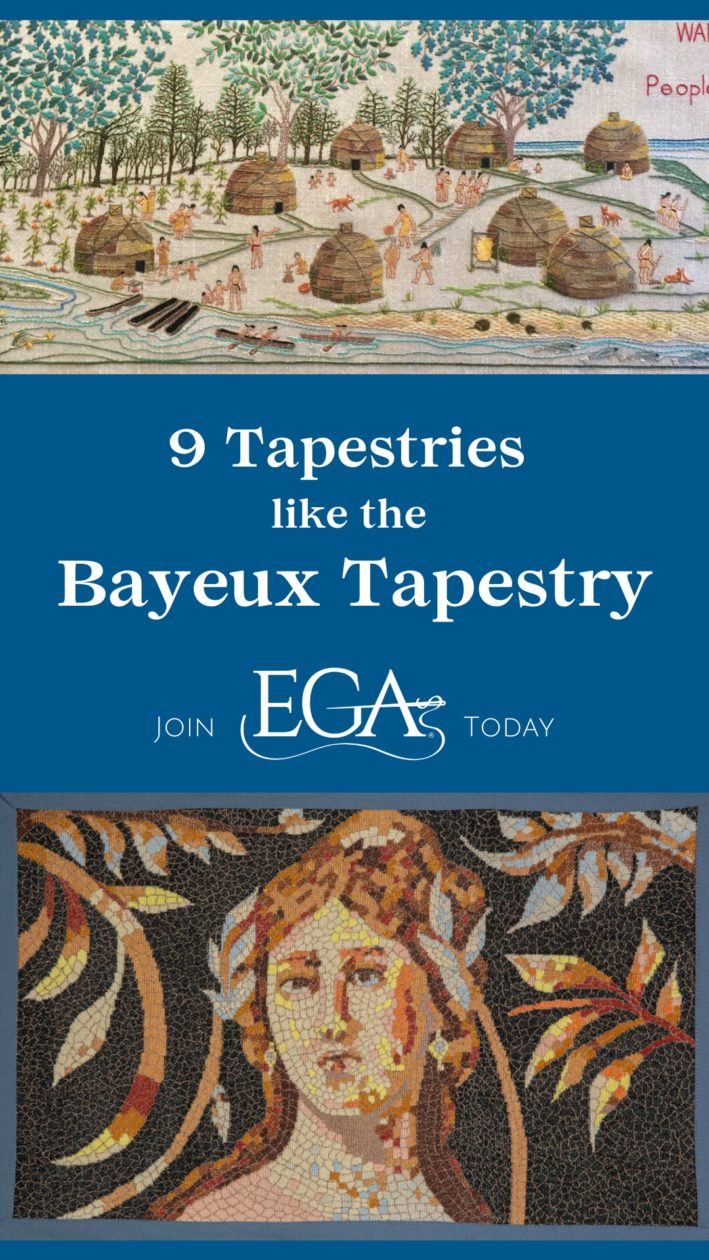 Did you miss our virtual lecture with Donna Curtin? Good news, registration is now open for instant access to the recording of her lecture: The Plymouth Tapestry! Here's your chance to catch up with this exciting lecture if you missed it live. Upon registration you will be able to access the video from the lecture page under Course Content through March 10, 2024. You will need to be logged in and registered for the recording to access it. Registration for the live lecture and for the recording happen separately and are not transferable. Learn more about our Virtual Lecture series here.
About this lecture: The Plymouth Tapestry is an heirloom embroidery commissioned by Pilgrim Hall Museum for Plymouth's 400th anniversary commemoration. It is being created by artist Elizabeth Creeden and group of volunteer stitchers in a multi-year undertaking. Consisting of twenty 6-ft. long panels or "chapters," the Plymouth Tapestry tells the story of early Plymouth, focusing on the experiences of the English settlers who arrived on the Mayflower and the Wampanoag families who inhabited the region for millennia before their arrival. Museum Director Donna Curtin describes how the project came to be, how the Tapestry is being made, and shares images and film clips of this remarkable masterwork-in-the-making, including the ten six-ft. long embroidered panels completed to date.
Other Virtual Lecture Recordings Now Available
Recording Now Available: Making My Bed: Creating imaginative worlds with 3D embroidery with Salley Mavor — Artist Salley Mavor will talk about her 40+ year career creating imaginative worlds with 3-dimensional embroidery. The presentation will cover a wide range of artistic adventures, from illustration to doll-making to stop-motion animation, all done in her signature hand-stitched style. This is an opportunity to take a behind the scenes peek at Ms. Mavor's innovative process, which incorporates embroidery, fabric, and found objects. Get access to the recording!
Recording Now Available: How to Research an Antique Sampler with Cindy Steinhoff — An antique sampler reveals some of its physical characteristics and often some information about the girl who stitched it, but what else can it tell us? Cynthia Shank Steinhoff will discuss how she learns more about the samplers she collects and researches. The result is a full documentation of a sampler's appearance and history. Many of the characteristics that she identifies for older samplers can be used to provide a full description of a needlework piece made today. Get access to the recording!
Recording Now Available: Linen: The Journey From Seed to Cloth with Ellen Phelps — What do you really know about the linen cloth you stitch on or linen thread that you stitch with? In order to gain an appreciation of the linen thread that we use in our weaving, the Frances Irwin Handweavers Guild set out on a 2-year journey to learn about linen. From preparing the garden and growing, reaping, and preparing flax to be spun into linen thread and woven into cloth, guild members experienced these processes literally from the ground up! Come along with us on this journey as we share our experiences with you so that you, too, can learn more about the linen you hold in your hands. Get access to the recording!
Virtual Lectures Coming Soon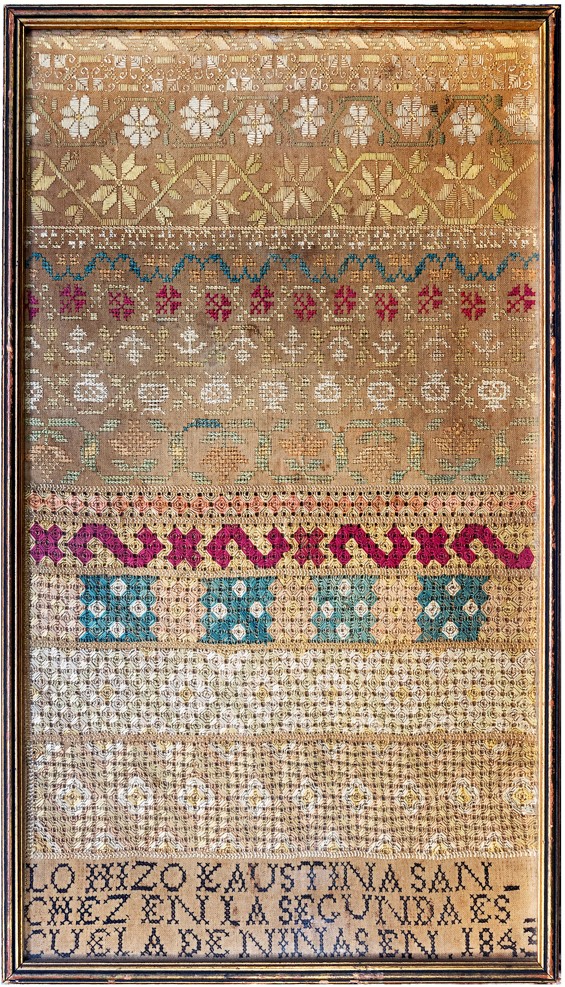 Coming Soon: 'Este dechado': Mastering Needlework in Mid-19th Century Mexico with Dr. Lynne Anderson and Dr. Mayela Flores Enriquez — Drs. Lynne Anderson and Mayela Flores will introduce the world of Mexican sampler making, showcasing the unique features of Mexican "dechados" and discussing the important role of needlework in Mexican female education, including how this changed over time due to historical, cultural, and religious influences. Live Lecture Date: Saturday, October 14, 2023 1PM Eastern Live Lecture Registration: September 18 – October 12, 2023 1PM Eastern Get a reminder!
Coming Soon: Stitches in Time: Textile Conservation for the Needleworker with Newbie Richardson — Stitches in Time: Textile Conservation for the Needleworker will focus on the unique needs of needlework, quilts, and embroidery in terms of preventive conservation, stabilization, display, and repair. Newbie will provide information on hydrating, mounting, framing, wet and dry cleaning, and some repair techniques you can do at home. She will show some real-world examples of damage and solutions with common sense explanations for what you can do to save your precious family heirlooms for the generations going forward. Live Lecture Date: Saturday, November 11, 2023 1PM Eastern Live Lecture Registration: October 16 – November 9, 2023 1PM Eastern Get a reminder!
Coming Soon: Reviving the art of embroidery: Lady Victoria Welby and the founding of the Royal School of Needlework, 1872-1881 with Lynn Hulse — Lynn Hulse explores the early history of the Royal School of Needlework (RSN) through the lens of its founder, Lady Victoria Welby (1837-1912). Welby is better known today as a philosopher of language, but during her lifetime she was credited with reviving the art of embroidery, brought into disrepute by the 'uselessness and ugliness' of Berlin work, the most popular type of fancy work in the early Victorian period. Founded in 1872, the RSN, or School of Art Needlework as it was originally named, set about restoring embroidery for house decoration to the level of the other decorative arts, and through its revival, provided suitable employment for distressed gentlewomen in reduced circumstances. Live Lecture Date: Sunday, December 17, 2023 1PM Eastern Live Lecture Registration: November 13 – December 15, 2023 1PM Eastern Get a reminder!