Every year at our National Seminar we have an Education Exhibit in which we showcase all the great opportunities available from EGA for stitchers everywhere. The exhibition is open to the public and among other things, it includes a look at pieces from our courses, next year's seminar classes, Fiber Forum, and Master Craftsman as well as pieces from the Golden Needle Awards, which you can see here.
At this year's seminar, Boston Stitch Party, we had two special exhibits and they were enjoyed by so many visitors that we had to share of them with you in case you didn't make it to Boston.
The Tea Cozy Exhibit was organized by Suzanne Bruno from our Southern Maine Chapter and featured tea cozies by members of the New England Region showcasing a wide range of techniques. Click on each picture for a better look.
The New England Region also had their awesome New England Region Banner showing several embroidery techniques on display. The banner was designed and produced by Laurie Sims and executed by these talented stitchers: Violet Anderson, Nancy Evans-Bennett, Suzanne Bruno, Sherry Cochran, Elaine Conway, June House, Stephanie Lipton, Cynthia Minot, Sue Mondabaugh, Sue Polumbo, Patty Smith-Gardner, Laurie Sims, and Vicki Swerdlow.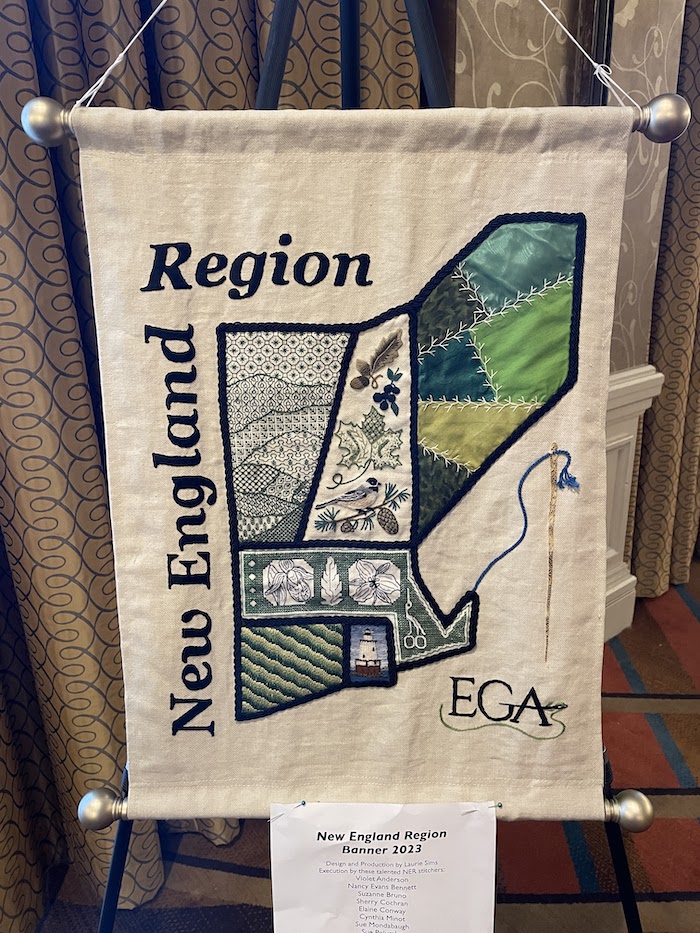 The Petite Projects Exhibit was organized by member Janet Salerno from our Susquehanna Chapter and it offered visitors a look at some of the Petite Projects available to EGA members as part of their membership. It was a great opportunity to see the projects up close and see what's available to download from the Petite Projects page. Here's a look at some of the projects in the exhibit stitched by EGA members.
See you next year in Atlanta!