EGA acknowledges the value of needlework in art and history, and the diversity of stitches and techniques that make each piece unique. The National Exhibit is a representative selection of the best in artistic and technical works. As the exhibit's name notes, it is Through the Needle's Eye that EGA embraces both traditional and contemporary needlework while expanding the perception of embroidery as an art form.
Prospective judges were requested to submit their resumes, a statement of their judging philosophy, and a statement explaining their ability to judge contemporary and traditional needlework. The judges selected have extensive qualifications and have experience exhibiting their own work. The committee for the 22nd EGA National Exhibit is pleased to announce the three selected judges.
Beth Carlson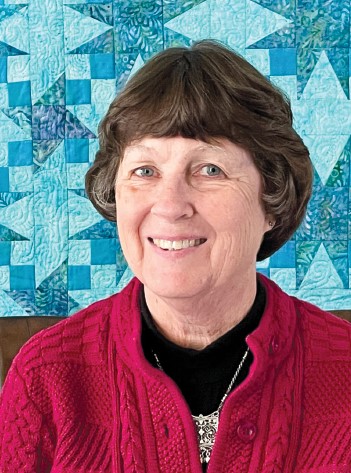 Beth Carlson is an EGA-certified judge and a lifelong learner. She has judged more than 150 fairs, exhibitions, and shows since 1993. She has exhibited in EGA and American Needlepoint Guild (ANG) exhibits and quilt festivals, including Callaway Gardens in Pine Mountain, GA. Carlson has continued to take a variety of classes as refreshers and introductions to new ideas and techniques, including classes from the Royal School of Needlework; the Arrowmont School of Arts and Crafts in Gatlinburg, TN; and art, color, and design classes at various community colleges.
Judging philosophy: I believe the evaluation of needlework is a continually evolving process. As we are exposed to new ideas and trends in techniques and materials, our design goals change. As with many of us, in my early years as a judge, I felt that good technique played the most important role. Presently, I find that the creative use of design concepts is often more valuable to the overall composition of a work.
How we understand the term "art form" can give us a diverse background for needlework evaluation. That diversity can help separate needlework from needle art. As we see needlework in paintings and artwork of past centuries, we see how it reflects economic status, political positions, and geographic culture. The styles and materials (or lack thereof) tell us about that specific era. The detailed Holbein embroideries of aristocracy, the rich goldwork of ecclesiastical embroideries, and detailed silk Asian garments, for example, tell us as much about a culture as the ragged street urchins and peasants in artwork from all over the world.
To take an idea and move it into a finished composition requires many steps. Technique, materials, color, size, and style are a few elements that come into play. Fitting those elements into a complete package requires careful attention to details. From the first drawing to the last nail in the frame, each element should enhance the others.
Philosophy on judging contemporary and traditional needlework: Contemporary needlework is expected to move "beyond the boundaries" of tradition. The use of photo, paint, and print images, combined with stitching, has created a new world of possibilities. As the computer brings us new mediums and techniques, the world of possibilities expands. The "job" of a well-trained and conscientious needlework judge/juror is to recognize and reward the successful compositions.
Patricia Tector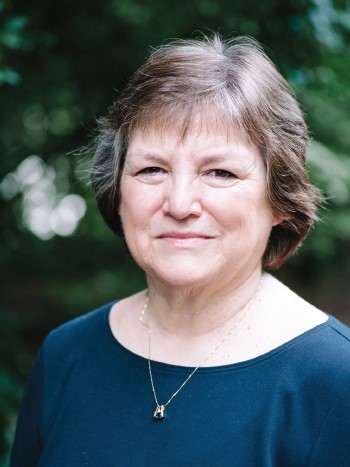 Patricia Tector is a National Academy of Needlearts (NAN)-master certified judge and an ANG-certified judge, as well as a certified medical technologist. She has judged multiple exhibits at Woodlawn in Alexandria, VA, and Stan Hywet in Akron, OH, along with NAN and ANG exhibits and many state fairs. Tector has been a judge for the EGA Master Craftsman program in canvas, as well as the ANG Master Needlepointer program. She also participates in exhibits and was awarded the Betsy Robb Award from NAN in 2017 for excellence in predominant use of silk and metal.
EGA makes every effort to have one judge who represents another organization on the jury for the National Exhibit, and we are pleased that Tector submitted for the 22nd National Exhibit.
Judging philosophy: People submit their works for judging for a variety of reasons. A judge should discern the purpose of the show or competition to know whether there is a particular aspect from which the pieces should be viewed. Once that is discerned, it is the duty of a judge to look at each piece impartially and critically with that purpose in mind. In addition to the particular purpose of a show, quality in all aspects of color, design, style, materials, and technique should be the prime consideration of a judge.
For the staff of an exhibit or the viewers of the exhibit to be pleased with the merit of the selections made by the judge, there has to be confidence that the judge is highly ethical in all aspects of the process.
A judge has the opportunity to be a catalyst for "raising the bar" of viewing needlework as a true form of art. An artist makes a statement with their piece of work. A judge makes a statement with the quality of pieces selected and thereby is able to present and educate the viewers with works which represent true art that happens to use needlework as the medium.
Philosophy on judging contemporary and traditional needlework: I truly acknowledge the value of needlework in art and history, and the diversity of stitches and techniques that make each piece unique. Traditional needlework has provided us with a way to use those techniques to not only continue particular formats, but to try to use them in new ways that express an urge for creativity. Keeping my eyes and mind constantly paying attention to what artists in any medium are doing is a way to educate myself about thinking outside of boxes, while respecting the basic elements and principles of design and color. That is what is exciting: seeing how people use needle and thread to create art!
Charline Wells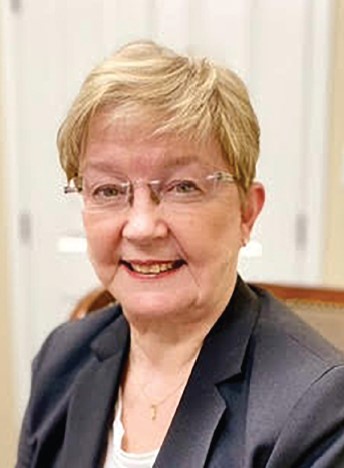 Charline Wells is an EGA-certified master needlework judge with distinction; she also has a master's degree in instructional design. For more than 25 years, she has served as a judge for multiple needlework exhibits and shows on both national and local levels, and served on the 18th National Exhibit as jury/judge chairman. After her retirement, Wells became a docent for the Albuquerque (NM) Museum. Her mantra is
"to teach is to learn twice."
Judging philosophy: I believe that to be a good judge, I must begin with an open mind and awareness of my personal biases/likes and dislikes. Knowing myself helps me to set my biases aside to make an objective and fair assessment of the submission. It also means that I am able to articulate the reasons for why the work was judged or scored the way it was, and to communicate those reasons tactfully.
When judging a piece of needlework, I look for a composition with a fresh design that is imaginative, pleasing, meaningful, simple, dignified, and well-balanced—one with artistic expression and aesthetic appeal. I ask myself whether the color, design, and texture of the piece work together to form a work of art.
It should be apparent that the needlework artist understands the basic rules of composition and color: Are they using colors that work together in an exciting way, yet are compatible, and enhance the design?
Overall, I expect all elements of the piece to flow together to create an organic unit, one with character. The piece should show the stitcher has knowledge of the techniques, and they are in harmony with the ground, canvas, or fabric. Is the piece—fibers, stitches, color, design, and ground/canvas/fabric—well-suited for the designated purpose? I expect the piece to be clean, well-finished, and well-presented. The method of presentation—e.g., framing—should enhance the work. If the piece is sewn or finished in another way, the construction techniques should be suitable and complimentary for the purpose.
Philosophy on judging contemporary and traditional needlework: I believe I am uniquely qualified to judge original contemporary and traditional needlework as a result of the breadth and depth of my education, training, and experience. I am skilled at presenting and discussing art and history with museum visitors.
As a trained educator, needlework artist, and art and history student through docent and curatorial training, I have studied color and design. I have taken classes to learn and experience firsthand by creating my own collages, portraits, and abstract art. Knowing the art elements, principles, and skills necessary to create a piece of art provide me with an objective, knowledgeable foundation for judging.
The compositional elements (line, shape, value, texture, color, space, pattern) and principles (unity, emphasis, scale/proportion, balance, rhythm/movement, contrast) of design are fundamentally the same in all the arts. Needlework is one of many forms of artistic expression. Fibers, fabrics, and canvas are the media through which individuals have chosen to demonstrate their talents and translate what they see.
While content and meaning are often useful for interpreting the intent of the artist, a design can be aesthetically appealing, in and of itself, without the viewer knowing or accepting some deeper meaning.
— Trudy Pohawpatchoko is assistant chair and juror chair for EGA's 22nd National Exhibit, Through the Needle's Eye
Featured in the banner above: Seven Women in Walled Garden by Eleanor Stark – Part of EGA's Permanent Collection – Asian Fusion Exhibit. Tree Lichen by Janet Scruggs for Fiber Forum 2021. Perseverance by Barbara Haugaard for Fiber Forum 2021. Performance at Suncrest Gardens by Bette M. Kelley for the 21st Through the Needle's Eye Exhibit.
This article first appeared in the December 2022 issue of Needle Arts magazine.