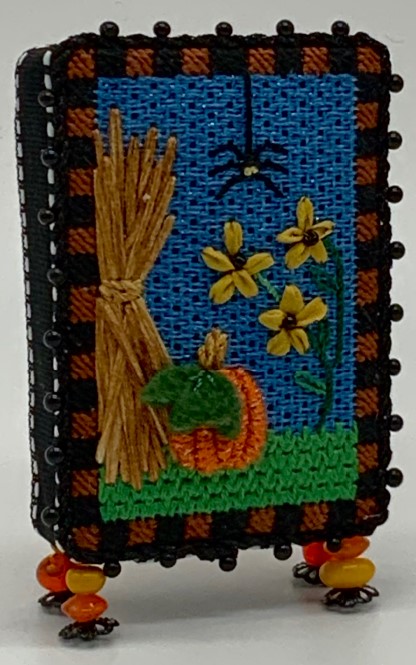 The Education Department is pleased to announce the newest segment in the Petite Project series, Pretty Petite Fall by Vicky Witterschein, from our Skylands Stitchers Chapter in New Jersey. This small (2" x 3) canvas and surface stitchery is perfect for a stand up, small framed piece or fall ornament. The 18-count white canvas is colored with alcohol based markers. Thread color for the sky matching the color of the marked canvas, stranded silk, pearl cotton, silk ribbon, Silk Lame Petite and Silk Lame 13, silk straw , Brazilian rayon, green felt, and beads give the stitcher a chance to use small amounts of various thread. If this is a project for a chapter or small group, many of the threads can be shared.
All Petite Projects are available to download from the members-only Petite Projects page. Petite Projects is a collection of over 70 beautiful projects in a wide-range of techniques made available as a benefit to EGA members. If you are an EGA Member, once you log in you will see Petite Projects in the navigation under Members Only or by clicking here (You need to be logged in for the link to work).
Not an EGA member yet? Now is a great time to join us to receive access to this and over 70 other Petite Projects and more goodies! You can join now as a member at-large, or as a chapter member by finding a chapter near you using our chapter map.
We hope you enjoy this new project and will, with us look forward to other new projects. If you have a project you would like to share, contact publications@egausa.org with Petite Project in the subject line.
–  Carole Rinard, Education Publications
We are continuing to look for designers for future Petite Projects. There has been a request for more surface embroidery and ethnic stitching techniques. If you have a small project you are willing to share, please contact publications@egausa.org, subject line Petite Projects. The projects are thoroughly tested and proofread by the education publications committee. If you need help in the presentation, we are willing to assist.