On April 17, 2021, Diane Herrmann gave a lecture to the EGA Metropolitan Region entitled "Seven Symmetries: (Mathematics!) and Border Patterns." When designing a band or a border of repeating motifs, there are only seven ways of changing the orientation of the motif, hence the name of the lecture.
At the end of her lecture, Diane shared her Snowman Symmetry sampler consisting of seven motifs, one for each of the seven symmetries. Diane challenged the attendees to design their own sampler, using motifs from their region or chapter. Diane mentioned that although she has given the lecture many times, no one had ever met her challenge.
Three members of the New York Capital District Chapter, Donna Logan, Jenni Paperman, and Mary Roylance, rose to the occasion and designed a Seven Symmetries sampler. Ginger Iorizzo, the Chapter President, stitched their design, which you can see below. – Jennifer Paperman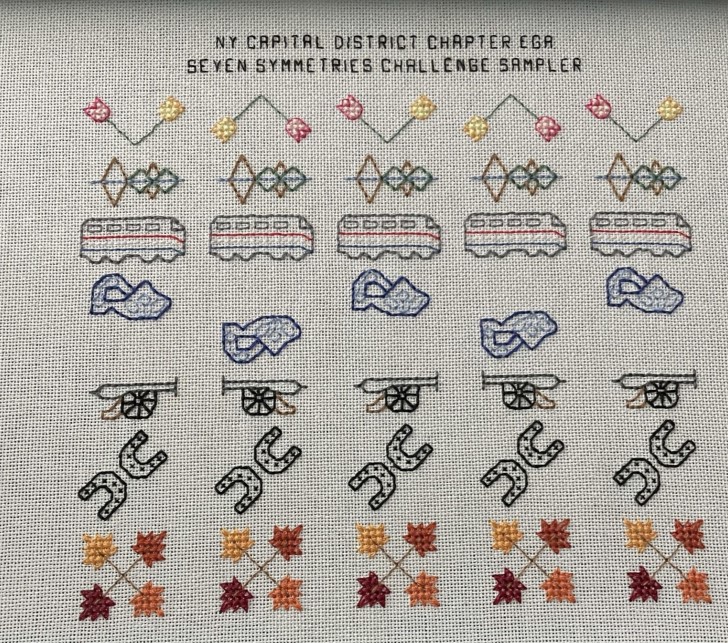 If you are interested in more from Diane Herrmann, make sure you check out her Individual Correspondence Course: Techniques for Canvas Embroidery. This course is an in-depth study of the various techniques used in canvas embroidery. Each lesson focuses on particular techniques that students will practice in order to learn and improve. The final course project will allow the student to apply what they have learned in a single piece. Learn more.
If you are interested in having a lecturer visit your chapter or group to present about a needlework topic, check out this list with available lecturers and topics.