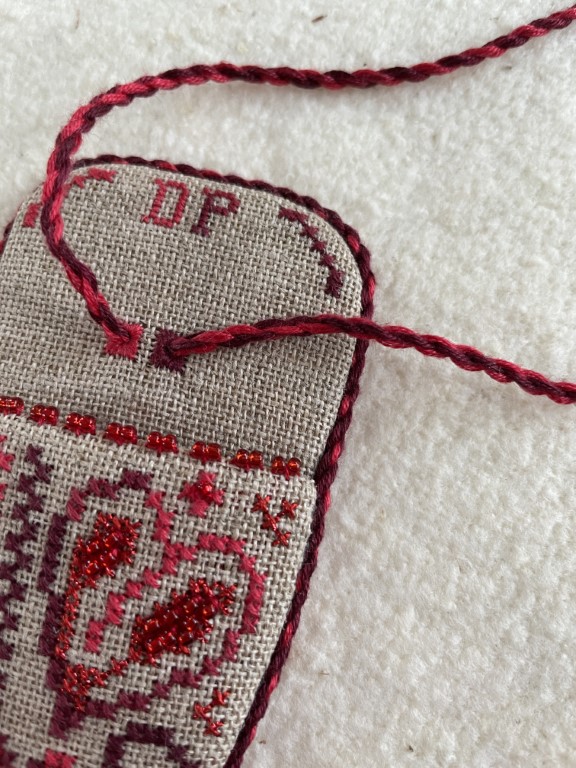 Our Education Department has added a new course to our selection of Group Correspondence Courses. Hearts for You with Denise Harrington Pratt is an opportunity for the student to learn a variety of finishing techniques for use with counted thread work and to create a lovely four-piece set of needlework accoutrements.
The counted thread embroidery in the pieces is basic, using cross stitch, backstitch, and attached beads. This is so students can focus on the finishing techniques once the embroidery is completed.
Many stitchers feel hesitant to attempt items that require finishing or construction, and the purpose of this class is to help students develop the skills and the confidence to delve into this fascinating area of needlework. This class will open the door to the wonderful world of needlework finishing where all manner of stitched items can be constructed into useful and beautiful three-dimensional items.
Registration for this course is currently available to groups. There is a $175 fee per group, and each student in the group pays $52 for their 72-page text.
Gather your favorite stitchers, make a group and sign up! If you are interested in registering for this Group Correspondence Course, you  can learn more about the process and download the registration form in our Group Correspondence Course page.
If you are looking for more courses you can register for individually right now, we have 5 great GCC Lightning Rounds available through February 28. These are a selection of courses from our Group Correspondence Courses, made available for individual members to register for a limited time. Every quarter a new selection of courses is announced. See them here!