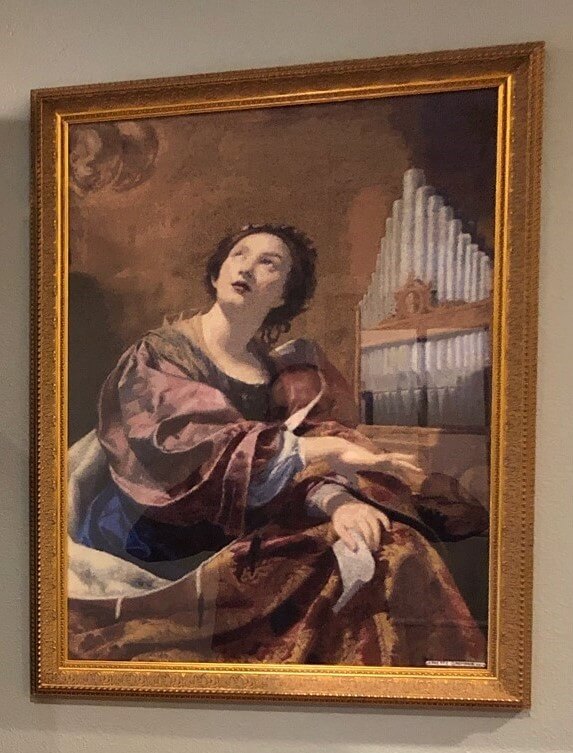 EGA Member Jeanette Darmanin from our Sand Hill Crane Chapter in Florida cross stitched a stunning picture of St. Cecilia and she shared with us the purpose of this work, some of her process and photos of the piece.
Read more from Jeanette below:
I stitched this picture of St. Cecilia at the request of my grandson who was then in the seminary studying to be a catholic priest. My grandson wanted this picture because St. Cecilia played the organ and is the patron saint for organists. He is also an organist.
When he asked if I could stitch this, I told him I really don't know how I could get a chart made of it. Then I remembered the only one that I knew who was capable of making it was the Scarlet Quince Company. I contacted them and was told to send the picture and they would let me know. A short while after I received an email from them and they said they could chart the picture for me. I knew it would be beautiful because all their charts are great.
It was stitched on 18 count Aida cloth, using 2 strands of DMC floss. Most of the stitches are blended with two different colors. There are 120 different colors used to make this picture. When finished it is 18.9 wide by 27.7 long . It took me five years to complete.
He was ordained a catholic priest on June 1st this year and I got the picture finished and framed just in time.
Related News
EGA Member Kathy Mountain creates "unfinished" needlework for upcoming short film
EGA Member Natalie Dupuis discusses Goldwork embroidery and more on Stitchery Stories podcast
EGA member Gabriela Wolfson sculpts dolls to display her love for needle arts
EGA Member Kathy Mountain replicates 1826 sampler for North Carolina Museum of History