Earlier this year, Kathy Mountain, an EGA member from our Cardinal Chapter in North Carolina, had the opportunity to work on replicating a small vintage sampler originally created in 1826.
Read more about her exciting experience below:
I have been a Volunteer Docent at the North Carolina Museum of History(NCMOH) for 8 years and in that time among other duties I have assisted Museum staff with needlework projects geared to young adults and children and provided my fellow Volunteers with a brief talk on my love of embroidery, specifically the Tudor/Stuart period.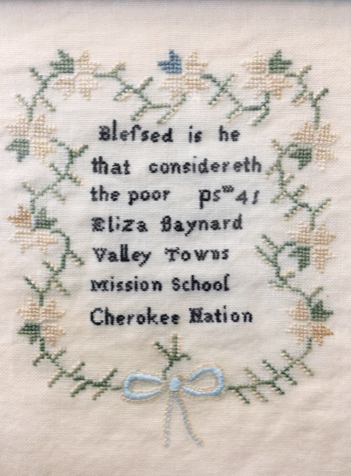 In February, I was asked by the Volunteer and Group Programs Coordinator if I would take on the project of replicating a small sampler created in 1826 by a young Cherokee girl in North Carolina for a future artifact display cart exhibit on decorative arts. You can see the original sampler, above.
The original sampler is in the collection of the Museum of Southern Decorative Arts in Winston-Salem North Carolina. The original sampler, framed, is 9-1/2 inches in height by 8-7/8 inches in width. It is stitched with two-ply twisted silk on 30ct plain weave linen. Stitches used are counted cross, satin and chain.
According to the Museum of Southern Decorative Arts: "This sampler is the only known Cherokee example from the Valley Towns Mission School. The young Cherokee girl was most likely given the English name of Baltimore philanthropist Eliza Heide Baynard (1793-1883) who was an active member of that city's Baptist community. The records that financially link her with the Valley Towns Mission School have yet to be discovered."
For the replication, seen on the right, the Museum and I decided on 30ct plain weave linen and over-dyed cotton threads in colors closely matching the faded appearance of the original piece. The sampler was not available to me to examine myself so the wonderful staff of MESDA and NCMOH provided enlarged photographs for me to use. This little girl made many mistakes as all new stitchers do and it was difficult times, but after more than 45 hours of stitching the piece was completed. All materials for the replication were provided by Weeks Dye Works of Garner, North Carolina. I felt this was very meaningful and appropriate that an NC business provide the linen and threads to a piece that was originally created in NC and my heartfelt thanks go out to Melinda and Cathy.