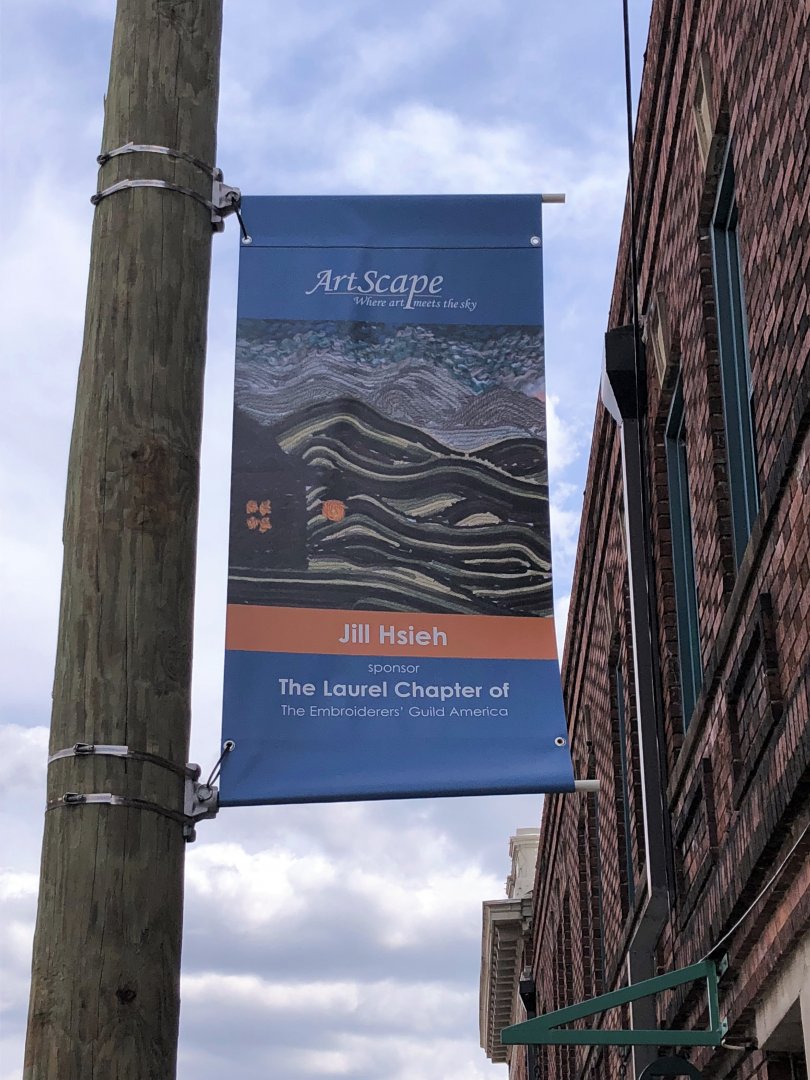 As part of our Outreach Program, The Laurel Chapter was selected as a sponsor in the 2019 ArtScape Banner Project in Hendersonville, North Carolina.
The ArtScape Banner Project began in 2017 to celebrate the arts community and to add color to the historic downtown district. It provides a showcase for talented artists in Henderson County to display their artwork on a year-round basis. Adult artists were invited to submit their work in this juried event, and forty-nine artists were selected encompassing various media. Once the selections were made, 24×40 double sided vinyl banners were created of each piece of artwork to be displayed in the downtown district until April 2020.
As a sponsor, The Laurel Chapter's name and two additional lines of information were listed on the banner as well as being listed in the brochure. We also received ArtScape, Facebook and website recognition of our sponsorship. We were pleased to sponsor a fiber art piece created by Jill Hsieh.
This sponsorship will enable our chapter to reach thousands of local citizens and tourists who attend the many special events in the downtown area, including the Garden Jubilee, the Apple Festival, the Antique Fair and Art on Main.
Once new artwork is selected in April, our chapter will receive the banner for our archives. We also anticipate continuing participation in the ArtScape Banner Project as ongoing outreach. You can see the rest of the banners on the Artscape Hendersonville website.
Related News
Natalie Dupuis discusses Goldwork embroidery on Stitchery Stories podcast
Our Louisville Chapter has demonstrated needlework at the Kentucky State Fair for at least 20 years
Gabriela Wolfson sculpts dolls to display her love for needle arts
Kathy Mountain replicates 1826 sampler for North Carolina Museum of History