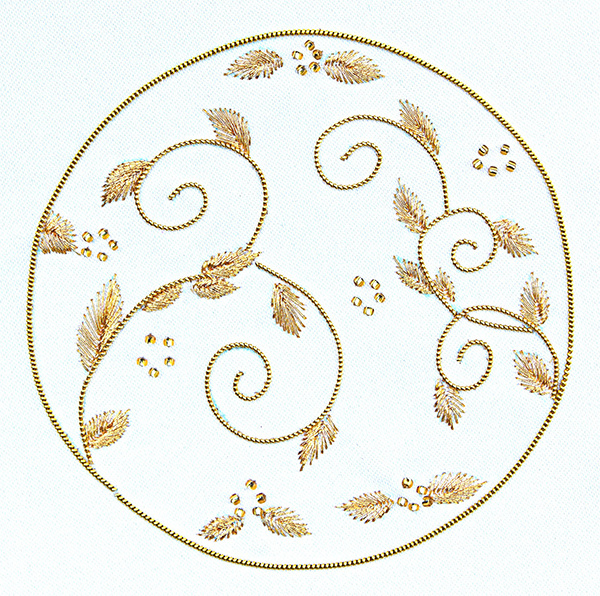 The Education Department is delighted to introduce the latest addition to Petite Projects: Golden Circle: A Study in Metal Thread Embroidery by Margaret Kinsey. This small project is worked with gold pearl purl, silk couching thread, Japan metallic #1, and size 15 beads on a silk satin ground fabric. Since pearl purl is sold in either by 18 or 36 inch lengths and the project requires more than 18 inches but less than the 36, it is suggested that three stitchers could share 2 yards of the gold pearl purl. The project is geared to beginners but all stitchers can enjoy working the elegant disc.
A big thank you to the authors who created Petite Projects, the pilot stitchers and computer wizards for the charts. New projects are always welcome.
–  Carole Rinard, Education Publications
About Petite Projects
 Petite Projects is a collection of over 70 beautiful projects in a wide-range of techniques made available as a benefit to EGA members. All Petite Projects are available to download from the members-only Petite Projects page. If you are an EGA Member, once you log in you will see Petite Projects in the navigation under Members Only or by clicking here.
Not an EGA member yet? Now is a great time to join us to receive access to this and over 70 other Petite Projects and more goodies! You can join now as a member at-large, or as a chapter member by finding a chapter near you using our chapter map.
We hope you enjoy this new project and will, with us look forward to other new projects. If you have a project you would like to share, contact publications@egausa.org with Petite Project in the subject line.