This year's Fiber Forum is filled with exquisite works of art submitted by our members! We hope these pieces inspire you to set a new challenge or embark on that "dream" project you've always wanted to stitch.
If you're new to the Fiber Forum, here's how it works:
New members are juried in each March by a panel of academics and professional artists who are active in their field. Submissions must be postmarked between March 1 and 15th, after which they are judged on the basis of both aesthetic achievement and technical skill (more on how that works here). Upon acceptance, the membership fee is $25 annually, due at the same time as EGA membership dues (May 31). Members can pay for up to 3 years at a time within a membership cycle; every 3 years, members must be re-juried based on new work.
Our members who want to support their fellow embroidery artists can become a Fiber Forum Friend, which is open to any active member for a yearly donation of $10, due on May 31 of each year. With this membership add-on, you'll re receive updates about jurying, exhibits, and other exciting news.
We're pleased to share just a few of the creative pieces submitted by our talented 2020 membership group: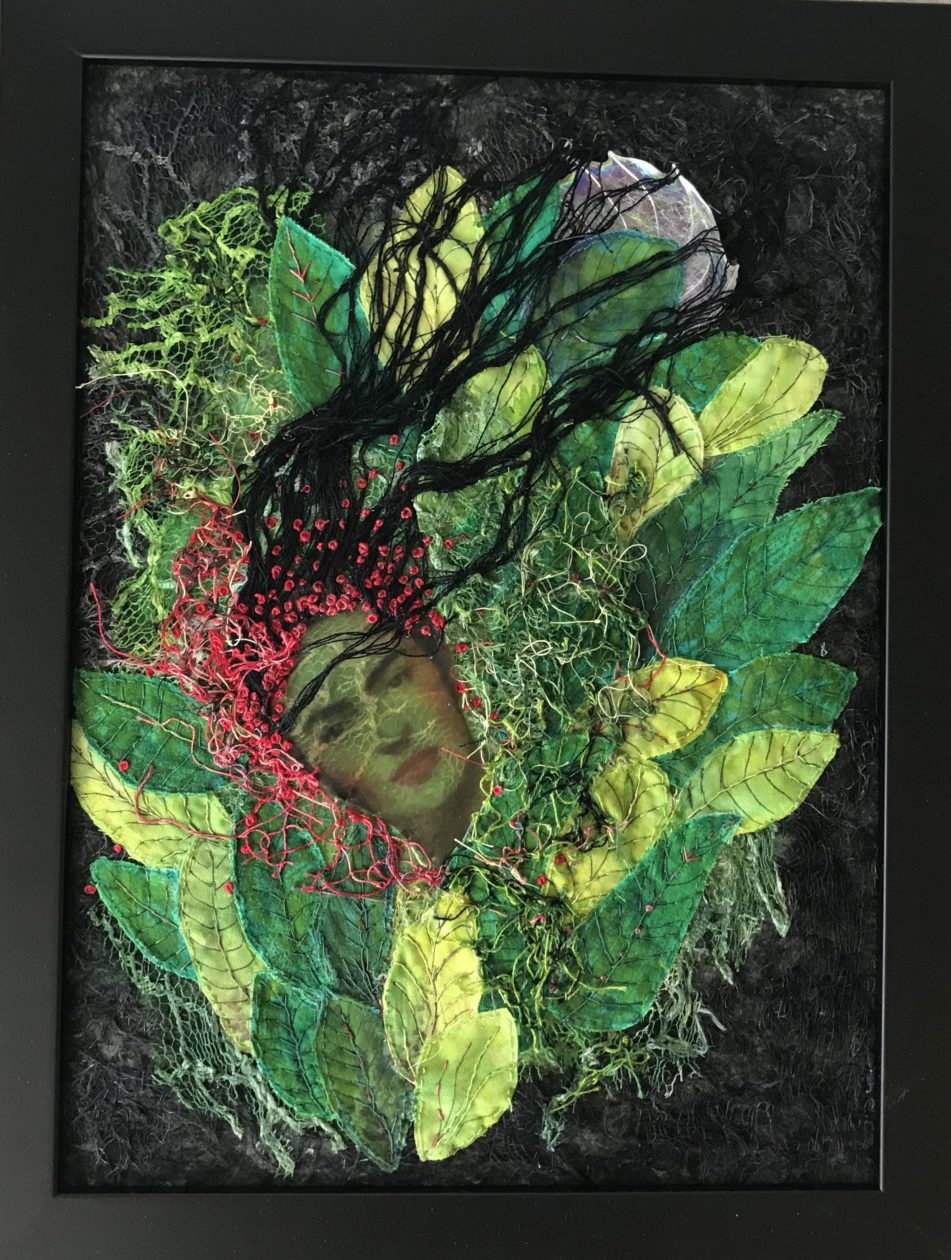 Frida's Escape by Jenna McClooney
This mixed media piece combines hand stitching and free style machine embroidery with soluble fabric, roving with machine embellisher, and gel transfer techniques.
Artist Statement: It's been said that Frida's last words were "I joyfully await the exit – and I hope never to return." Also, "In life, she survived by transforming her emotional and physical pain into art." Her death in 1954 at the age of 47 can be seen as the end of her physical and mental suffering. She departs from her beloved garden at Casa Azul to begin her journey while leaving behind an amazing legacy of art.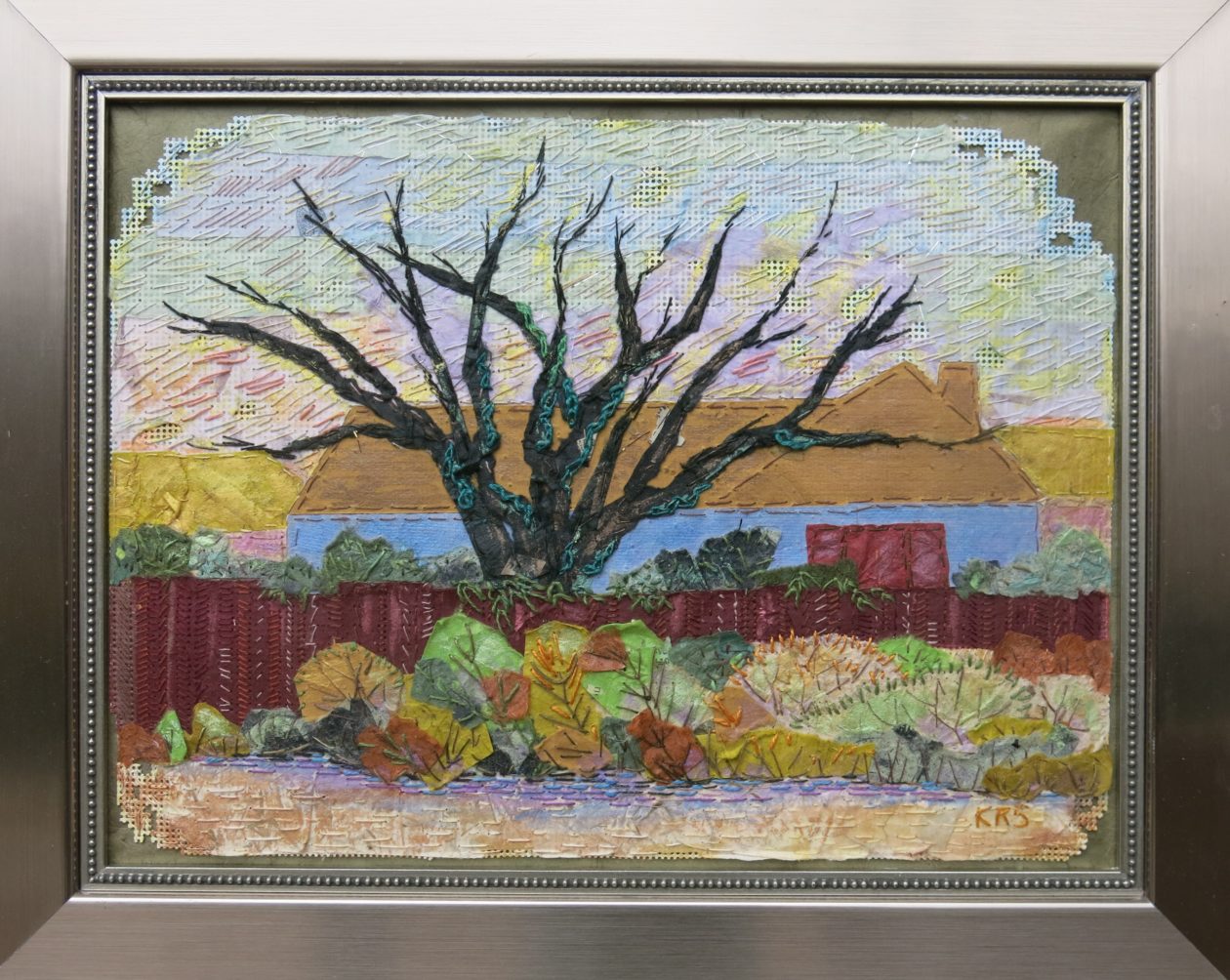 Bike Path Albuquerque by Karen Schueler
This mixed-media piece uses surface stitchery and collage using Japanese handmade papers, perforated paper backed by commercial handmade paper, metallic gouache, linen and cotton threads, and acid-free foam board to create an almost patchwork-like effect.
Artist Statement: I stitched this paper collage as if it were of fabric, but more deliberately and thoughtfully than I would have with cloth. My inner child was delighted to tear, cut and fold the paper into shapes for the foliage, clouds and hardscape of this suburban scene. I knew that I would add paint after I finished stitching the collage. Paper and paint are an irresistible combination, but paper and thread are equally enticing.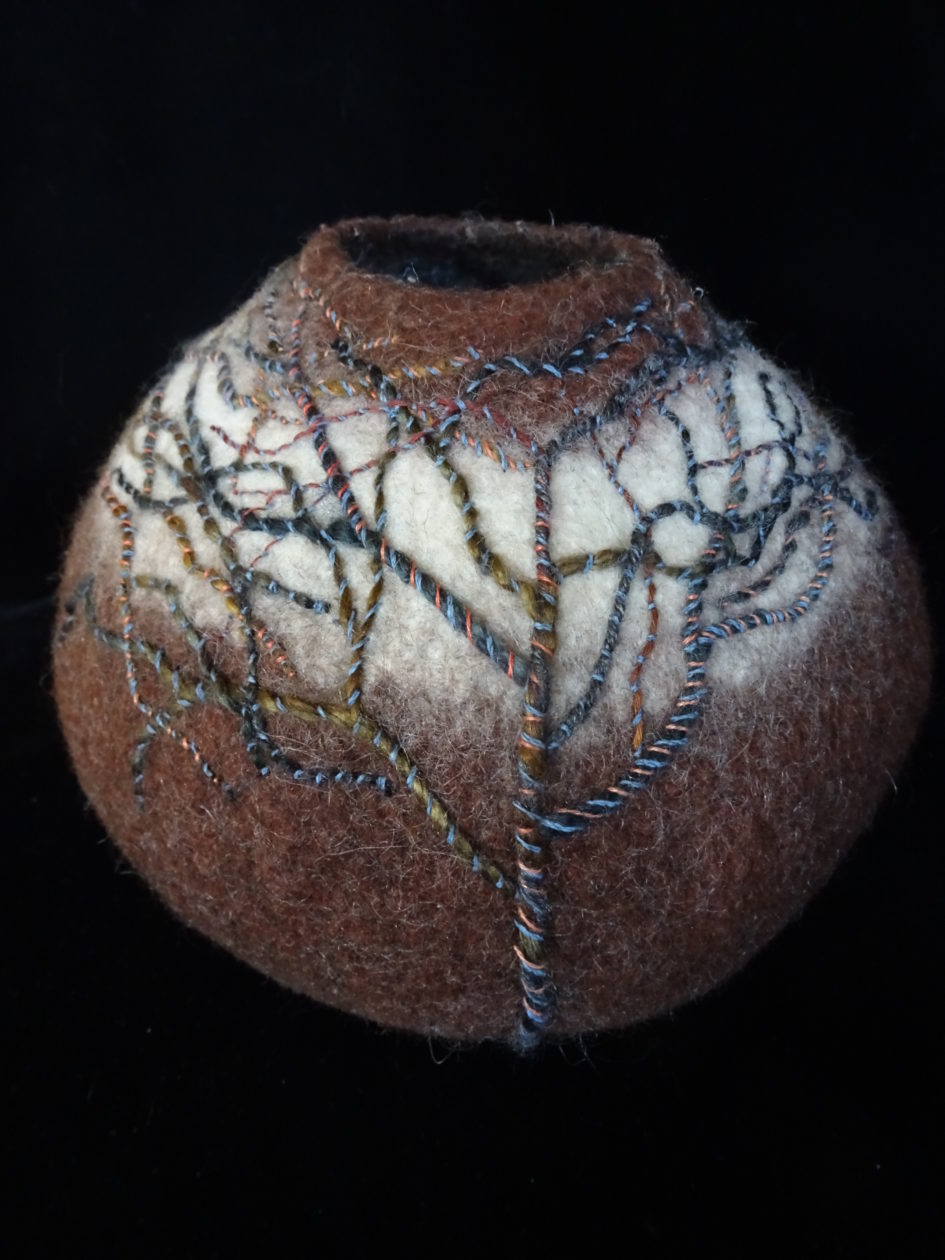 Of the Earth: Trees by Ann Poulson
This freestanding sculptural piece was created using wet felting with resist and couching techniques. Wool, paper, viscose, bamboo, tencel and rayon fibers were all used to create the finished work.
Artist Statement: I am in awe of trees, their size, their shapes, their utility. Each variety has a different form, the pyramidal shape of the lindens, the helter-skelter tops of the oaks. Trees provide us with oxygen, shade, paper, cloth, yarn. There is a spiritual respite in their presence. I wanted to create a piece that shows my respect for trees and their place in this world.

Strip Tease by Florance Kochenberger
This stunning work was created using a variety of embroidery techniques, including cross hatch and straight stitches, bullions, couching, sorbello, ruched ribbon, french knots, Basque, blanket, chain, Pekinese and stem stitches, soft shading, fancy herringbone, interlaced cross stitch, needle lace and prairie points.
The list of materials used is equally impressive: cotton, synthetic and composite fabric scraps, ribbons and trims, painted papers, cork and processed salmon skin on a felt ground and embellished with a variety of weights of cotton, linen, silk and metallic fibers with the addition of brass and glass beads and sequins.
Artist Statement: Exercises dealing with positive and negative space, and element connections, in a workshop with Jean Draper inspired the development of this bell pull. Repetition of color, line and materials is used to unify the different segments. Challenges to pleasingly lead the viewer's eye through the numerous different treatments also call for fiber weight and stitch choices to be made in consideration of the scale and proportion of those used in surrounding areas.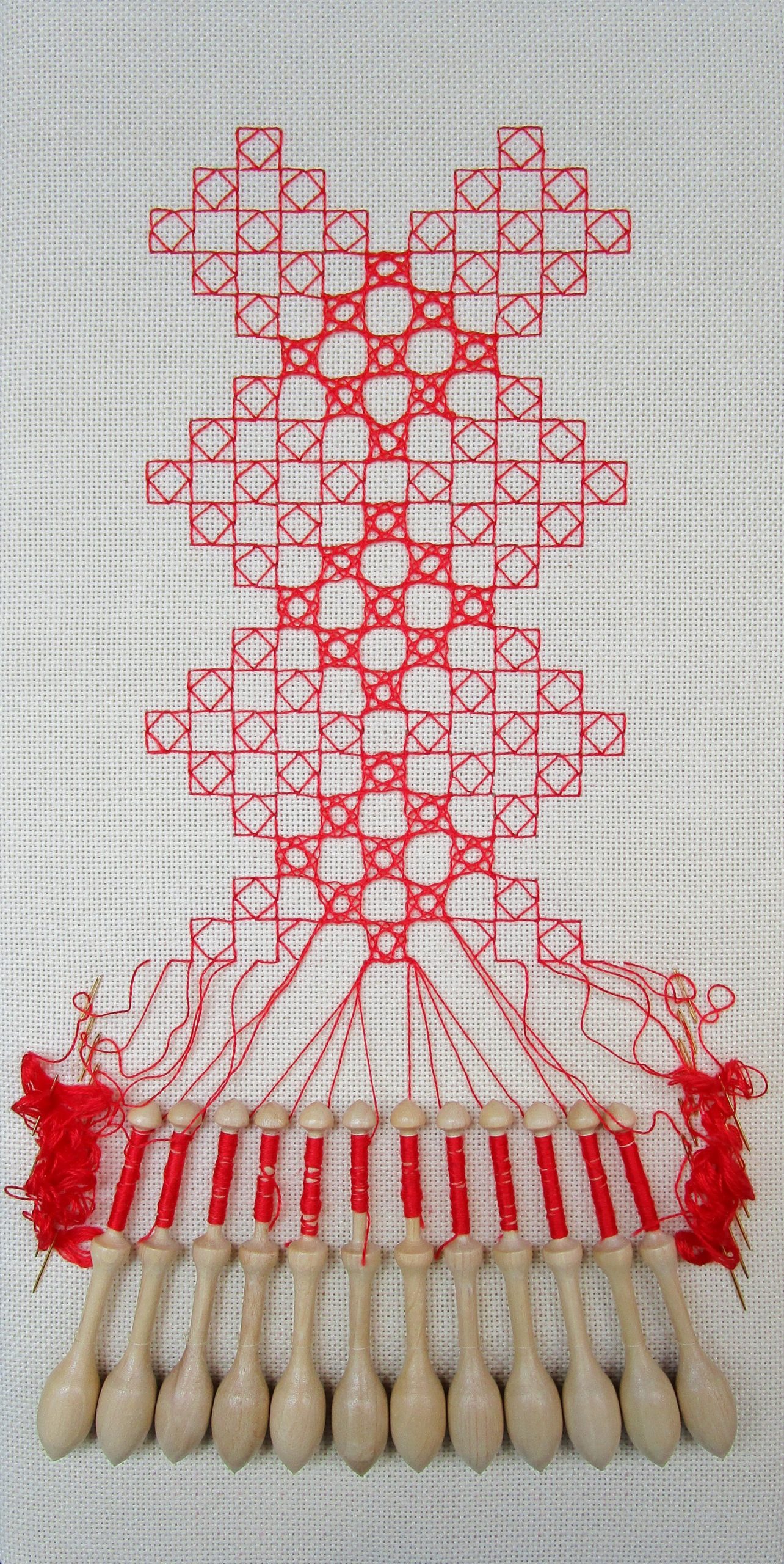 Blackwork and Roseground by Sally Olsen
Using minimal materials, this impressive piece challenged the artists to find a way to support the fabric for each technique, and how to transition from blackwork into roseground using continuous thread.
Artist's Statement: Making roseground bobbin lace brought to mind the rhythm of the second movement of Beethoven's Moonlight Sonata and linear patterns of blackwork. Bobbin lace weaves thread stored on pairs of bobbins. In blackwork, one stitch threads over then under the fabric while other stitches over then under.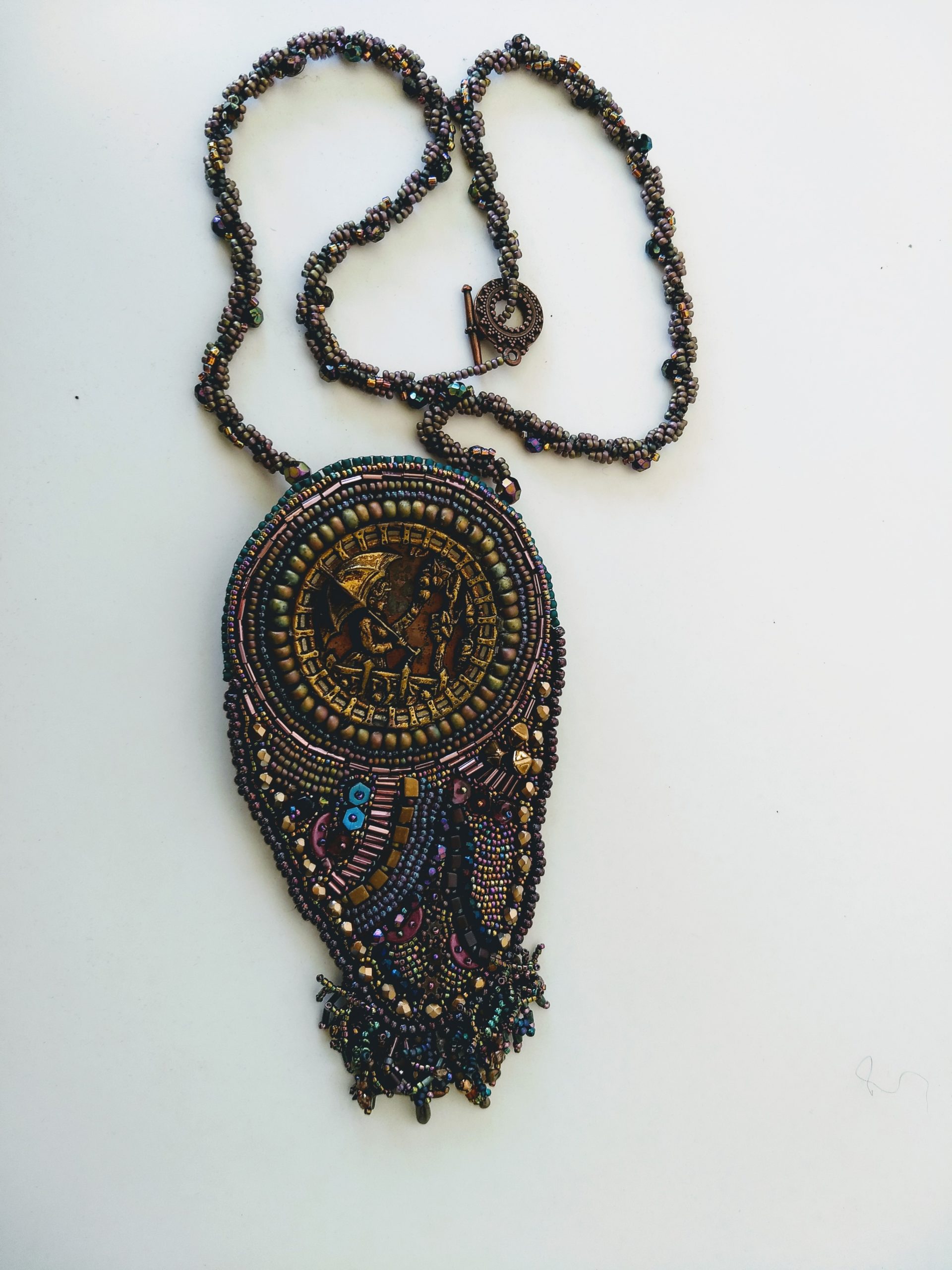 Plucking Plums by Marilynn Helms
This wearable piece of art is anchored by an antique brass button (circa 1880), surrounded by seed beads, bugle beads, square beads, fire polished bicone beads using beaded embroidery techniques. The backing is finished with ultra suede fabric and a spiral necklace rope made with size 11 seed beads and bicone beads.
Artist Statement: This vintage brass button evokes a bygone era when ladies wore fancy chapeaus and carried parasols. I fancied its antique brass color. When I noticed that I had many beads that echoed this same unique brass color, making it the center piece of a pendant became inspiration on which to act. A spiral rope and free-form dangles complete the image.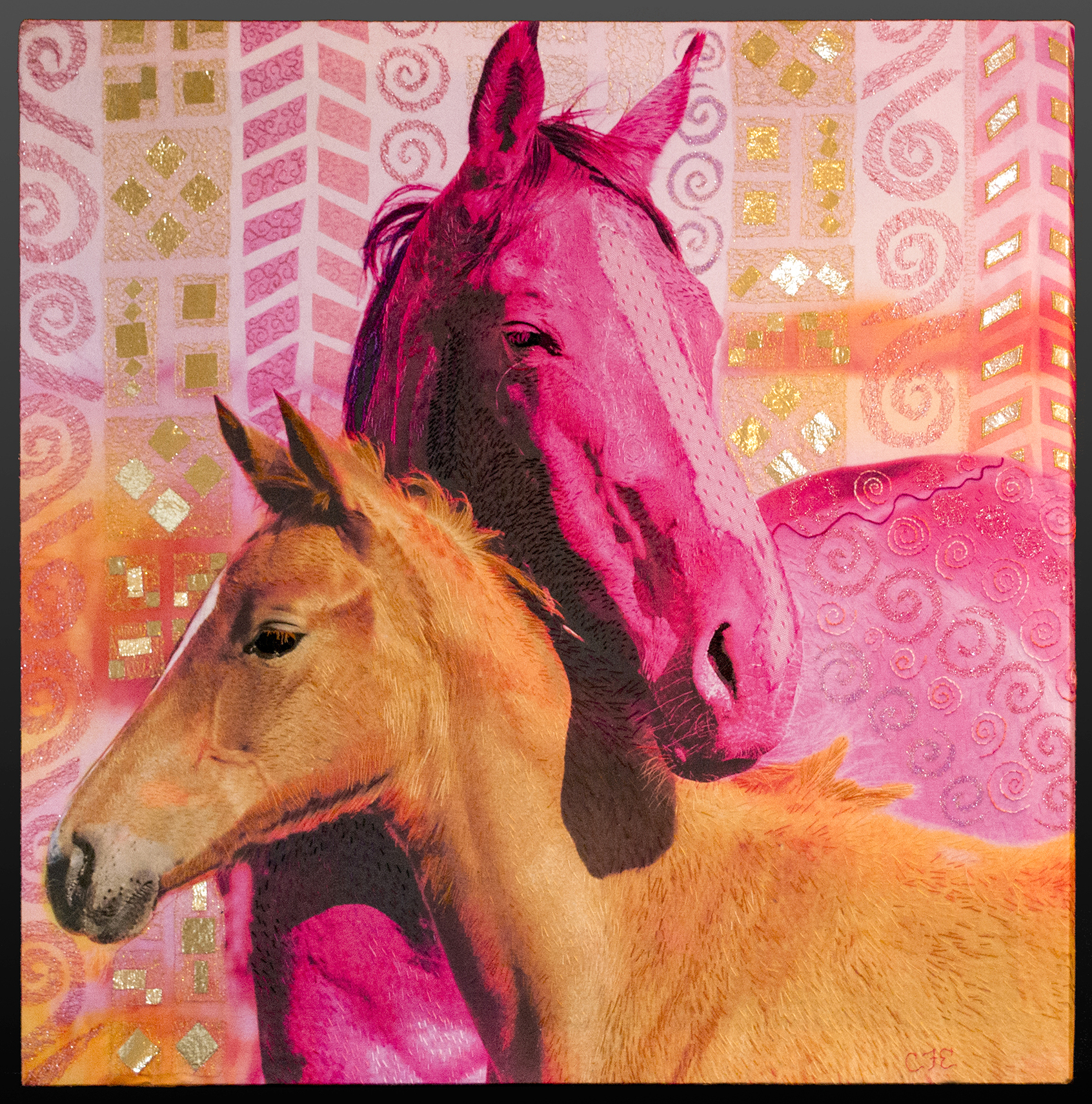 In Klimt's Corral by Christina Fairley Erickson
This striking image was created by using photo manipulation printed on canvas, tulle and synthetic material overlays, metallic and synthetic machine embroidery thread, machine applique, hand embroidery with commercial and artist hand-dyed cotton embroidery thread.
Artist Statement: Inspired by the gold overlay and graphic elements of Gustaf Klimt's work, I wanted part of this piece realistic and part of this piece ethereal, abstract and shape filled. The foal's color and hair-like stitching convey realism, while mother's bright pink color and patterns match the background, giving her a surrealistic quality. Is she there with her baby, or is it just that she's always watching over him? Both mare and foal are extensively hand stitched.