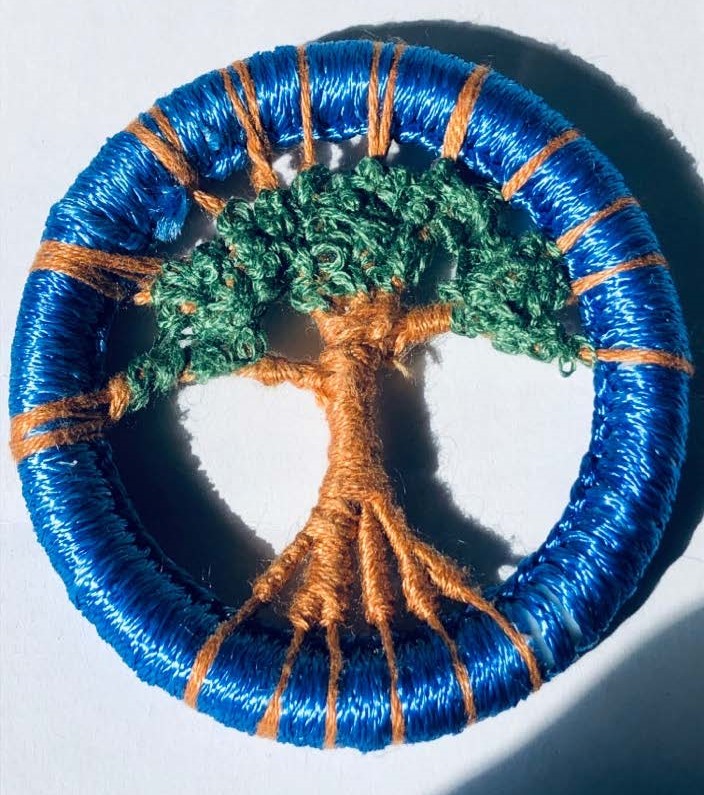 For our May 2023 stitch-a-long on Facebook we are making a Tree of Life Mandala Dorset Button project by member Eileen Patterson.
Here's more about this month's project  from Stitch-a-long admin Dianne Stauber:
This month's project was designed by EGA member Eileen Patterson. Eileen shared her beautiful Dorset buttons and we invited her to be the spotlight project for the SAL group this month!
Eileen is a member of the Suwannee Stitchers chapter in Trenton, Florida…in the Sun Region. In addition to designing beautiful things, she is their Region Rep and Outreach Chair, and she serves on the Nominating Committee. She's been stitching on and off since she was 5 years old. The first things she completed were needlepoint pictures for her daughter. She learned embroidery from Family Circle magazine! 😊 She says she never really got the hang of counted cross stitch, but she's done printed cross stitch. After retirement, she REALLY got back in touch with her stitchy bug and has been busy with needle and thread ever since. Her family helped support her love of needle and thread as well: her grandmother taught her crochet, her mother taught her mending and the value of clothing, and her father taught her about sewing machines. And now Eileen is teaching us all about Dorset buttons! We're sure our Suwannee Stitchers chapter is super proud of Eileen and we hope you enjoy creating your very own with this month's SAL project!
Please post pictures in the EGA Stitch-A-Long Facebook group when you're done!