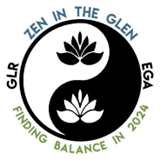 Waterfall Glen Chapter is announcing the faculty for Seminar 2024 at the Doubletree Hotel in Lisle, Illinois from Sunday, April 7 through Thursday, April 11, 2024. Eight teachers are offering various needlework techniques in an educational and calming "Zen in the Glen" surrounding.
Margaret Bendig will have a half-day and two 2-day classes
Catherine Theron has a half-day and a 4-day class
Kathy Rees with a half-day and two 2-day classes
Kim Sanders with a half-day and two 2-days
Pat Olski who will also have two 2-day classes
Kathy Andrews with a 4-day class (Piece featured above)
Celeste Chalasani with a 4-day class, and
Terri Bay with two 2-day classes
It will be difficult to choose from the wide variety of classes: canvas, counted canvas, surface embroidery, crewel, counted thread, stumpwork, whitework, blackwork, pulled thread, Ukrainian whitework… or if you can't decide, there is always studio time! Full registration information will be coming this fall.
The Waterfall Glen Chapter is excited to bring you this diverse group of teachers and hope that we have given everyone something they will enjoy. We are currently in conversation with a shop for the boutique, and discussing the possibility of a night out that will help you relax and recharge after your long day of stitching. We are hoping to bring you all the little things that will make this an enjoyable and Zen-like time for all.
Joanne Bockmann
2024 Seminar Chair
(708) 567-3492
Jbgb6283@gmail.com