Our Constellation Chapter in Maryland, founded on March 23, 1973, celebrated its 45th anniversary on June 4, 2018 with an emphasis on showing our pride in the chapter's history.
The celebration included a member showcase featuring both current and past pieces by members, a history exhibit drawn from our archive of memorabilia and photos, a rolling montage of projected photos of chapter exhibits, classes, and outings, and a program which highlighted our accomplishments and featured various members "who were there" who told stories about past events.
Following the program, we toasted the chapter with bubbly, enjoyed a catered lunch, raffled several items, and served anniversary cake.
We honored 27 women who have been in the chapter for at least 25 years and are still members today, including two founding members from 1973, Dolores Andrew and Mary Ann Willingham. The chapter presented them each with a blue cotton shawl with the historic EGA logo embroidered on it. Sixteen of the 27 honorees were in attendance; they donned their shawls and Susan Elliott took their picture for this article.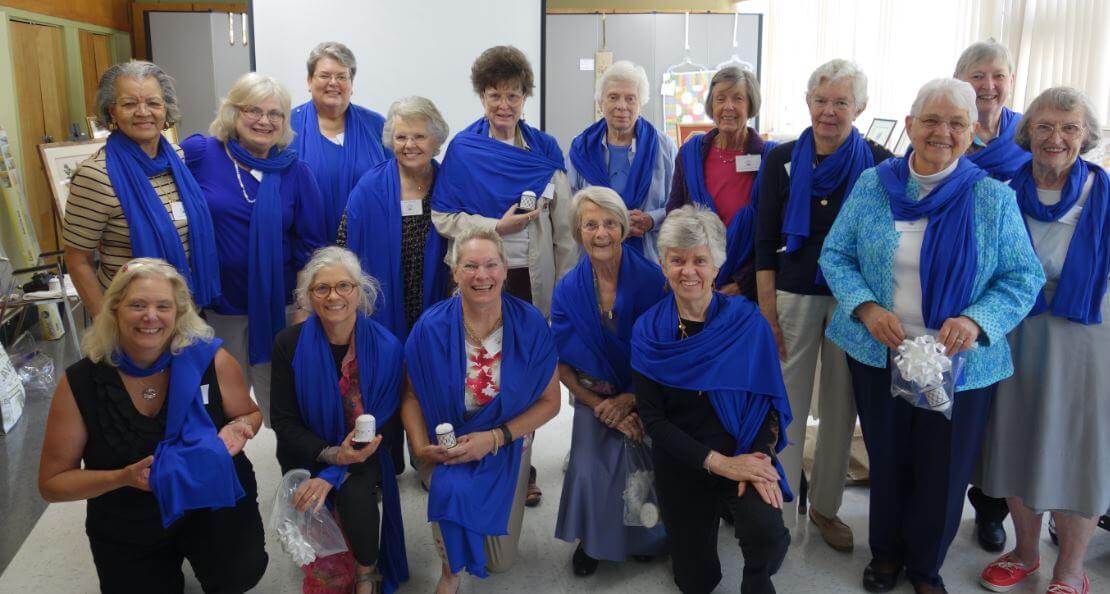 We are looking forward to a great celebration in 2023 when the Constellation Chapter will be 50 years young!