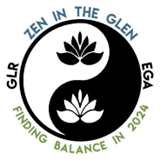 The Great Lakes Region EGA Seminar 2024 Zen in the Glen, will be held April 7-11, 2024 just 40 minutes southwest of Chicago in Lisle, Illinois.
This is your invitation to submit your "Zen" to stitch into the "Glen"!
We are asking our faculty to submit a variety of proposals of multiple lengths (1/2, 2, or 4 days) to allow us to offer several techniques and proficiency levels. In addition, we are even encouraging one-day classes to be taught over two days – or two-day classes to be taught over four days. Be creative to put the "Zen" into our students' days!
Teacher compensation will include:
$400 per day for teaching
Economy round-trip airfare, transportation to/from home airport, or current 2024 IRS mileage rate for traveling by automobile from home to Lisle, Illinois and transportation from Chicago airports to Lisle
Hotel accommodations – during the period of the contract
Meals – with the participants will be provided during the period of the contract (breakfast, lunch and dinner!)
$60 for other meals and incidentals such as parking at the airport
We look forward to receiving your proposal(s). Submit your proposal(s) with picture or sketch electronically, no later than December 15, 2022. As requested by EGA, the "ICNA Standard Proposal Summary Sheet" must be the first page of each proposal.
Sincerely,
Karen Throw, Dean of Faculty
GLRFaculty2024@gmail.com
The featured image above is of The Ladies – Wind by Jacqueline Winton and is part of EGA's permanent collection. See the gallery!