Updated on June 22, 2022.
Every time we take a needle, thread it and draw that thread through some fabric, we are carrying on a legacy. That legacy is the work of countless generations of women and men who have created fiber art. We are preservationists. We preserve the stitches of the past for the future. We teach it, we live it. It's important.
The invasion of Ukraine by Russia is an example of how that legacy, those stitches, can be lost. Bombing can destroy fiber art and the people who create it. The news this week made me dig out some of the Ukrainian embroidery I have, the legacy of one of our members who passed away over a decade ago. She began this table runner and I finished it. It was an honor to finish it. The threads you see in this photo are from Ukraine and remind me of the vast array of embroidery that goes on all over the world to make life bearable.
What we do is important. – Janet Bex, EGA member of our Susquehanna Chapter in Pennsylvania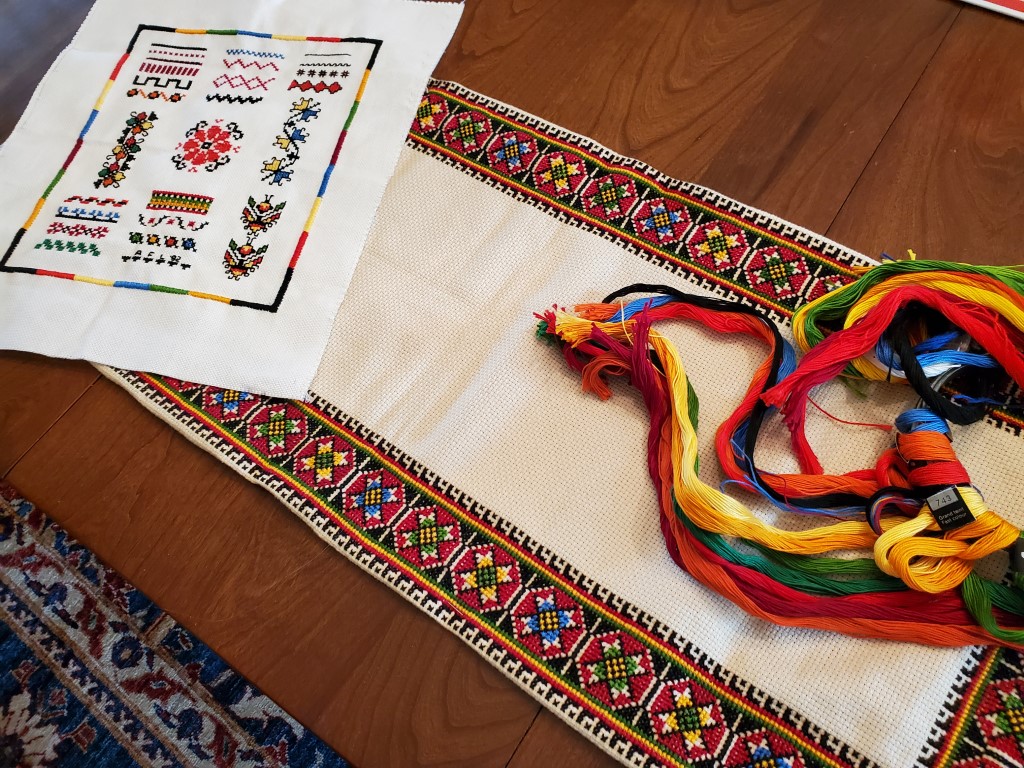 We encourage you to support the Ukrainian people through these times. There are many organizations you can support to make your voice heard on behalf of the Ukrainian people. To find a local organization you can support, you may Google Ukraine Relief and the name of your city or state.
Learn more about Ukrainian Embroidery
If you are interested in learning more about Ukrainian Embroidery, our needlework lending library has several books focused on that topic. Our  needlework library consists of more than 2000 needlework books and a non-circulating reference section of rare and historic materials. EGA members are welcome to borrow up to four books at a time for a period of six weeks. You can see all the books available here. These are some of the titles you can find in our needlework library: The Book of Ukrainian Embroideries, Rushnyky: Ukrainian Ritual Cloths, Gay Eaton's Ukrainian Whitework, Ukrainian Embroidery, Ukrainian Embroidery Designs and Stitches, and Ukrainian Embroidery Design.
Our Cyberstitchers Online Chapter shared the following free project: "Slava Ukraini". Long Dog Samplers is offering this free download to support the designers of Ukraine. This chart was designed as a tribute to the courageous people of Ukraine who are suffering so terribly at this current time. It has been offered as a free download as Long Dog Samplers have no wish to profit in any way from the situation. Our fervent hope is that you will feel sufficiently moved to make a donation, however small, to one of the Ukraine crisis appeals being organised in your part of the world. Get it here.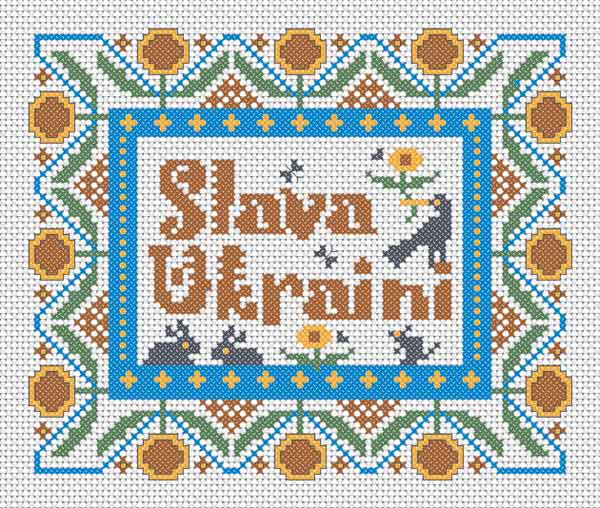 Below are some of the posts that have been shared in our Facebook Stitch-a-long group, Facebook and Instagram in support of Ukraine and the Ukrainian people.
Ginny Kellar from our Indianapolis Chapter shared this beautiful project, a free Ukrainian Bookmark by Cliffside Stitches: Get it here.

Marianne Randall, EGA member at-large from California: "My interpretation of Cliffside Stitch's Ukrainian Bookmark. Just need to block it and finish off the back"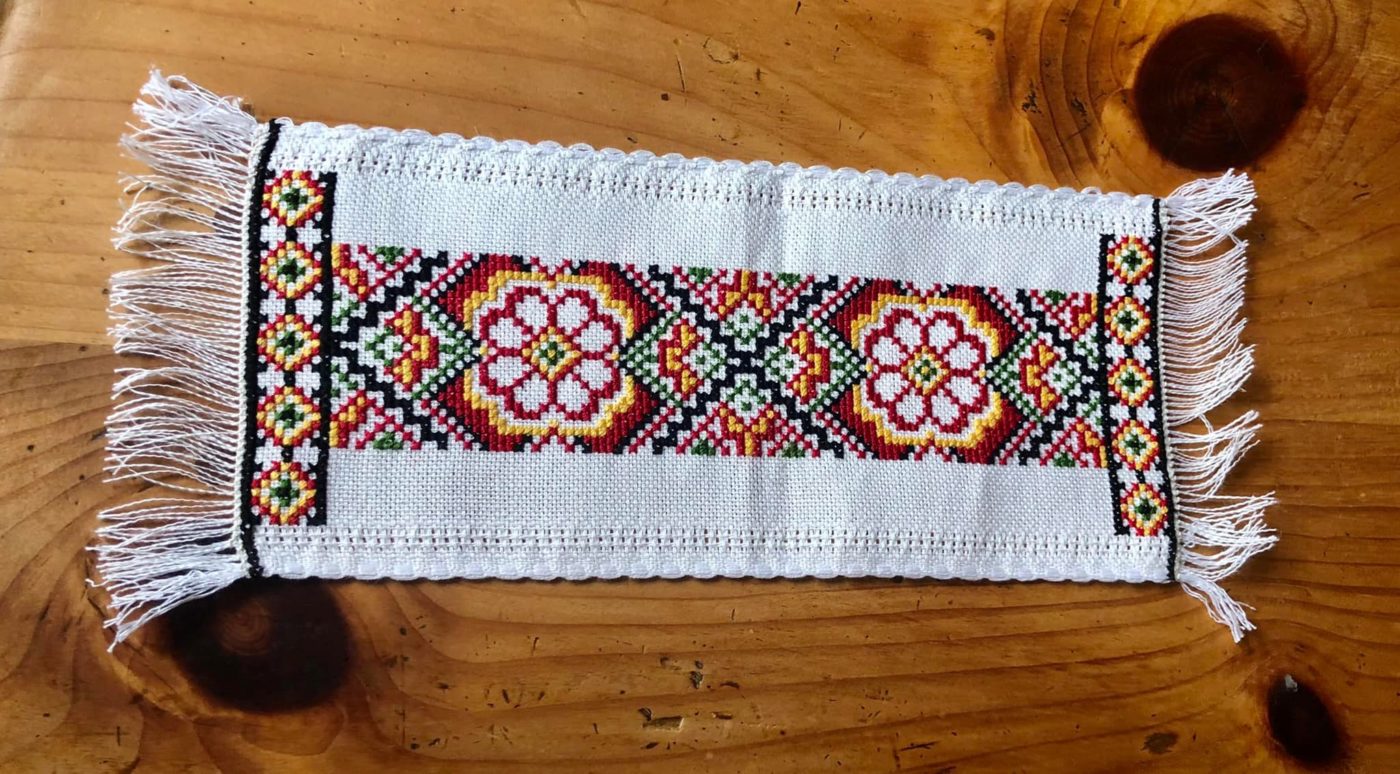 Leslie Stephens shared this post from OnePoint Mind in our Facebook Stitch-a-long Group
Stitch-along for Ukraine – Why a cross stitch design? The Ukrainian people have had a long, proud tradition of embroidery, and this small piece is inspired by traditional Ukrainian embroidery designs.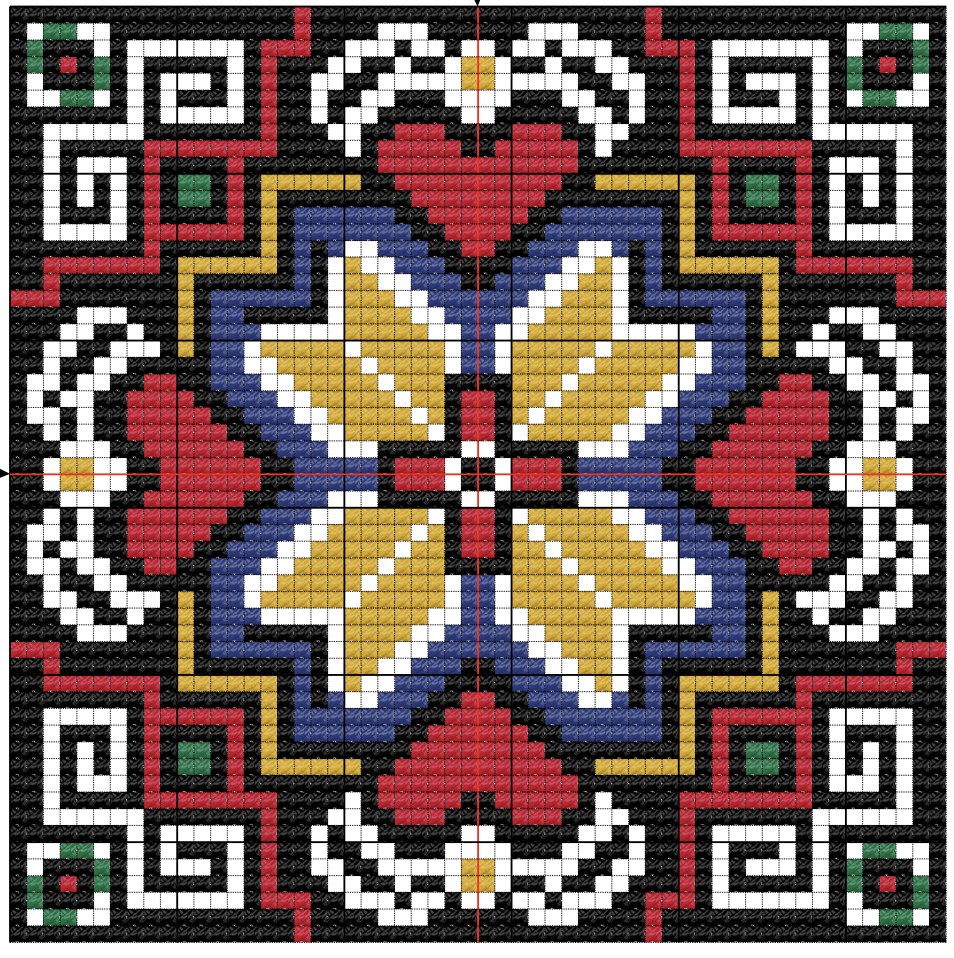 Based on Ukrainian tradition the symbols in this piece mean:
The cross = protection from evil.
The star = strength and serves as a protection from disease and evil.
The heart = love and harmony, and a united family.
The white dove (flying over heart) = peace.
The wavy lines = the stream of time and evolution.
The key/sigil = protection from negative influences.
The square = well-being, peace, and fortune. It also means perfection, harmony, and order. In the Ukrainian tradition, the square is the symbol of earth.
The colors also have meaning in the Ukrainian tradition:
Yellow = wellbeing, joy, and vital energy.
Blue = healing and spiritual calm, and it protects those who are most vulnerable.
Red = life energy, love, and joy.
Black = the earth, wealth, and wellbeing.
White = innocence and purity.
Green = youth, beauty, and calm.
Here's the link to the original post with more information: One Point Mind
Leslie also shared the project below from Stitches From the Heart: "Flowers in a Window, a free chart from Stone Street Stitchworks. It was released in 2019 as a monochrome and Salma shows it here using the colors of the Ukranian flag. There are no suggested blue and yellow floss colors at this time, you can use whatever you like/have in your stash."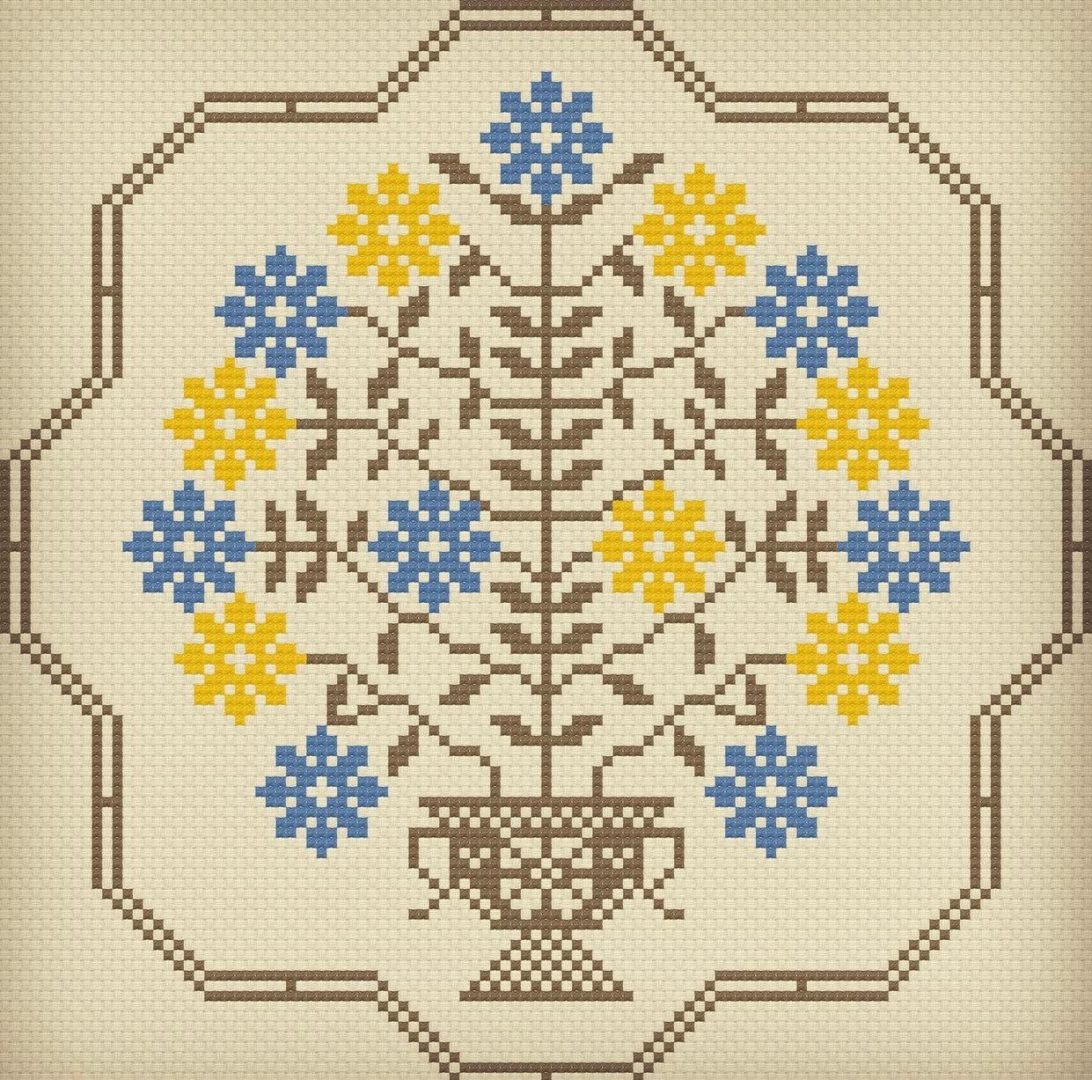 Jineen Kulczycky from our Indian River Chapter shared the project she stitched for her Ukrainian sister-in-law.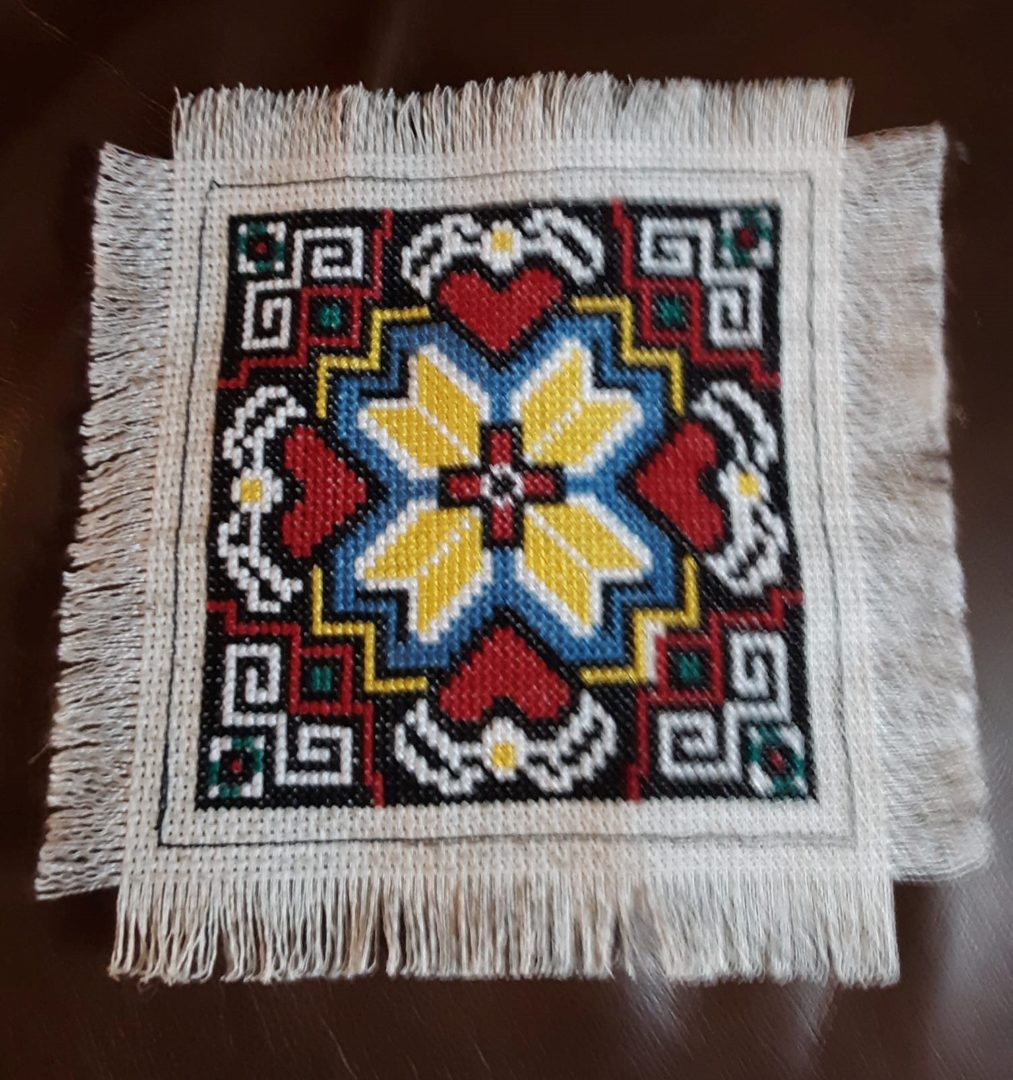 Celeste Chalasani from our Marin Gold Threads Chapter in California, shared on Instagram: "My feed is full of people showing their support of Ukraine. They need more than words. I've made a donation to the International Red Cross. Who will join me?"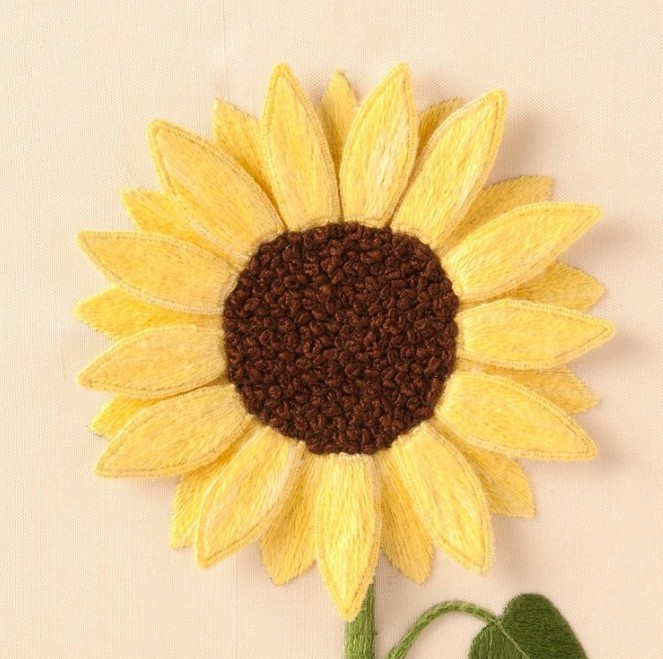 Debbie Chingas Sandke posted her version of one of the projects above on the stitch-a-long: "I made one to hang from whatever bag I'm carrying. 🇺🇦 Absolutely lovely chart."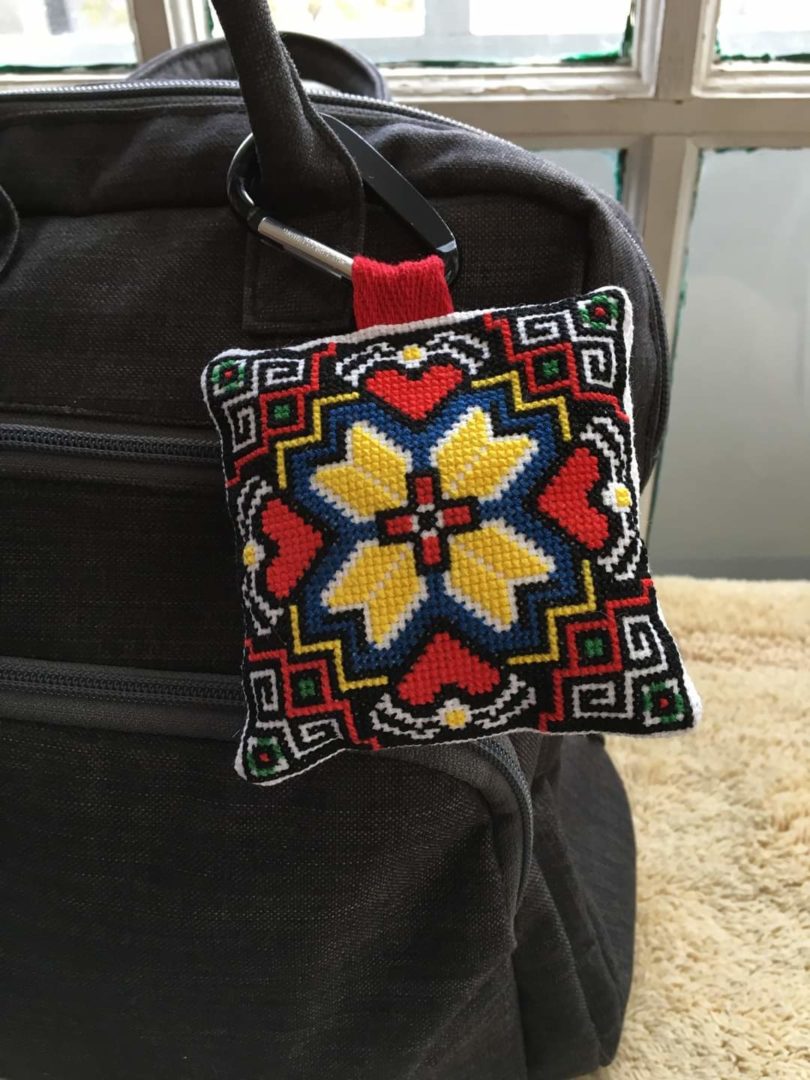 Doris Smith also posted her version, which you can see below.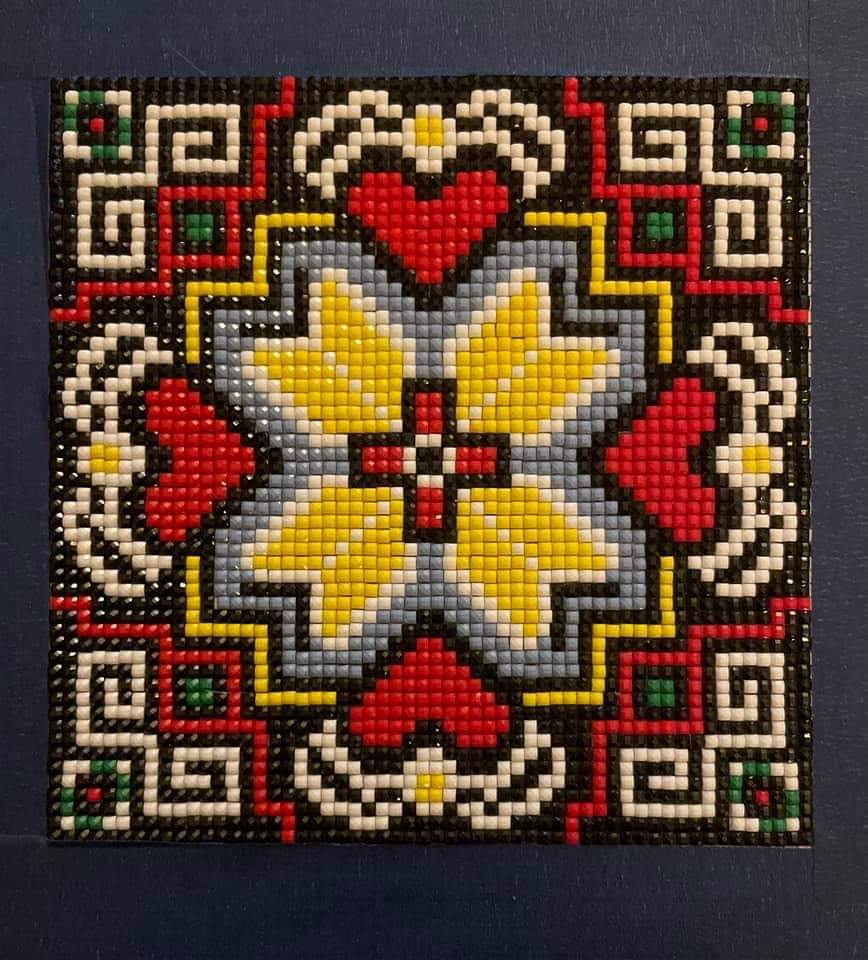 "I stitched this in the beginning of March, as the war was just in it's first weeks. At that time, in the news was a story of a woman, her two daughters and a friend who were killed in the shelling before our eyes on television. I found their names, researched how to represent them in Cyrillic, and added them to the pattern in honor of all the victims of this horrible conflict. This is in memory of Tetyana, and her daughters Mykyta and Alica, and their friend, Anatoly." – Terry Mullen, Central New York Chapter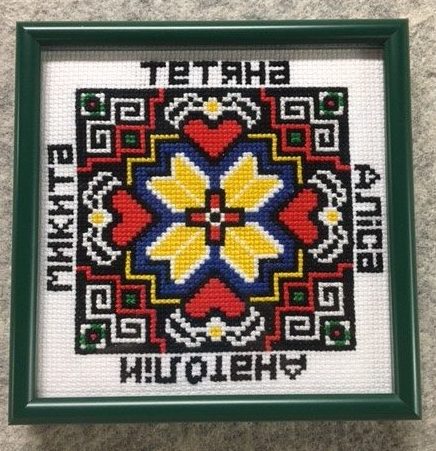 "The second is a pattern from Peppermint Purple. They are donating a portion of the purchase price of this pattern to Ukrainian relief organizations." – Terry Mullen, Central New York Chapter