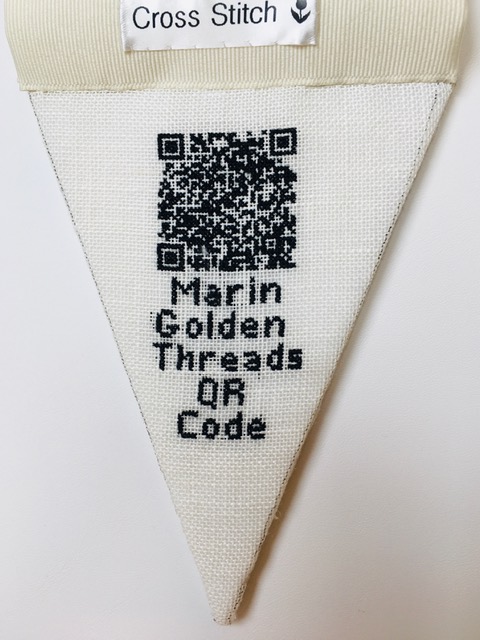 Today we are bringing you news from our Marin Golden Threads Chapter in California. We encourage you to learn more about them by clicking here or you may point your phone's camera to the stitched QR code and touch the code on the phone screen to see the website! How cool is that?!
Members of the Marin Golden Threads chapter just successfully completed a full year's chapter project.
Our 70 member chapter takes advantage of opportunities to participate in major community events to advance the EGA message, our love of stitching and entice new members. In early 2022 we decided to modernize our chapter banner to make it more representative of a wide variety of techniques and also, become a new education outreach method.
Sheila Iskin, a plural member, offered to teach a class on banner making with triangular pennants. Meetings were subsequently held to plan, including a color scheme, suggested materials, hanging methods and a spread sheet of techniques for individual members to stitch. It was decided to create printed cloth labels to identify the technique on the front and the artist's name on the reverse.
Main committee members were Celeste Chalasani, Velma Williford, Cheryl Berger, Lori Love, Chris Day, Laurel Knapp and Sara Zander.
Our goal was to complete a banner of many technique samples, all hand stitched from each member's original work but also to include the logos for EGA, GPR and MGT. The deadline was for its debut at this year's huge Marin County Fair (averaging 20,000 visitors) over the 5 days around July 4th.
For over 20 years, MGT has proudly served to organize, plan with fair staff, arrange/clerk the judging, handle and decorate the life-size display dioramas and then constantly monitor the entire Clothing and Textile Wing of the fair. Part of our annual involvement has been a display of our work, live stitching demos and multiple Make-it-Take-it events. Of course, we actively encourage interest sign-ups and follow up with personal invitations to our open house.
After a full year of planning, stitching, assembling and finally hanging our new banner, we were happily ready for this July's County Fair!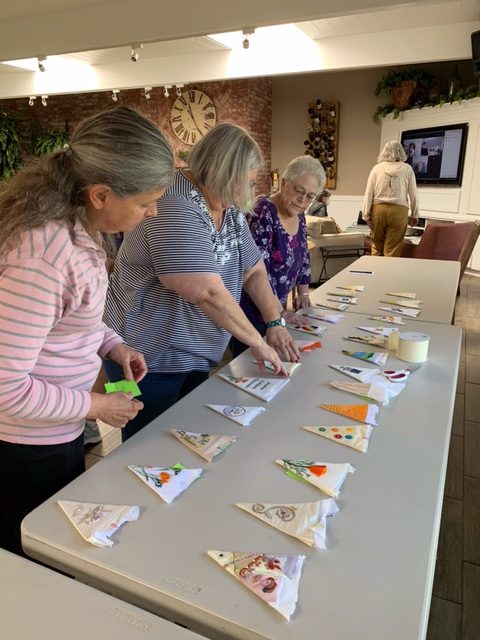 It includes an amazing 32 technique pennants, all but the main chapter logo measure 6"x 4". The central chapter logo is nearly double the size. One pennant was even cleverly cross stitched by Chris Day to include a working QR Code to send viewers to our chapter digital media with one click of their cell phone. Now that's a truly interactive display!
To aid our daily monitors to engage with visitors, a permanent binder was created holding full-size, color photos of each pennant plus three indices; by artist, technique and mounting order. Fair-goers often ask for help locating a friend or relative's work or ask how an item was created. The binder now makes every monitor an expert guide.
— Sara Zander' Chapter Region Rep