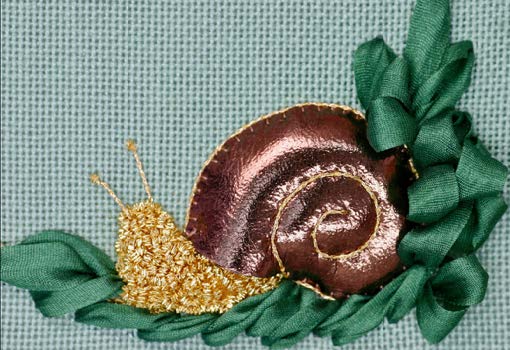 Welcome back to part two in this series! Whether you're new to the world of metal thread embroidery or are looking to perfect your skills, these instructions will show you how to stitch this whimsical snail project from start to finish. The instructions are written for the beginning to intermediate metal thread student; you can  learn more about part one here on the EGA Blog.
A Walk in the Park is part of Summer Sashay, and generously provided here for our blog readers by designer and EGA teacher, Kay Stanis. She notes: Framing up and transferring the design is more complicated than other types of needlework so that's quite an accomplishment to begin with. Review the procedure with the video on my website. You'll find it under "techniques." If you love metal thread embroidery we invite you to explore some of our courses on the technique including our Individual Correspondence Course Introduction to Metal Thread Embroidery with Kay Stanis, an in-depth study of the techniques of metal thread embroidery that will introduce you to the shimmer of real gold and silver on fabric.
Enter your name and email below to receive the PDF of Part 2 of this project delivered to your inbox.  Didn't get Part 1? Don't worry, sign up and we will include links to both parts of the project. This will also sign you up for the Needlework Network, our monthly newsletter for stitchers with free projects, stitch-a-longs, and more. If you are an EGA member, you can also download these instructions from the Member Publications page. Learn more about becoming an EGA member here.
Can't see the form? Click here!
We'd love to see your projects, make sure to share your photos with us on social media and use #EGAstitchers in your post!
Many thanks to Kay Stanis for sharing this wonderful project and her expertise with our blog readers! You can view more of her work on her website The Gilded Edge.