Get Started
This course is currently closed
The thobe, a traditional embroidered dress and bedrock of Palestinian textile artistry
A handmade dress worn for centuries by Palestinian women
Lecturer: Wafa Ghnaim
Date: August 14, 2021 1PM Eastern
Registration: July 12-19, 2021 1PM Eastern 
Since the 11th century, Palestinian women have showcased their skillful stitchery on their traditional costume, displaying unique motifs, colors and styles across the various villages of old Palestine. After 1948, nearly one million Palestinians were forced into exile, and carried their Palestinian embroidery traditions with them into refugee camps and around the world, also referred to as the 'diaspora'. As the diaspora spread across the globe, the largest and longest-standing population of displaced people in the world, the thobe evolved into a symbol of national identity and solidarity.
Author and teaching artist, Wafa Ghnaim, will discuss the evolution of the thobe from the nineteenth century through the contemporary period. In the lecture, Wafa will detail regional variations of traditional Palestinian costume in old Palestine; political events that had direct artistic implications on embroidery; the emergence of costume customization; post-1967 war conditions that impacted textile artistry; the artwork that emerged during the First Intifada; as well as the various work of embroidery artists that are seen today. Join Wafa on a unique journey into the language of Palestinian embroidery as it was used on the traditional thobe, and how generations of Palestinians have preserved and modernized these traditions in diasporic communities around the world.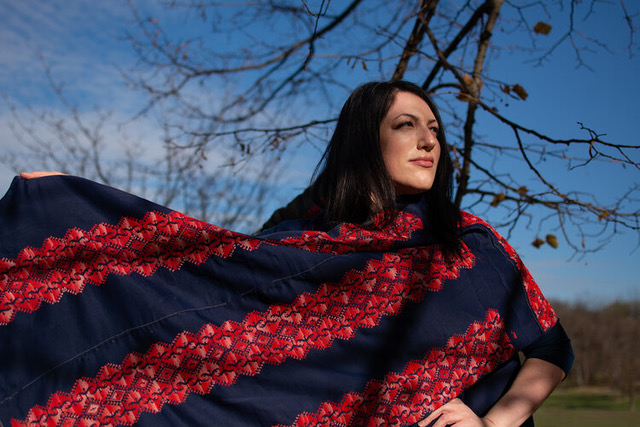 Registration is limited to 100 participants and will remain open for a full week. Once registration ends, the entire list will be run through a randomization app and the list of attendees will be filled in that randomized order with the remaining members added to a waitlist. Learn more in our Virtual lecture Series page.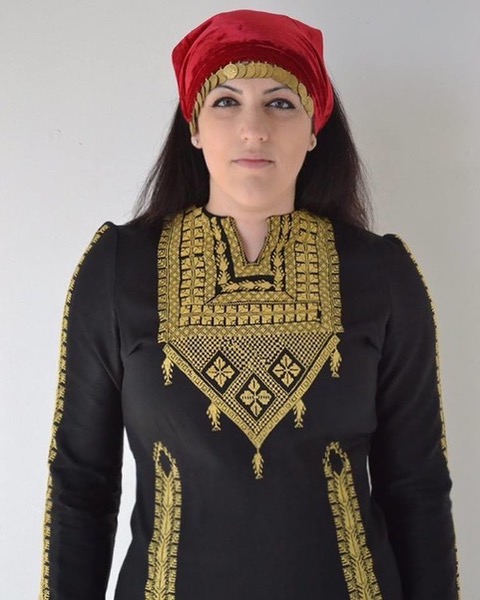 Wafa Ghnaim is an American-born Palestinian businesswoman, writer, and artist. Wafa began learning Palestinian embroidery from her mother when she was two years old.
Throughout her life, she traveled alongside her mother for exhibits, lectures, and demonstrations around the U.S. from folklore festivals in Cambridge, Massachusetts, to elementary schools in Portland, Oregon. Today, she travels the world teaching Palestinian embroidery skills across the diaspora to students who have long yearned to connect with their artistic and cultural heritage.