Get Started
This course is currently closed
Curiously Wrought - A Closer Look at Needleworked Buttons
Lecturer: Gina Barrett
Live Lecture Date: Saturday April 13, 2024 1PM Eastern
Live Lecture Registration: March 25 – April 11, 2024 1PM Eastern
Format: Live Lecture and Recording
Get a reminder when registration begins by signing up below!

Can't see the reminder form? Click here!
Using thread to create and decorate buttons has a long history. This talk will look at the types of needlework found on buttons, with a focus on those found during the 19th century. We'll take a look at examples in Gina Barrett's collection, and discuss the people who made these little works of art.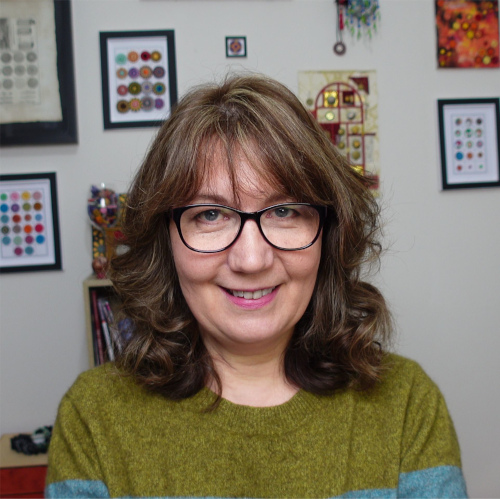 Gina is a textile artist, designer & writer with a passion for historical passementerie – especially buttons! She now provides bespoke items to costumers for film, theatre, museums and fashion, and continues to research and to write about both old techniques and developing new ones. She is particularly keen to discover the lost techniques used to create buttons, which of course means steadily building a collection to learn from. She & her husband Mark run Gina-B Silkworks, which brings original tools, kits and materials for traditional crafts and trimmings to a modern audience through their website, shops and the UK TV craft channel, Create & Craft.