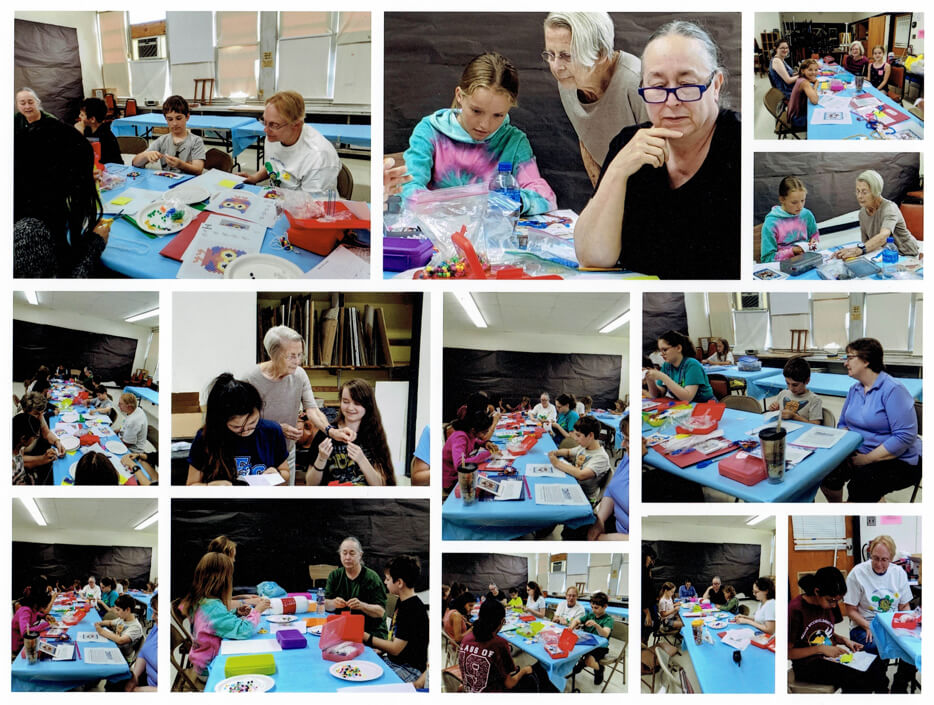 Our Constellation Chapter  in Maryland had a great time at camp this summer. Here's more about their fun experience from the chapter's Outreach Chair Susie Jordan:
Louise Grady and I worked with 9 children and 4 young adults teaching peyote beading and counted cross stitch. During the morning session we were asked to teach three young girls who signed up. Alice, Alice and Alexa are all going into the 4th grade and they are friends.  They loved the beading after the third row.  And they liked the cross stitch too. The afternoon session found us reunited with three kids from last summer.  Lizzy and Josie came in ready to go and Colin loved working with Louise on his projects.
The three new campers also did very well.  Connor needed a little extra help and Nancy and Donna were there to lend a hand. All four of our volunteer staff from the camp completed the projects.  Over the course of the week we had help from Nancy Kenealey and Donna Finley. Evelyn Stewart, Jan Rollins and Alice LaSota dropped by as well.
I want to take a moment to thank Kim from BugzAndOnions who worked with us to modify one of her bead designs for use with pony beads.  And a special thank you to Anna from CrossWise Designs who created the cross stitch kits we used. Their creativity and help and support were invaluable.
Mark your calendars for the week of July 6, 2020.  Camp will be back and next year we are planning to have one beginners session and a session for our returning students. 
Related News
Find an EGA Chapter in your area