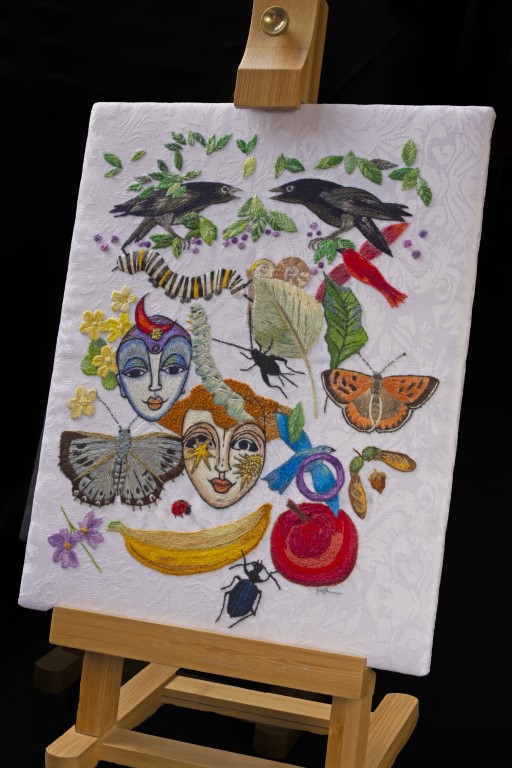 The Aiken Stitchin' Belles chapter in the Carolinas Region, in conjunction with the Millwood chapter, recently held a stitch-in-public day at the South Carolina State Fair. In preparation, we packed up our usual assortment of projects that would attract attention and demonstrate the range of techniques that one might learn through EGA's education programs.
As a member of the Through the Needle's Eye committee, I thought, "Wouldn't it be great if we could show the TNE virtual exhibit on the wall or a screen?" That would really attract attention! However, we could not be sure that we would have a wall, screen, or electricity in our assigned booth, so that did not seem to be an option.
Then I realized that I could bring my computer and show the exhibit on that screen! Problem solved! I opened the exhibit in the "start tour" format so that it would automatically scroll through all of the pieces in the gallery on its own, stopping for 6 seconds on each item before moving on, and set the computer in a prominent place in our booth. Periodically during the day, I switched from one gallery to the other.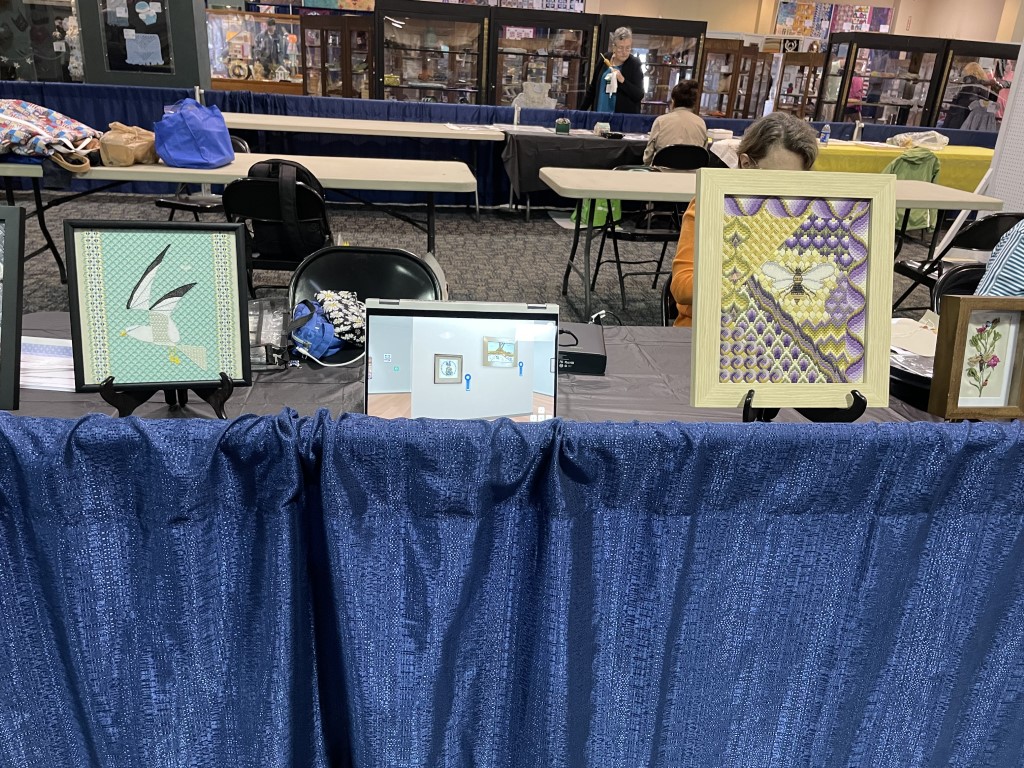 People stopped to admire the virtual exhibit, caught by its movement and by the beautiful pieces on display. We talked about some of the pieces in the virtual show, and I gave the visitors a label that had the TNE web address (egausa.org/tne) so that they could view the show at home.
If your group wants to include the Through the Needle's Eye exhibit as a feature of your trade show or fair booth, here are the items that we needed to make this work:
A computer with its power cord (remember to stop your computer's "sleep mode" so that the virtual show will continue as long as you are at the event)
A power bank that could charge the computer if needed (our booth did not have access to an outlet).
A smartphone that could be used as a hotspot (we could not access WiFi)
The phone cord and a power bank that could charge the phone if needed
Labels giving the TNE website
You could achieve the same result if you used an iPad or tablet.
Although this addition to your booth will add a few more bags to pack as you prepare for your booth, we believe that including this lovely exhibit will give you another way to draw people to your booth and allow you to expand your discussion of the many benefits of belonging to EGA. Give it a try!
— Carole Overton, Secretary, Through the Needle's Eye