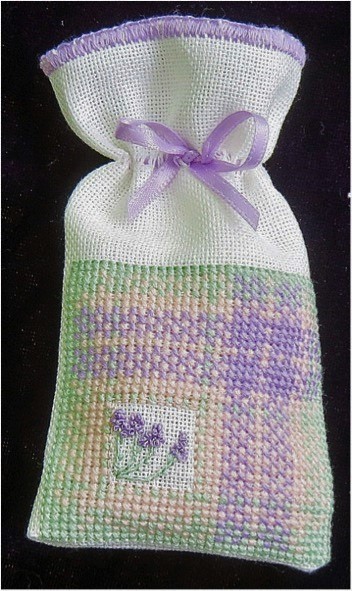 For our May stitch-a-long project on Facebook we will be stitching Nanny's Lavender Sachet by our President Janet Noble.
Here's more about this month's project from Stitch-a-long admin Kate Gaunt:
It seems that April showers *do* bring May flowers! For our May Stitch-a-Long we have a special treat. Nanny's Lavender Sachet is an original design contributed by our EGA President, Janet Noble. The project is designed to be a sachet for spring lavender, but it could also be a special treat bag for any occasion. You could change out the lavender flowers for an initial for your special recipient.
Click here to download the PDF for Nanny's Lavender Sachet
Janet's design uses three colors of regular cotton floss, so you're likely to have something suitable in your stash. The stitching method creates a plaid design (remember our Halloween spiders which used a similar technique), so pay attention to the order that your stitches are worked. It matters!
A helpful hint as you consider the final finishing…You might select your ribbon and THEN select your floss. It's easier to coordinate the floss to the ribbon than the other way around. You could also finish this with ribbon to match your ground fabric, or make a twisted cord from floss. This project has LOTS of flexibility.
A note about this month's stitching…Many of us are still stitching at home (staying safer at home), so we understand you can't get out to get supplies easily. You are welcome to work on this month's project, or any of the previous EGA SAL projects. We especially welcome your #bewellandstitch projects. That said, please remember that the purpose of this group is to focus on EGA-related projects. That means your posts should somehow relate to EGA and this page. It also means that we will continue to remove posts that do not adhere to these guidelines. There are lots of "show and tell" groups on Facebook to post your other stitching projects. Please don't post them here because it causes confusion for others.
Now I'm off to raid my stash for some pretty floss colors for this project. Thanks again, Janet for this fun distraction for stressful times!