Great Lakes Region Seminar: Stitched to the Nines!
Our 2019 GLR seminar will be hosted by the Monguagon Chapter and will take place at The Henry Hotel.
April 5-9, 2019
Dearborn, MI
This event has concluded.
The Great Lakes Region Seminar 2019, hosted by Monguagon Chapter, will be held at The Henry Hotel in Dearborn, Michigan.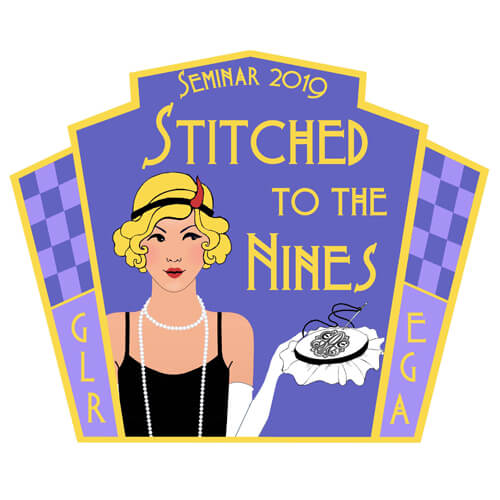 Seminar begins Friday with optional mini-classes and the evening's Opening Banquet. Four-day classes begin on Saturday; two-day classes begin on Saturday and Monday. Seminar concludes on Tuesday with the Closing Banquet. There is a planned night out on Sunday, Teacher's Showcase, a Participant's Exhibit, and, of course, Merchandise Night.
The four-day seminar fee of $450 includes teacher fees, and all meals, including the banquets. The two-day fee of $325 includes meals on those two days and either the Opening or Closing banquet. (NOTE: There is no meal included on Sunday night) Kit fees are listed with each class description and are in addition to the seminar fee.
Hotel rates for up to four people in a room are $139 a night plus taxes. Please Note: Hotel Registration is required of all participants. There are no commuter fees.
Participants must be able to prove they are registered guests of the hotel and will be turned away if proof is not shown. Hotel contact information will be furnished in the registration booklet and online available in the Fall.
Inquiries may be addressed to: Dawn Pollard, Registrar: GLRSeminar2019Registrar@gmail.com
These are some of the classes that will be offered. For a complete list of classes see the brochure below.