Some members from our New York Capital District Chapter in New York recently had the thrilling opportunity to work on reproducing a pair of slippers worn by one of our former presidents as seen in a historical photograph. Read more  from chapter Outreach Chair Terry Case: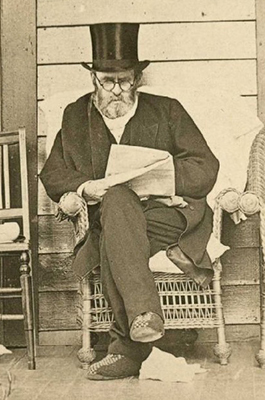 Last fall, the chapter was contacted by a staff member at Grant's Cottage. They were asked about reproducing a slipper seen in a picture of President Grant while he was at the Cottage. Grant's Cottage is a state historic site located near Wilton in the Adirondacks.
President Grant spent the last few weeks of his life at this cottage finishing his memoirs to provide for his family. They had members review the picture and the consensus was that the slippers were probably felt with needlepoint uppers. Two members, Dawna Johnson and Louise Butler, volunteered to take on the project.
Dawna created the slippers in felt and Louise stitched the needlepoint using a Scotch stitch and then attached the canvas to the felt. The slippers were submitted to the Cottage staff in late April. The only addition were leather soles attached by the conservators at Peebles Island. Everyone was pleased with the results and the slippers are now on display at the Cottage with credit given to the Chapter.