EGA history from 1960 to 1980
Lecturer: Ann Strite-Kurz
Live Lecture Date: Sunday, January 14, 2024 1PM Eastern
Live Lecture Registration: December 18, 2023 – January 12, 2024 1PM Eastern
Format: Live Lecture and Recording
Get a reminder when registration begins by signing up below!

Can't see the reminder link? Click here!
Join Ann Strite-Kurz as she shares a look at the beginnings of EGA! Margaret Parshall founded a needlework school in Millbrook, NY and recruited Erica Wilson in 1954 to be the first teacher followed by two other Royal School of Needlework graduates along with Olga Hansen from Denmark. In 1958 Mrs.Parshall (along with two New York City friends) became the nucleus in establishing a branch of The Embroiderers' Guild of London (founded in 1906) in New York. In 1970 EGA withdrew from the London Guild and The Embroiderers' Guild of America came into being with headquarters on Lexington Ave. Ann was fortunate to live in Poughkeepsie, NY from 1963-1969 during Olga Hansen's tenure at the Millbrook School. She eventually moved to Ridgefield, CT where she joined both the Conn. River Valley Chapter of EGA along with the Westchester Chapter. She also helped to create the Fairfield Co. Chapter of EGA. Ann's journey in discovering needlework overlapped with what she calls the "renaissance" of interest in hand embroidery and the early growth years of EGA. Many of the leaders in this growth were both friends and mentors to Ann, and the lecture covers many of the individuals she encountered along with the growth in educational opportunities, exhibitions, new thread companies and publishing opportunities.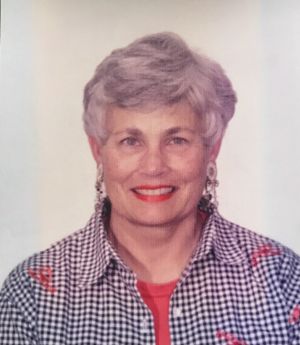 Ann Strite-Kurz has been an active designer and teacher for forty years. She is NAN certified and is an EGA Master Craftsman in Canvas Embroidery. Ann specializes in innovative stitch treatments and has published six books on different styles of composite patterns, including diaper patterns, creative couching patterns, backgrounds and other open patterns. She also received the 2010 ANG Literary Award and she was a feature writer for Needlepoint Now for ten years.