This Fiber Forum lecture is now full. For more virtual lectures click here.
EGA Fiber Forum invites EGA members to join us on Sunday February 19, for a free Zoom Lecture with Christina Erickson. Your local times are 3:00pm Eastern, 2:00pm Central, 1:00pm Mountain, and 12:00pm Pacific.
The topic of Christina's one-hour Lecture is "Designing for a Theme". A limited number of Zoom spots are currently offered to EGA members on a first-come, first-serve basis. This lecture is full.
To register and be guaranteed a seat, interested parties must email Fiber Forum Education Chairman, Jenna McClooney at jennalee@hotmail.com and request to be registered. Please keep in mind, the available seats will be taken quickly.
The Synopsis of Christina's lecture is as follows: Over the last 11 years, Christina has been studying art, design and embroidery with Gail Harker at the Gail Harker Center for Creative Arts. Christina has been awarded Gail's diploma in Art and Design, working with the theme "Colors, Patterns, Shapes, and Textures in the Animal Kingdom". Her lecture will show images and videos of her work both from her most recent course "Research for Advanced Experimental Design" and her earlier work that led up to her current degree.
Christina's Bio: Christina's art centers on stitched textiles, but has expanded to numerous media, including bookmaking, hand-cast paper sculpture, digital photography and design, drawing, printing, and more. Her textile artwork has been exhibited at the National Quilt Museum in Paducah, Kentucky; Chung Young Yang Embroidery Museum, Seoul, Korea; Taiwan International Quilt Exhibition (TIQE); the UC Davis Feminist Art Show, The Rio and Sao Paulo Patchwork and Design festivals in Brazil, exhibitions by the Surface Design Association, the Embroiderer's Guild of America, Contemporary QuiltArt Association, and Studio Art Quilt Associates; as well as many other shows and galleries in the U.S. and abroad. Christina teaches a Surface Design Lab course (dyeing, painting, embroidery and more) at the Lake Washington Institute of Technology in their sewing department as well as Image Editing with Photoshop in their design department. Christina is currently completing her diploma in Advanced Experimental Stitch and Multimedia. When not making art, Christina enjoys photography, worldwide travel, support for endangered animals, reading, spending time with her family and 3 dogs.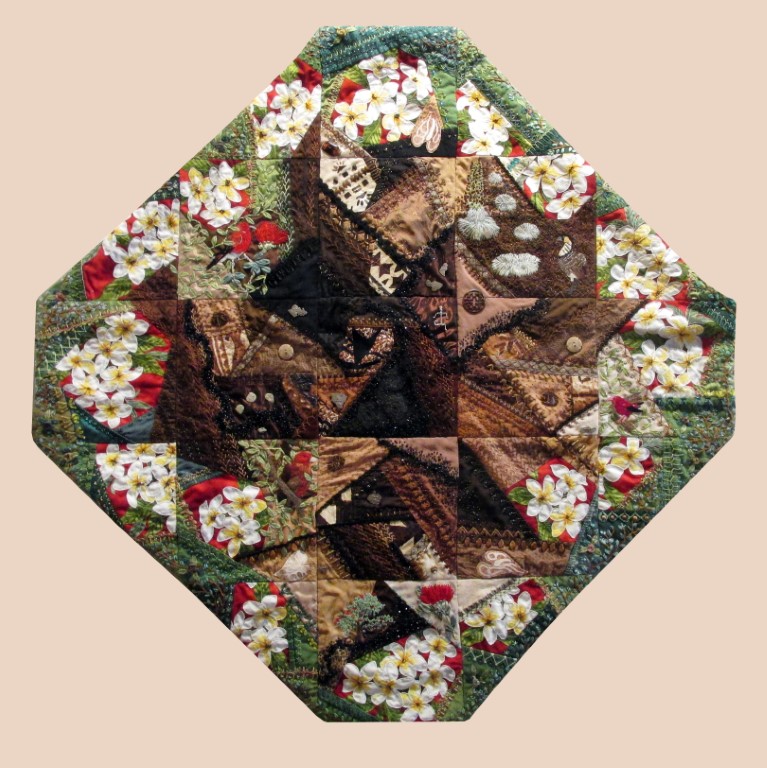 About Fiber Forum
Fiber Forum was organized in 1992 in order to advance embroidery as an art form through the exhibition of original works of exceptional merit. To this end, the group endeavors to have a biennial exhibit in art centers, galleries, or museums throughout the country. It also exhibits annually at the National Seminar in the Education Exhibit.
The image featured above shows a closeup of Kama Aina Hawaiian Quilt by Bette Kelley for our 2022 Fiber Forum.