Get Started
This course is currently closed
Embroidered Beasts, Relics in Situ
Lecturers: Erin Harvey Moody and Christy Gordon Baty
Date: Sunday, November 14, 2021 1PM Eastern
Registration: October 18-25, 2021 1PM Eastern
Animals were a favorite motif in Elizabethan and Jacobean needlework — from leopards and lions, to bears, bunnies and monkeys, to unicorns, camels and elephants. We will celebrate this theme by examining a wide variety of 16th and 17th century needlework in close up detail, looking at materials used, colors, and techniques.
Registration is closed. If you signed up and are selected, you will be receiving an email with more information.
Registration is limited to 100 participants and will remain open for a full week. Once registration ends, the entire list will be run through a randomization app and the list of attendees will be filled in that randomized order with the remaining members added to a waitlist. Learn more in our Virtual lecture Series page.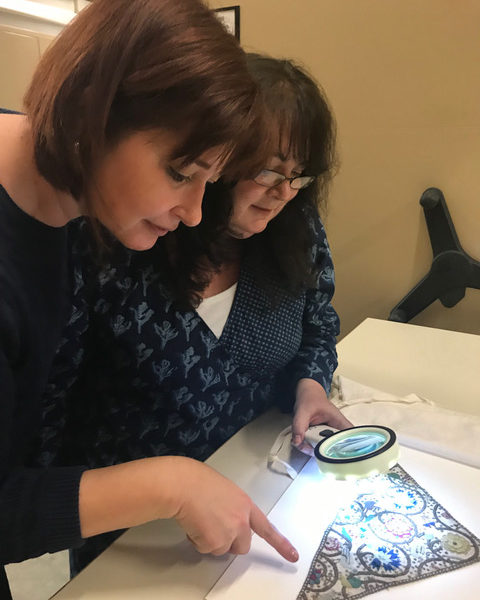 Erin Harvey Moody recently earned her certificate in Museum Education at University of Glasgow. Christy Gordon Baty is a graduate student of History at the University of Nebraska at Kearney. They co-authored "A Book By It's Cover" for Harvard Magazine and they have presented "The Presence of the Needle" at the "Slices of Everyday Life," at University of Cambridge, "A Woman's Communion, Embroidered Devotionals in Early Modern England," at the Ecclesiastical History Society Winter Conference, "Convenience vs. Couture: The Dilemma of Character Driven Costume Interpretation at Heritage Site" at the Pacific Coast Branch conference of the American Historical Association, and "Women's Work Seen and Unseen: the Economic Influence of Needlework" at the Centuries of Cloth Conference at the University of Cambridge. And most recently, Erin and Christy won the Agnes Strickland prize for best paper presented at the South Central Renaissance Conference for "Gloriana's Gifts."