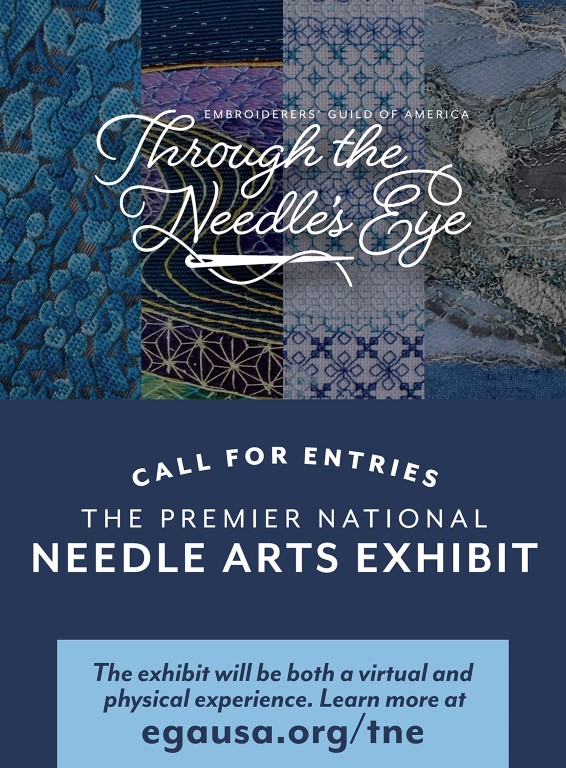 Last Call! The end of the year is rapidly approaching and the deadline for the Through the Needle's Eye registration is December 31, 2022. The exhibition will be a virtual gallery experience, and everyone will have easy access to view the pieces. In addition, the physical pieces will be on display at EGA Headquarters for a limited time.
To register, visit egausa.org/TNE and follow the instructions to register. Remember, registration is your declaration of your intent to participate. Just so you know, your pieces do not need to be finished to register. A $30 non-refundable fee is required along with your registration form to complete your registration.
April 1-15, 2023, you submit your digital images and artist statements for jurying and judging. The non-refundable fee will be applied to your entry fees. June 15-30, 2023, if your piece is selected to be in the exhibit, you ship your piece to EGA HQ for professional photography and exhibition production. The virtual exhibition opens in September 2023!
If you have any questions, please contact the registrar, Melinda Rolfe, at tne@egausa.org. Once you have registered, Melinda will keep you informed on dates, submission requirements, and shipping pieces to EGA HQ.
The pieces featured at the top of the post are Rosazhi Fragments by Bernice Janofsky, Dusk by Mary Alice Sinton, Turbulent Waters by Elizabeth Bennett, The Ladies: Water by Jacqueline Winton.