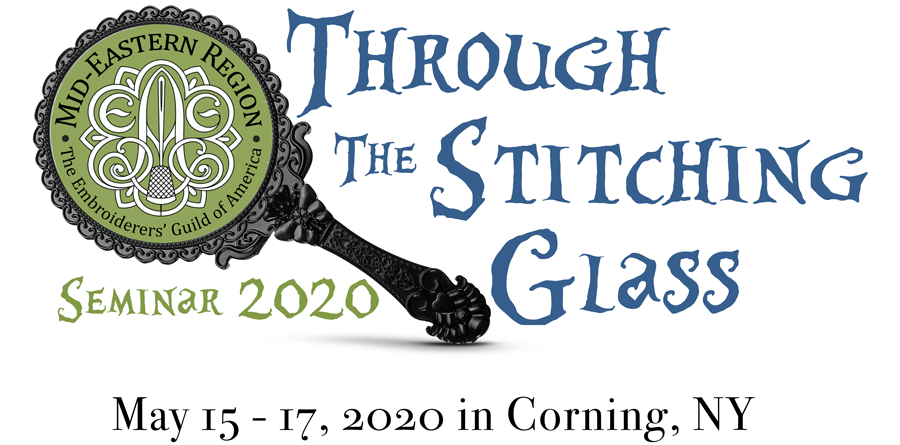 We are pleased to announce that the Mid-Eastern Region of The Embroiderers' Guild of America will be conducting a three-day Seminar on May 15-17, 2020 in Corning, NY. This is a beautiful time of year to visit Corning. We will be at the Radisson, just steps away from our lovely Market St. Plan an extra day to visit the Corning Museum of Glass and the Rockwell Museum of Western Art.
The Seminar is hosted by five sister chapters in the Mid-Eastern Region: Corning Chapter, Chemung Valley Chapter, Treasured Stitchery Chapter, BC Stitchers Chapter and Chautauqua Chapter.
We are seeking teaching proposals for one-day, two-day, and three-day classes. We anticipate Seminar attendance to be approximately 85 people.
Our faculty selection committee will meet in November to select the Seminar faculty, therefore we will need your proposals by October 30, 2018. Please include the ICNA Universal Proposal Summary Sheet. We will be in contact with you about our selections by November 21, 2018. If you would like to be part of this Seminar, please send proposals to Laurie Corbett, either by email at Lcorbett020@gmail.com. If you would like to mail your proposal, contact Laurie for her physical mailing address.
Our region is comprised mainly of intermediate to advanced stitchers, although we do have some beginners. We are hoping to offer a wide variety of techniques at the Seminar.
The fee schedule for this workshop includes:
$400 per day teaching fee.
½ room Hotel accommodation for the period of your contract.
Economy round-trip air fare or mileage.
Per diem for meals and incidentals during the period of the contract.
We hope to hear from you soon. Please do not hesitate to call if you have questions.
Sincerely,
Laurie Corbett, Dean of Faculty, lcorbett020@gmail.com
Betty Anne Winston, Asst Dean of Faculty, bettywinston.winston@gmail.com